Tories at war after Suella Braverman accuses Rishi Sunak of 'betraying the nation' in scathing resignation letter
15 November 2023, 00:46 | Updated: 15 November 2023, 07:25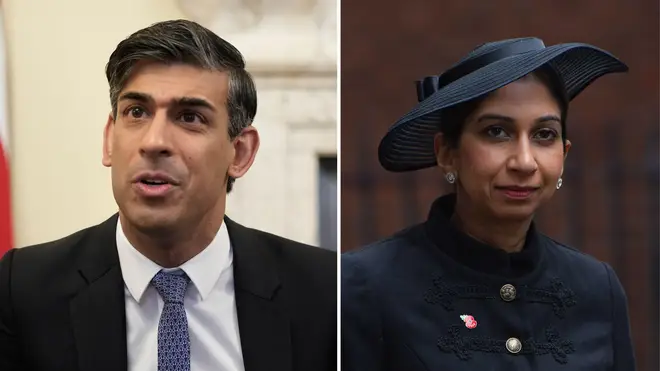 A Tory civil war is continuing to spread after Suella Braverman accused Rishi Sunak of "betraying the nation" in her scathing resignation letter.
Jacob Rees-Mogg was quick to defend the axed Home Secretary on Wednesday, saying she was right in her "excoriating" letter, which accused Mr Sunak of "manifestly and repeatedly failed to deliver" on his key policies.
Ms Braverman told the PM that he had broken a series of promises on migration, the Rwanda policy, gender laws, and Brexit - adding that he was simply "occupying" the office of prime minister.
The letter is understood to have been drafted days before Ms Braverman was fired as her team privately prepared for her expected sacking, the Telegraph said.
But sources from the right of the Tory Party have suggested that Ms Braverman and her supporters intend to ramp up their attacks even further this week to build support for a leadership bid, according to the Daily Mail.
One source said her allies had drawn up a "grid" of interventions.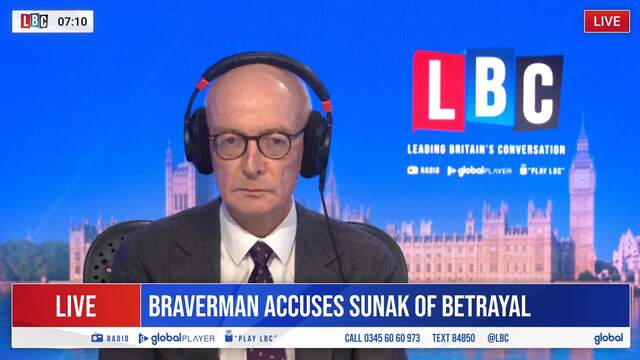 Labour's Pat McFadden brands Braverman's letter language as 'extraordinary'
It comes ahead of Mr Sunak's first Prime Minister's Questions since his Cabinet reshuffle.
Read more: Downing St says Rishi Sunak believes in 'actions not words' in swipe at Braverman's brutal letter
However, one of his allies has argued that Ms Braverman is just "angry and bitter" as she "discovered she has got very little support".
"She is making all kinds of ridiculous claims but we are not going to roll around in the mud with her," they said.
Labour's Pat McFadden branded Ms Braverman's use of language in her letter "extraordinary."
Speaking to LBC's Nick Ferrari at Breakfast Mr McFadden said: " She's accusing him of weakness, of irresponsibility, of failing to deliver, of betrayal."
Reflecting on the reshuffle Mr McFadden said during his conference speech Sunak said he would be "the candidate for change that this government was all about change and they were breaking with the past. And if the signifier of that is the return of David Cameron to government I can't see how that signals change."
"if you've got Jeremy Hunt on one side of you and David Cameron on the other the one thing you're not for is change."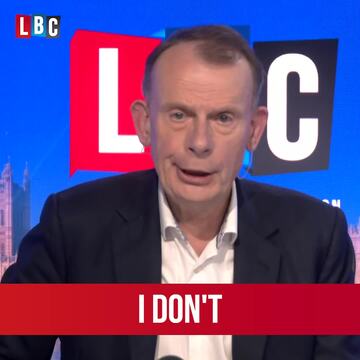 Ms Braverman's letter to Mr Sunak said: "Despite you having been rejected by a majority of party members during the summer leadership contest and thus having no personal mandate to be prime minister.
"I agreed to support you because of the firm assurances you gave me on key policy priorities."
"Either your distinctive style of government means you are incapable of doing so," she continued. "Or, as I must surely conclude now, you never had any intention of keeping your promises."
Throughout the astonishing three-page letter, she told Mr Sunak his "plan is not working" and that he needed to "change course urgently" as the Conservatives were "running out of time" ahead of the next general election.
She said he had promised to do "whatever it takes" to stop small boats crossing the Channel - but said he has ultimately failed on such key policies.
Read More: Suella Braverman's stinging resignation letter: Read the text in full
"I repeatedly urged you to take legislative measures that would better secure us against the possibility of defeat," she claimed. "You ignored these arguments. You opted instead for wishful thinking as a comfort blanket to avoid having to make hard choices. This irresponsibility has wasted time and left the country in an impossible position."
Ms Braverman - who has been a leading figure on the right of the Conservative Party - was fired from Mr Sunak's government on Monday amid a high-profile Cabinet reshuffle.
She repeatedly clashed with the prime minister over immigration policy, policing of protests, and her use of language describing homelessness as a "lifestyle choice".
After expressing pride in her record as Home Secretary, Ms Braverman wrote: "Despite you having been rejected by a majority of party members during the summer leadership contest and thus having no personal mandate to be prime minister, I agreed to support you because of the firm assurances you gave me on key policy priorities."
She said Mr Sunak's response to "the rising tide of racism, intimidation, and terrorist glorification" is "uncertain, weak, and lacking in the qualities of leadership that this country needs".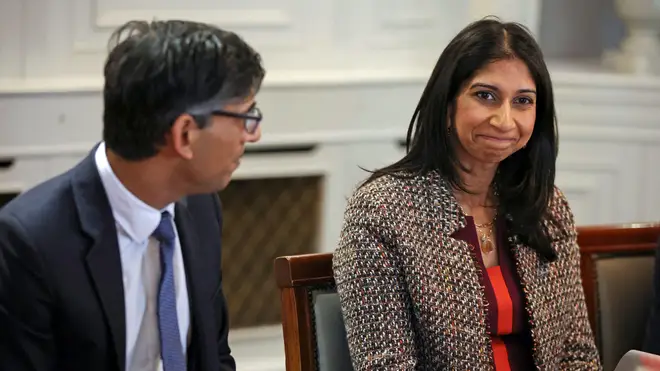 Continuing her scathing attack on the prime minister, Ms Braverman said: "Someone needs to be honest: your plan is not working, we have endured record election defeats, your resets have failed and we are running out of time."
"I will, of course, continue to support the government in pursuit of policies which align with an authentic conservative agenda," she added.
It comes ahead of the Supreme Court's ruling on Wednesday, deciding on the legality of the Rwandan asylum plans.
Issuing a public statement in response to Suella Braverman's extraordinary letter, a spokesperson for Mr Sunak said the prime minister "believes in actions not words".
"The prime minister was proud to appoint a strong, united team yesterday focused on delivering for the British people," the spokesperson said.
"The prime minister believes in actions not words. He is proud that this government has brought forward the toughest legislation to tackle illegal migration this country has seen and has subsequently reduced the number of boat crossings by a third this year.
"And whatever the outcome of the Supreme Court tomorrow, he will continue that work. The PM thanks the former home secretary for her service."
Providing immediate reaction to LBC, Work and Pensions Secretary Mel Stride said: "I have always found the prime minister to be a man of huge integrity and principal. I saw that when I worked closely with him during his leadership campaign and the way he conducted himself then."
He said Mr Sunak has "stuck to his guns" and has "taken considerable action" on immigration issues.