Tube driver investigated after leading passengers in 'free Palestine chant'
21 October 2023, 20:23 | Updated: 21 October 2023, 20:25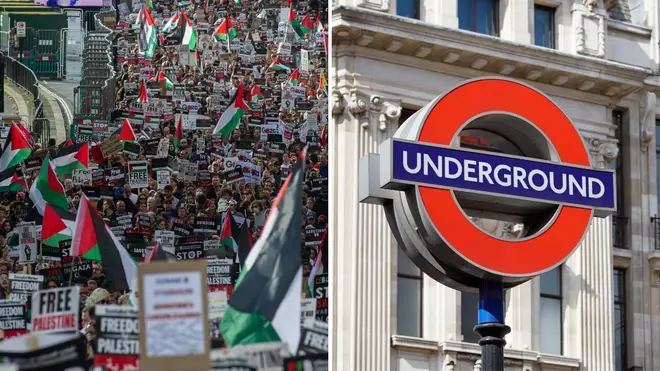 British Transport Police and Transport for London are investigating after a video shared online showed a Tube driver leading a Palestinian chant.
Posted on X, formerly known as Twitter, the video shows a Central line driver leading Tube passengers into a chant of "free Palestine" using the train's announcement system.
Passengers on board are shown joining in and finishing the chant before the driver continues "hope you all have a blessed day today and look after yourself".
"Keep all those people in your prayers," the driver finally adds.
British Transport Police (BTP) and Transport for London (TfL) have said they are now investigating the incident.
The video was shared online on Saturday, which coincided with various pro-Palestine marches being held in different cities across the UK, including London, Birmingham and Cardiff.
Around 100,000 people are thought to have attended the march in central London.
"BTP are aware of footage circulating on social media which suggests chants are led by driver of a train in London earlier," BTP assistant chief constable Sean O'Callaghan said.
"BTP are working with Transport for London and investigating the matter." TfL said it was "committed to providing a safe network for everyone".
Read more: First humanitarian aid flows into besieged Gaza as Rafah border crossing opens
Read more: Israel is under 'no obligation' to supply Gaza, IDF spokesperson tells Sangita Myska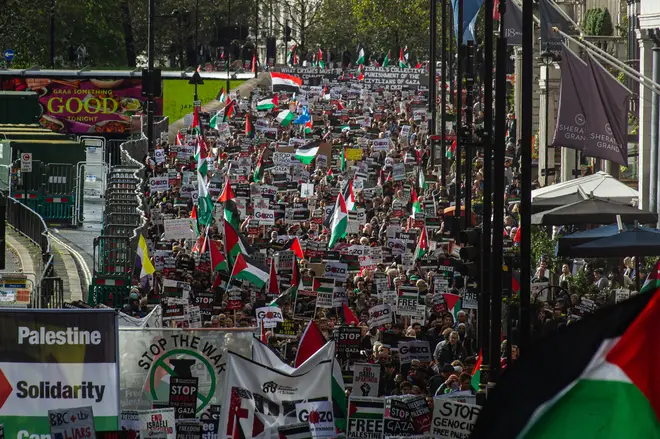 A TfL spokesman said: "We are committed to providing a safe network for everyone and want to make it clear that London is open to everyone.
"We are aware of footage circulating on social media that suggests political comments may have been made by one of our Tube drivers.
"We are working to scrutinise the footage and ensure the circumstances are urgently investigated."
Minister for London Paul Scully said staff should "focus on the day job" and warned against stoking tension in the capital.
"At a time when there's not enough emphasis on the difference between the horrific terrorist attacks by Hamas and the legitimate concerns of Palestinians in Gaza, it's really important that Londoners don't stoke the tension in our capital where Jews live peacefully alongside Muslims," Mr Scully said.
"Informed protest can bring change. But on-trend bandwagons can cause rifts and fear in communities, increasing the threat to the safety of some passengers travelling among those crowds."
He also suggested Labour mayor Sadiq Khan and Transport for London (TfL) "need to get staff focused on the day job of safely moving people from A to B".
It comes after a vital crossing between Gaza and Egypt opened on Saturday allowing humanitarian aid into the besieged Palestinian territory.
The Rafah border crossing with Egypt was opened on Saturday morning to let crucial aid flow to Palestinians running short of food, medicine and water in the territory.
Despite the first trickle of aid allowed in, aid workers have warned the number let into Gaza is insufficient, while Palestinian officials have expressed disappointment that fuel supplies were not included in the aid provided.