First humanitarian aid flows into besieged Gaza as Rafah border crossing opens
21 October 2023, 18:30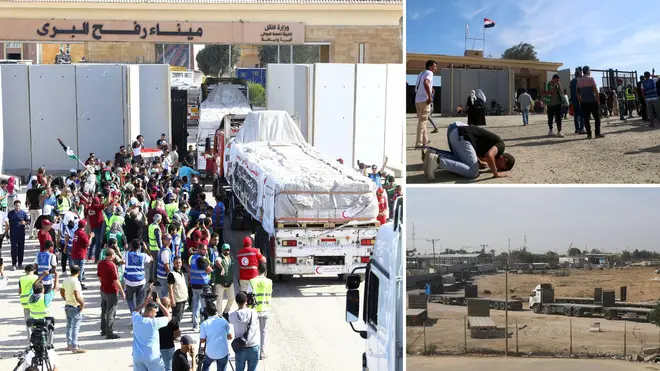 A vital crossing between Gaza and Egypt opened on Saturday allowing humanitarian aid into the besieged Palestinian territory.
Only 20 trucks carrying humanitarian aid for Palestine were allowed in on Saturday when the Rafah border opened.
This is despite the fact more than 200 trucks carrying around 3,000 tonnes of aid have been waiting on the Egyptian side of the vital border crossing for days, waiting for it to open.
The Rafah border crossing with Egypt was opened on Saturday morning to let crucial aid flow to Palestinians running short of food, medicine and water in the territory.
Foreign Secretary James Cleverly said the opening of the Rafah crossing could not be a one-off event, as he said the aid was a "lifeline" for those in the territory.
"Trucks carrying lifesaving aid are beginning to cross at Rafah into Gaza. This aid is a lifeline for those suffering," he said visiting Egypt on Saturday for the Cairo Peace Summit.
"But it cannot be a one-off.
"The UK continues to push for humanitarian access to Gaza."
The World Health Organisation said the aid would include trauma medicines and supplies for 1,200 people, as well as 235 portable trauma bags to stabilise injured people on-the-spot, while the United Nations convoy included around 44,000 bottles of drinking water - a day's supply for 22,000 people, according to UNICEF.
Read more: Israel is under 'no obligation' to supply Gaza, IDF spokesperson tells Sangita Myska
Read more: Israel reveals plans to sever links with Gaza as part of a 'three phase' war with airstrikes and ground manoeuvres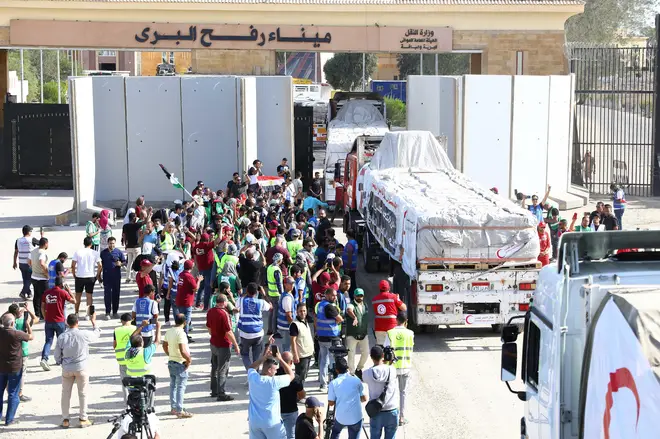 The Israeli military said the supplies would not include fuel and would only reach those in southern parts of Gaza, after civilians were told to flee the north.
Mr Cleverly previously told LBC ahead of the opening: "Of course, we are making every effort to protect British nationals, whether they be in Gaza or Israel, and to facilitate people attempting to leave.
"Although, with Gaza, that is proving incredibly difficult."
The Gaza Strip has been besieged and bombarded by Israel after Hamas launched a series of attacks on Israel on October 7.
The Rafah border is Gaza's only crossing to the rest of the world that is not controlled by Israel - it opened today for the first time since Hamas' attack earlier this month.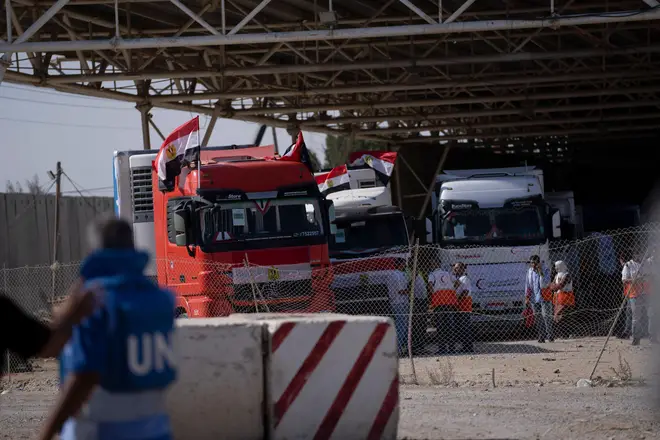 Aid workers have warned the number let into Gaza is insufficient, while Palestinian officials have expressed disappointment that fuel supplies were not included in the aid provided.
"Excluding the fuel from the humanitarian aid means the lives of patients and injured will remain at risk," the Gaza health ministry said.
Water and electricity were turned off in the besieged Palestinian territory, forcing its 2.3 million population to ration food and drink dirty water.
ActionAid Palestine spokesman Riham Jafari said: "Before this crisis began, around 500 aid trucks would normally cross the border every day providing a vital lifeline to millions of Gazans who were already facing a humanitarian crisis.
"Aid trucks also did not bring with them the fuel needed to power hospitals, keep ambulances moving, or to pump water from the ground."
It comes as some 100,000 people joined a pro-Palestine protest in London on Saturday.