Millions of unemployed Brits 'coasting on the hard work of taxpayers' to lose benefits in back to work shake-up
16 November 2023, 17:14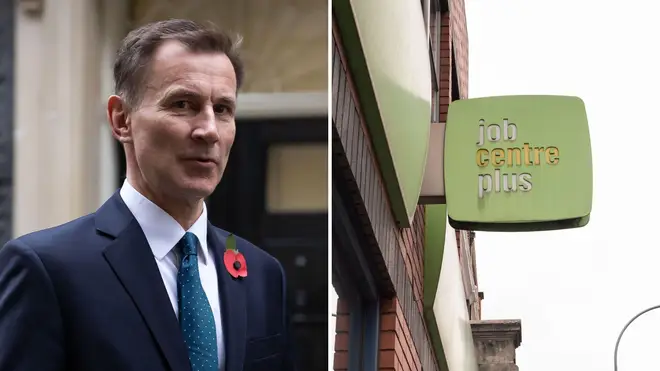 Millions of unemployed Brits "choosing to coast on the hard work of taxpayers" will stop receiving benefits in a fresh shake-up ahead of the Autumn Statement.
Chancellor Jeremy Hunt warned that Brits who are able to work but choosing not to would be hit with financial sanctions.
He said there must be consequences to ensure fairness for taxpayers.
The plans come ahead of the Autumn Statement next week, in which there is expected to be a back-to-work drive.
The Chancellor is also understood to have plans to cut inheritance tax after inflation fell faster than expected.
Read more: Sunak and Hunt mull pre-Christmas inheritance tax and stamp duty cut in election giveaway to reverse polls
Read more: Climbing over war memorials 'not illegal but unfortunate', Met chief says after outrage at pro-Palestine demonstrators
I was delighted to announce our £2.5bn Back to Work Plan today alongside the Chancellor @Jeremy_Hunt.

This comprehensive package will help more than 1m people with long-term health conditions, disabilities, or who are long-term unemployed to look for and stay in work.

(1/2) pic.twitter.com/VPm1lw9GiN

— Mel Stride (@MelJStride) November 16, 2023
"We're serious about growing our economy and that means we must address the rise in people who aren't looking for work – especially because we know so many of them want to and with almost a million vacancies in the jobs market the opportunities are there," Mr Hunt said.
"These changes mean there's help and support for everyone – but for those who refuse it, there are consequences too.
"Anyone choosing to coast on the hard work of taxpayers will lose their benefits."
It marks the biggest set of welfare reforms since Universal Credit was introduced in 2012, Mr Hunt said.
The reforms will also mean claimants will not be able to reach 18 months out of work on full benefits without taking reasonable steps to follow Jobcentre demands.
It will set up a new "social contract" between taxpayers and the unemployed to "rebalance" the system, Mr Hunt told the Sun.
The shake-up is part of a £2.5 billion plan aiming to help more than one million people find jobs.
To deliver growth we need to expand our workforce, and help to get those out of work back into work.

Our new Back to Work plan will tackle unemployment, strengthen sanctions, and reform the welfare system to make sure it incentivises work 👇

— HM Treasury (@hmtreasury) November 16, 2023
Welfare Secretary Mel Stride said: "We are rolling out the next generation of welfare reforms to help more people start, stay and succeed in work.
"We know the positive impact work can have, not just on our finances, but our health and wellbeing too.
"So we are expanding the voluntary support for people with health conditions and disabilities, including our flagship Universal Support programme.
"But our message is clear: if you are fit, if you refuse to work, if you are taking taxpayers for a ride - we will take your benefits away."