Sunak and Hunt mull pre-Christmas inheritance tax and stamp duty cut in election giveaway to reverse polls
12 November 2023, 22:21 | Updated: 12 November 2023, 22:30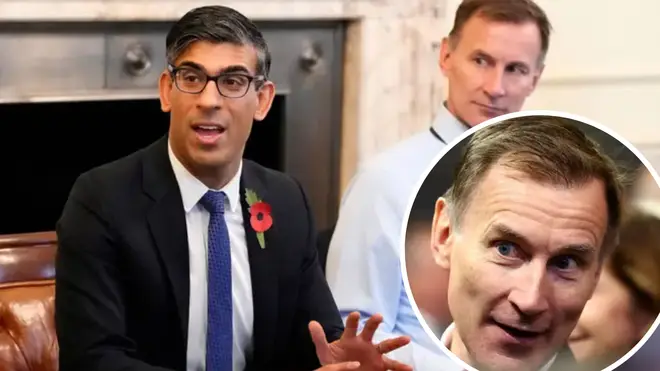 Rishi Sunak and Jeremy Hunt are mulling a pre-Christmas tax giveaway after better-than-expected finances created headway in the public purse.
The Prime Minister and the Chancellor could announce a major inheritance tax and stamp duty cut in the Autumn Statement on November 22 - as Sunak's party seeks to go into 2024 on the front foot.
The Tories currently trail Labour by 17 points in opinion polls - with a recent MRP tipping Sir Keir Starmer's party to better Tony Blair's 1997 landslide majority.
Read More: Rishi Sunak 'confident' of tax cuts as rumours of election next autumn increase
Read More: Sunak faces new calls to sack Braverman as Starmer blames Home Sec for far-right violence
Sunak and Hunt are considering whether tax cuts in 2023 could help turn the tide for the party ahead of a general election which must take place before the end of January 2025.
Hunt considers stamp duty and inheritance tax to be less inflationary than income tax - with CPI inflation set to fall by as much as two per cent next week.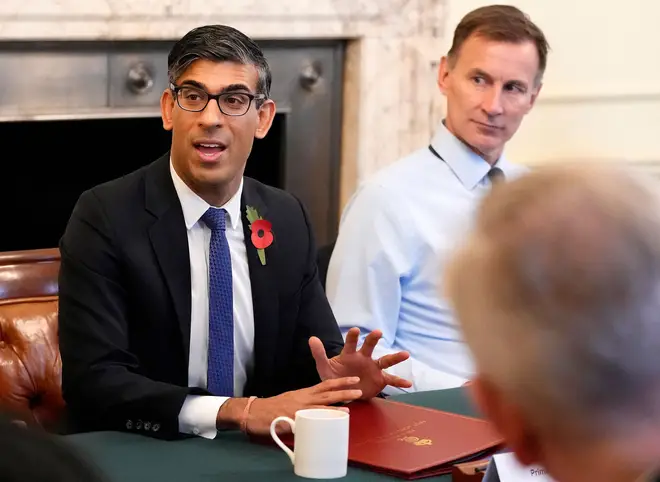 But Tories eager to cut the record-high tax burden may have to wait until the spring budget, with Sunak still yet to sign off on the plans.
The cut to stamp duty will likely kick-start the housing market which is slower than usual after the pandemic - but critics say this will only worsen the chronic housing shortages that the UK has experienced in recent decades.
Supporters of lowering or scrapping inheritance tax say the move could shore up support in Tory heartlands and provide a boost for the party's fortunes.
Sunak is currently facing electoral wipe-out as even traditional Tory heartlands in the south of England seem to be within reach for Labour.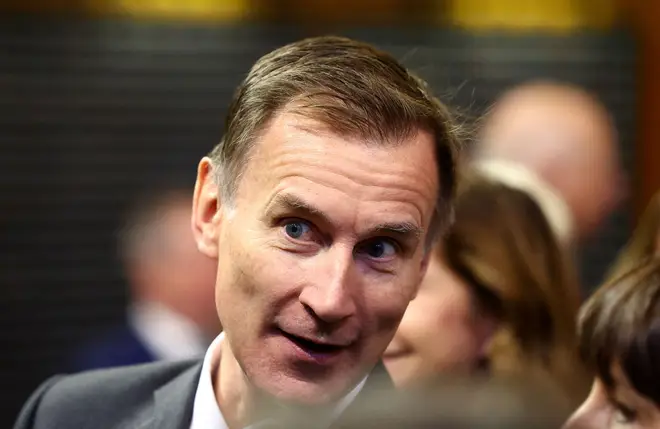 The prime minister made halving inflation by the end of the year one of the five key ambitions for his leadership, and Jeremy Hunt has signalled this target will be prioritised over tax cuts.
The Chancellor said during his conference speech in October that there can be 'no short cuts' towards bringing taxes down ahead of growing calls for tax cuts to be announced now ahead of a general election.
Jeremy Hunt told an audience at the Conservative Party Conference in Manchester: "If we are prepared to walk this difficult path it is possible to bring down taxes.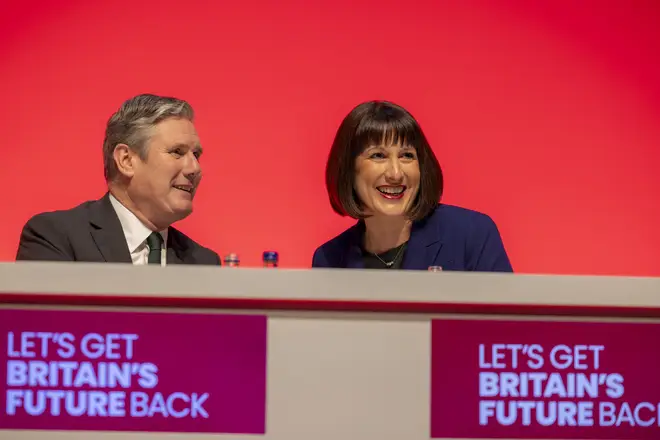 "But we can't say when it will be possible."
He previously ruled out tax cuts this year, and was unable to answer about next year, saying: "I don't have a crystal ball. But if you're asking me do I want to bring down the tax burden, the answer is absolutely yes.
He also announced a rise to the national living wage to £11 per hour, a crackdown on so-called benefits 'shirkers' and working to keep bringing inflation down.