Climbing over war memorials 'not illegal but unfortunate', Met chief says after outrage at pro-Palestine demonstrators
16 November 2023, 12:05 | Updated: 16 November 2023, 12:21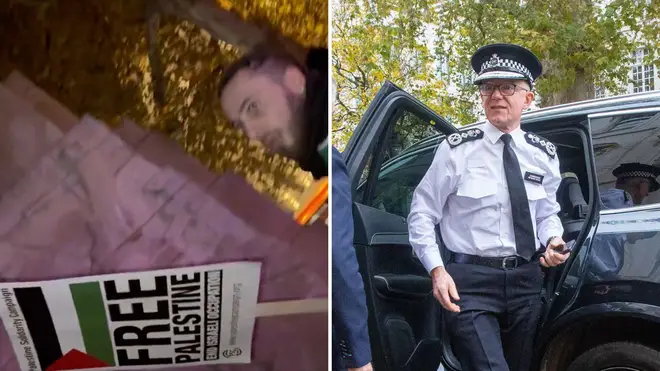 Climbing statues is not illegal but it was seen as "unfortunate" that pro-Palestine campaigners clambered over a war memorial in Hyde Park, Britain's top cop has said.
Sir Mark Rowley, the commissioner of the Metropolitan Police, admitted the demonstration was "inflammatory in certain ways" but police were right to ask them to come down instead of taking tougher action.
The protest on the Royal Artillery Memorial at Hyde Park Corner in central London, which came after a Palestine demonstration outside the Houses of Parliament on Wednesday evening, has sparked outrage and calls for officers to do more against such disorder.
Sir Mark told a Institute for Government event: "The officer recognised that while it wasn't illegal it was unfortunate, inflammatory in certain ways. The officers at the scene asked them to get down and they did.
"So the officers intervened as officers often do to try and de-escalate risk of conflict, even when there isn't an explicit power to do it. So I think they did a sensible thing."
🚨🚨🚨AWFUL SCENES: Protesters climbing all over the Royal Artillery Memorial - the police make zero arrests. The level of disrespect is incredible. Look at where they climb on to at the end. I feel sad for my country. This needs to stop now. Police do nothing 🚨🚨🚨 pic.twitter.com/k9bAQu2gy9

— Inc.Monocle (@IncMonocle) November 15, 2023
He admitted: "There are some practical provisions in the current public order powers which in our view don't work very well and we'll talk about those with Government.
"There are other issues which are much more profound issues about the balance between the rights of some people to protest and the impact on others.
"That's not an issue for policing, that's an issue for Parliament and democracy to work out where that balance is."
His comments come after home secretary James Cleverly suggested laws could be changed to give police powers to prevent protesters from clambering over war memorials.
A video posted online of people on the memorial sparked criticism, but a statement from the police said the protesters had not broken any laws by their actions.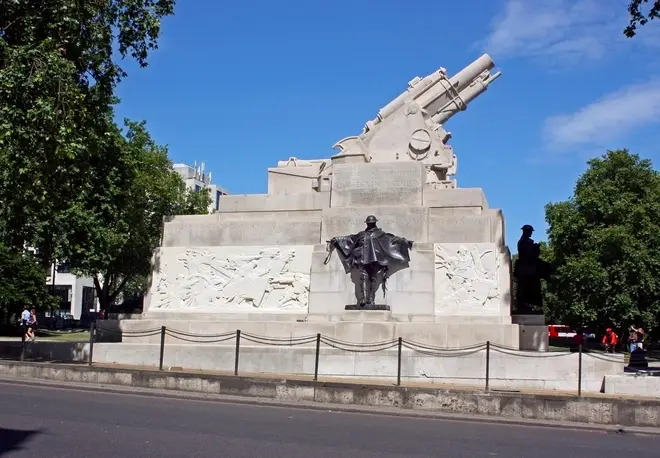 Cleverly, who serves as a reservist in the Royal Artillery, told LBC 's Nick Ferrari at Breakfast: "We're going to look at this.
"We are absolutely determined to look at this. (Veterans minister) Johnny Mercer, a former gunner officer - the Royal Artillery was my regiment as well, that's my regimental memorial."
Read more: Huge crowds gather in Parliament Square as protesters call for 'ceasefire now' ahead of crunch Gaza vote
Read more: How did your MP vote on the Gaza ceasefire amendment?
The home secretary added: "I'm not going to let my personal feelings cloud my judgment on this but it is clearly wrong, and the police have said that they recognise it is deeply disrespectful for people to climb on war memorials.
"We have made a commitment to review the legislation around public order policing.
"If the police - and I'm going to look at this in real detail - if the police need more powers to make sure that really deeply distasteful, provocative things like that do not happen for the public good, because of course this is about making sure it doesn't stimulate violent action or any kind of violent responses, but if we need to take action specifically to give police more powers, we are looking at doing that."
Labour's Yvette Cooper also said her party would "look at the legal framework" around the protection of war memorials after a group climbed one last night.
"That protest was totally awful. Our war memorials need to be protected," she told a policing conference.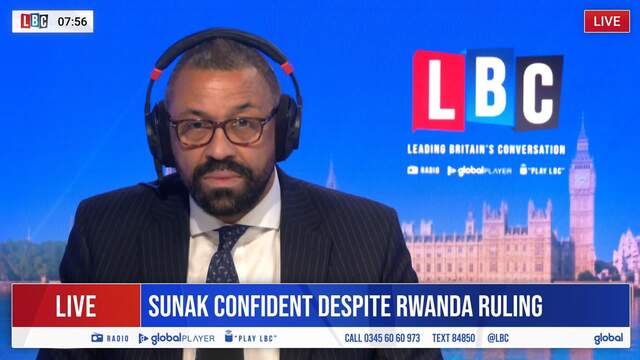 Home Secretary James Cleverly suggested laws could be changed to give police powers to prevent protesters from clambering over war memorials
A statement from the Met Police said: "We know some online have asked why the protesters were not arrested.
"There is no law explicitly making it illegal to climb on a memorial so officers cannot automatically arrest, but they can intervene and make it clear the behaviour isn't acceptable.
"The videos shared online show them doing that."
Police said the protesters who climbed on the memorial were a breakaway group who had been dispersed at Hyde Park Corner.
"Most people would agree that to climb on or otherwise disrespect a war memorial is unacceptable," the statement said. "That is why our officers have made every effort to prevent it happening in recent days.
"While officers were on scene quickly, we regret they were not there quickly enough to prevent the protesters accessing the memorial."
A dispersal order was in place across parts of the City of Westminster from 7.50pm on Wednesday to 2am on Thursday.
Police said one arrest had been made at the protest for possession of an offensive weapon.