Huge crowds gather in Parliament Square as protesters call for 'ceasefire now' ahead of crunch Gaza vote
15 November 2023, 18:57 | Updated: 15 November 2023, 19:01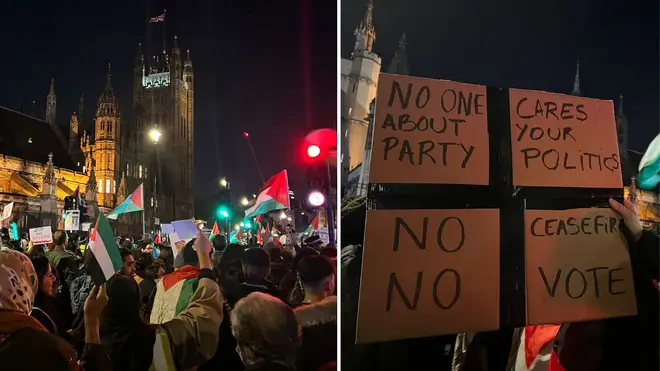 Huge protests have kicked off in Parliament Square ahead of a vote on a ceasefire in Gaza.
Crowds could be heard chanting "ceasefire now" as they waved Palestinian flags outside the Houses of Parliament on Wednesday.
It comes as the SNP is pushing an amendment to the King's Speech backing a ceasefire, with Labour frontbenchers facing the sack if they back it.
Yasmin Qureshi, who was Labour's shadow minister for women and equalities, resigned her post in order to vote for a ceasefire.
SNP Westminster leader Stephen Flynn has said Parliament must "show moral leadership" and vote in favour of backing an immediate cessation of hostilities.
Read more: Emmanuel Macron calls for Israel to stop 'bombing babies' in Gaza and urges UK and US to back ceasefire
Read more: Keir Starmer admits 'differences' in Labour over Israel stance, after senior figures call for ceasefire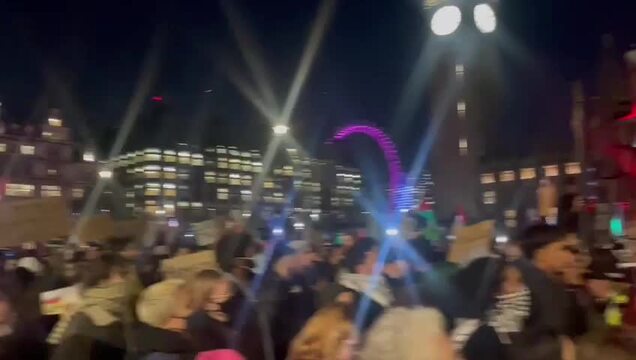 Protests ahead of Gaza ceasefire vote
One protester told LBC: "I feel like Labour especially are positioning themselves against a ceasefire because they think this will get them in trouble for the General Election but I think this is rubbish.
"Thousands of children are dying because of this position. I just think they need to put party politics on the side and every single MP has a responsibility in this."
She added: "The UK and US have a huge role in the way this crisis is unfolding."
Another protester said: "What we're seeing here is a lot of double standards. They have one rule for Ukraine and another rule for Gaza and Palestine."
A third person told LBC: "We're watching atrocities unfold in real time and I think we're going to look back on this period in horror and shame.
"The least that we can do as citizens is articulate that we're not going to stand for it. I wouldn't be able to rest if I wasn't here."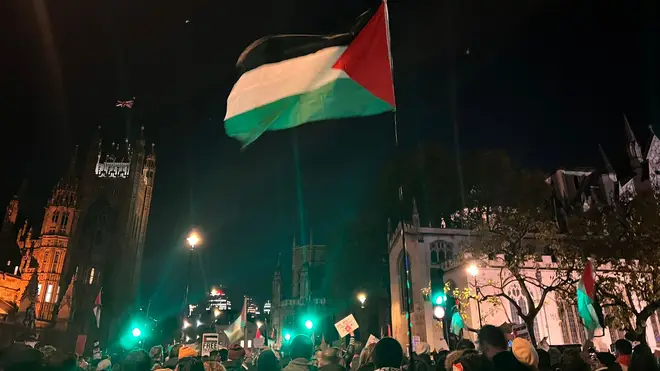 Sir Keir Starmer is battling to avoid a damaging split in Labour as rebel MPs appear set to defy him in tonight's vote.
Shadow ministers Naz Shah, Helen Hayes and Afzal Khan broke ranks with their party leader as they signalled plans to vote for an SNP amendment to the King's Speech backing a ceasefire.
Labour frontbenchers have been ordered to abstain on the SNP move and instead back Sir Keir's position calling for longer "humanitarian pauses" rather than a ceasefire.