Whaley Bridge Residents Allowed To Return Home Tonight
7 August 2019, 14:40 | Updated: 7 August 2019, 14:41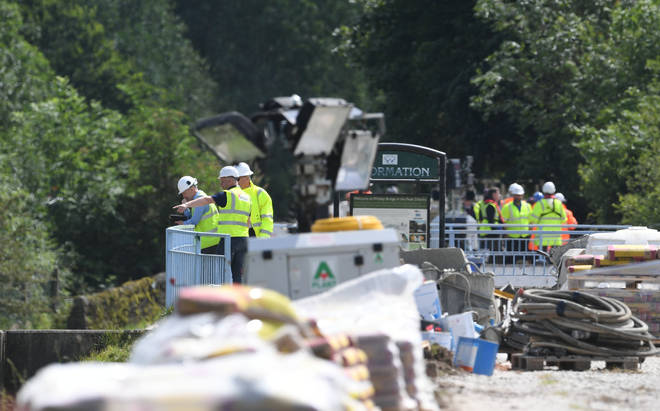 Police say it is now safe for residents to return to their homes, after they were evacuated due to the damage to the Toddbrook Reservoir above Whaley Bridge.
Over the past days a task force of hundreds has been working to pump water from the Toddbrook Reservoir and ensure the stability of the dam wall.
Yesterday residents were prevented from returning to their homes, despite emergency crews having reached their target water level of 8 meters for the Toddbrook Reservoir.
But now police have decided it is safe enough for them to return home.
Deputy Chief Constable Rachel Swann said: "The hard work and dedication to achieve this has been quite simply incredible and means that I am now able to lift the evacuation order placed on Whaley Bridge and the surrounding area.
"At the forefront of our thoughts are the communities affected by this incident who have been steadfast in the face of the peril that lay behind that dam wall.
"The danger posed by the millions of tonnes of water, which would have destroyed homes and livelihoods, could not be underestimated."
Bill Derbyshire from the Environment Agency said: "We would like to thank residents for their patience and understanding during this incident."
Residents in Derbyshire were evacuated after police said damage to the Toddbrook Reservoir dam above Whaley Bridge posed a "significant threat to life" flood warning.
More than 1,500 people have had to leave their homes since Thursday after heavy rain, though a small number refused to go, despite fears the dam would burst.
About 20 people remained in 16 homes in the evacuation zone on Monday after warnings they were "taking their lives into their own hands" and jeopardising the safety of the emergency services.
Dozens More Homes Evacuated In Whaley Bridge As Thunderstorms Threaten Efforts To Repair Dam