US confirm ISIS leader Abu Bakr al-Baghdadi 'buried at sea'
31 October 2019, 10:32
The US has released new information on the special forces raid which resulted in the death of ISIS leader Abu Bakr al-Baghdadi.
General Frank McKenzie confirmed the remains of the terror group founder were "buried at sea in accordance with the law of armed conflict within 24 hours of his death."
The General said that the special forces team also secured a "substantial" amount of documents and electronics.
He said Delta Force commandos surrounded the compound and urged those inside to come out peacefully.
The General stressed efforts were made to avoid civilian casualties.
"I want to make it clear that despite the high-pressure and high-profile nature of this assault that every effort was made to avoid civilian casualties and to protect children we suspected would be in the compound."
Following the terrorist leader's death his identity was confirmed by DNA.
"After Baghdadi's murder-suicide, our assault force cleared significant debris from the tunnel and secured Baghdadi's remains for DNA identity confirmation."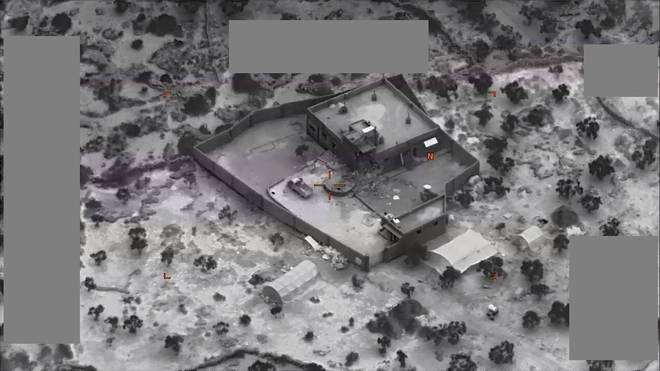 Speaking to the press the Army Officer showed a video taken by a drone which showed US munitions striking al-Baghdadi's compound.
"It looked pretty much like a parking lot with large potholes right now," the General said.
He explained the reason for destroying the compound was to prevent it from becoming a "shrine" to the terror leader.
"It's just another piece of ground."