Firefighters tackle blaze near Heathrow with black smoke billowing into sky
1 August 2022, 17:04 | Updated: 1 August 2022, 19:43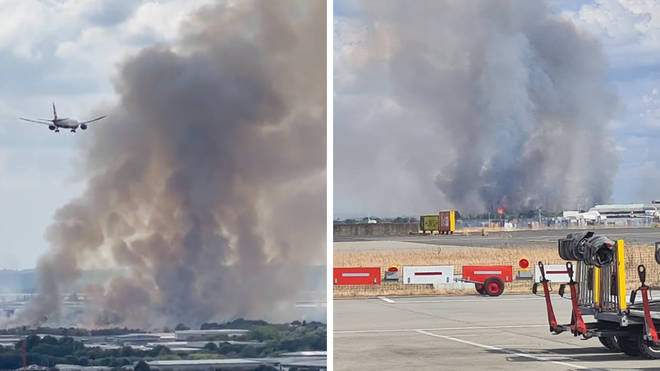 Around 100 firefighters tackled a grass fire near Heathrow Airport in west London this afternoon.
The London Fire Brigade (LFB) said around six hectares of land was alight in Feltham and smoke could be seen for miles.
Some planes at Heathrow had to switch runways because of the fire, but but bosses say there is currently no disruption to flights.
The fire affected standing crop, a field, parkland, grassland, a cemetery and an animal sanctuary - but the cause of the blaze is still unknown.
Around 10 people were evacuated from nearby buildings as a precaution, and no injuries have been reported.
Three gas cylinders were cooled to an ambient temperature as some cylinders can explode when exposed to heat, LFB said.
Read more: 'Not a dream any more': Lionesses lift Euro trophy in front of thousands of fans in Trafalgar Square
The fire was under control shortly after 7pm.
Station Commander John Owen, who was at the scene, said: "Firefighters worked incredibly hard in hot and dry conditions to bring the fire under control. They are expected to remain on scene this evening turning over and damping down remaining small pockets of fire.
"The fire was producing a large amount of smoke and residents in the local area, particularly around Bedfont Sports Club, were asked to keep their windows and doors closed. The smoke has now subsided.
"Around 10 people were evacuated as a precaution and thankfully, there are no reports of any injuries at this time.
"Good partnership working with local authorities and Heathrow Airport minimised the impact of the smoke on the airport in the early stages of the fire."
The cause of the fire is under investigation.