Boris Johnson and EU Chief to hold crisis talks after Brexit deadlock
4 December 2020, 19:25 | Updated: 5 December 2020, 07:56
Boris Johnson and European Commission president Ursula von der Leyen are to hold crisis talks in a bid to break the stalemate over negotiations on a post-Brexit trade deal.
It comes after talks between the UK and the European Union were paused after the two teams failed to reach an agreement on the level playing field, governance and fisheries.
With time for an agreement rapidly running out, the two sides' chief negotiators announced on Friday talks would be put on "pause" in a bid to allow political leaders to take stock.
In a joint statement following the latest round of negotiations in London, the UK's Lord Frost and the EU's Michel Barnier said the conditions for an agreement had still not been met.
Lord Frost and Mr Barnier said Ms von der Leyen and Mr Johnson would "discuss the state of play" on Saturday afternoon.
Two sides called in the leaders after saying "significant divergences" remained following a week of intensive talks.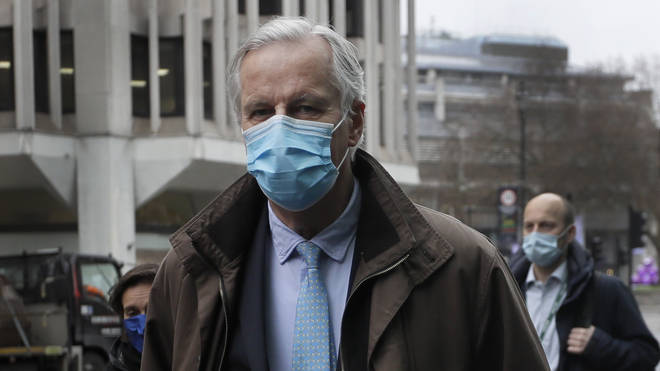 With just days left to strike a deal before the Brexit transition period expires at the end of the month, negotiations have been ramped up between the two sides.
However, a joint statement published on Friday evening said there are still "significant divergences" over key issues such as the level playing field, governance and fisheries.
The two negotiators will now return to their respective leaders to brief them on the current state of play.
Prime Minister Boris Johnson and European President Ursula von der Leyen will discuss the status of the talks on Saturday.
Read more: Controversial Brexit legislation to return with trade talks on knife-edge
Read more: Chances of post-Brexit trade deal with EU 'receding', UK warns
Mr Barnier said on Twitter: "After one week of intense negotiations in London, together with @DavidGHFrost, we agreed today that the conditions for an agreement are not met, due to significant divergences on level playing field, governance and fisheries.
"We agreed to pause the talks in order to brief our Principals on the state of play of the negotiations. President @vonderleyen and Prime Minister Johnson will discuss the state of play tomorrow afternoon."
Lord Frost posted a similar message on Twitter at around the same time as Mr Barnier.
Earlier in the day, Downing Street warned Brexit trade talks are at a "very difficult point" and time is ticking if a deal is to be struck.
Read more: Brexit trade talks at 'very difficult point', Downing Street warns
Watch: It would be inexplicable if a Brexit deal isn't reached - Hilary Benn
It came after a senior UK Government source claimed on Thursday evening that the prospect of an agreement was "receding" amid calls by Brussels for last-minute concessions.
Earlier in the week, there had been optimism that the prospect of a deal was on the horizon before progress appeared to stall on Thursday.
Speaking on Friday, a spokesman for Mr Johnson said: "We are committed to working hard to try and reach an agreement with the EU and the talks are ongoing.
"There are still some issues to overcome. Time is in very short supply and we are at a very difficult point in the talks.
"What is certain is we will not be able to agree a deal that doesn't respect our fundamental principles on sovereignty, fishing and control.
"Our negotiating team is working extremely hard in order to bridge the gaps that remain."
On Thursday, a senior UK Government source said: "At the 11th hour, the EU is bringing new elements into the negotiation.
"A breakthrough is still possible in the next few days but that prospect is receding."
Meanwhile, France's Europe minister, Clement Beaune, has publicly warned that his country could veto any agreement if it did not satisfy their conditions.
After months of repeatedly discussing the same key issues, there were hopes this weekend would see the two sides finally coming to an agreement.
However, there was also an expectation that Mr Johnson and Ms von der Leyen would need to come together to resolve the most problematic issues.
Irish premier Micheal Martin, whose country is expected to be among the biggest losers if the two sides fail to reach an agreement, said he "fervently" hoped there would be a deal.
In comments apparently aimed at the French, he said the negotiators had to be given the space to conclude their discussions.
"I have faith and trust in the EU negotiating team, in Michel Barnier and in president Ursula von der Leyen," he said.
"There have been some countries putting pressure on wanting to seek additional information - 27 states can't negotiate collectively.
"We've got to allow them the space to conclude their talks and hopefully achieve an agreement out of this."
Meanwhile, Mr Beaune, an ally of President Emmanuel Macron, told Europe 1 radio that France will not accept a deal with "bad terms".
"If a good agreement cannot be reached, we will oppose it. Each country has a veto right, so it is possible," he said.
If there is an agreement in the coming days, it could be signed off by EU leaders at a two-day summit in Brussels starting on Thursday - their last scheduled gathering of the year.
In a further complicating factor, the UK Government is bringing back to the Commons legislation enabling it to override elements of Mr Johnson's "divorce" settlement with Brussels in breach of international law.
On Monday, MPs will vote on whether to overturn amendments by the House of Lords which removed the provisions in the UK Internal Market Bill relating to the Irish border.
The legislation has infuriated the EU and - if it is passed - could sour the mood in the negotiations making a deal harder to reach.