Three dead including child as Russia accused of war crime for strike on maternity unit
9 March 2022, 15:28 | Updated: 10 March 2022, 08:51
Russian 'airstrike' hit children's hospital and maternity unit in besieged city of Mariupol
Three people died in the attack, including a child aged six, Ukrainian officials said today
Minister tells LBC attack amounts to a war crime
James Heappey tells LBC Putin's actions in Ukraine are "an abomination"
A minister told LBC today that the devastating attack on a children's hospital in Mariupol amounts to a war crime, and Putin's actions in Ukraine are an "abomination."
Armed forces minister James Heappey lamented the "absolutely despicable" scenes after the devastating attack on the children's hospital in Mariupol yesterday.
Ukrainian officials said today that three people died in the attack, including a girl aged six. Authorities say at least 17 people were injured in yesterday's attack in the south-eastern city.
Many of the pregnant women present at the hospital survived because they were hiding the the basement at the time of the strike on the orders of hospital authorities, it is reported.
Mr Heappey told LBC's Nick Ferrari at Breakfast today that the actions of Russian forces were a war crime, whether they intended to target the hospital or not.
"Whether that is a deliberate targeting of a hospital, which is a war crime, or whether that is the use of artillery or missiles indiscriminately without due regard in your targeting for a protected site, that also is a war crime.
"We need to be clear that what's going on right now is an abomination. Putin needs to stop."
Ukraine has already condemned the Russian strike as a war crime.
Mr Heappey went on to say the government was looking at what the "next steps" might be in terms of Britain's support to Ukraine.
"Anti-tank weapons that have stopped Russian columns in their tracks, and stinger anti-aircraft missiles that have meant Russians haven't been able to achieve air superiority and can't fly during the day. Now we are looking at what the next steps might be."
Boris Johnson has pledged to tighten sanctions against Russia after air strikes hit the hospital in the city of Mariupol.
Children were buried under the wreckage of the hospital, Ukrainian President Volodymyr Zelenskyy said.
Mr Zelenskyy and Mr Johnson discussed the attack on Wednesday evening, condemning the move, with Mr Zelenskyy later claiming it to be a "war crime".
A Downing Street spokesperson said: "President Zelensky thanked the Prime Minister for the UK's ongoing military support, alongside tough new sanctions to punish the Putin regime for its actions," the spokesperson added.
"The Prime Minister committed to further tighten these sanctions in order to impose the maximum economic cost on Russia.
"He outlined the work the UK is doing to provide the military equipment Ukraine needed to defend itself.
"Both leaders condemned the horrifying attack on a maternity hospital in Mariupol and the failure by Russian forces to respect ceasefire agreements in humanitarian corridors.
"The Prime Minister noted that this was yet further evidence that Putin was acting with careless disregard for international humanitarian law."
Meanwhile, the White House has warned that the world should be alert to the possibility that Russian forces could soon use chemical or biological weapons in Ukraine after Russia claimed the US was developing them in Ukraine.
Press secretary Jen Psaki tweeted: "This is all an obvious ploy by Russia to try to try to justify its further premeditated, unprovoked, and unjustified attack on Ukraine."
She went on to say: "We should all be on the lookout for Russia to possibly use chemical or biological weapons in Ukraine, or to create a false flag operation using them. It's a clear pattern."
Read more: Six new civilian routes open out of Ukraine - as Russians 'agree to 12-hour ceasefire'
Read more: Labour goes nuclear: Starmer blasts PM for 'putting energy firms' profits ahead of Brits'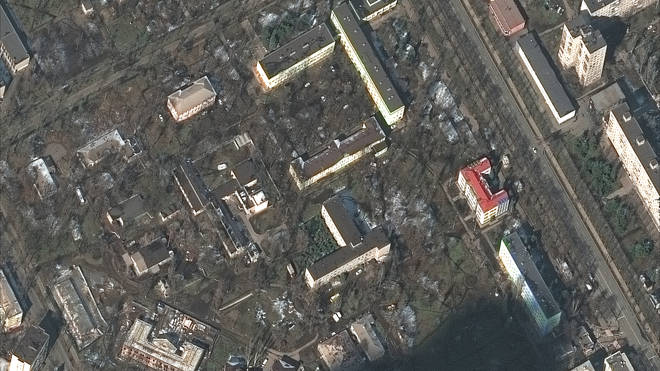 Volodymyr Zelenskyy earlier on Wednesday accused Russia of an "atrocity" after the hospital in Mariupol was targeted by Russian forces.
The Ukrainian President took to Twitter to confirm the attack saying: "Mariupol. Direct strike of Russian troops at the maternity hospital.
"People, children are under the wreckage. Atrocity! How much longer will the world be an accomplice ignoring terror? Close the sky right now! Stop the killings! You have power but you seem to be losing humanity."
Prime Minister Boris Johnson condemned the attack saying: "There are few things more depraved than targeting the vulnerable and defenceless.
"The UK is exploring more support for Ukraine to defend against air strikes and we will hold Putin to account for his terrible crimes."
Speaking on LBC's Tonight with Andrew Marr, former Prime Minister David Cameron said: "It is absolutely horrific.
"As someone who's spent a lot of time in children's hospitals, imagine you've got a desperately ill child, you're getting treatment and suddenly you're under the rubble, dead, dying or wounded as part of this vicious, pre-meditated, illegal war launched by Putin."
He added: "We must be documenting these war crimes so they can be put together in a case against Putin."
Pavlo Kyrylenko, head of the Donetsk regional administration, said the air strike has obliterated a "maternity hospital in the city center, a children's ward and department of internal medicine".
Whilst the city council said on Wednesday that Russian troops had dropped "several bombs" on the hospital causing "colossal destruction", adding that it did not yet know any casualty figures.
The council wrote: "The Russian occupying forces have dropped several bombs on the children's hospital. The destruction is colossal," it said, adding that it did not yet know any casualty figures."
The deputy head of Mr Zelensky's office, Kyrylo Tymoshenko, said authorities are trying to establish the number of people who may have been killed or wounded.
Ukrainian armed forces shared a picture of the site stating: "The crash site of one of the bombs that Russian troops dropped on a children's hospital in Mariupol! Genocide of the Ukrainian people!"
Adding: "The occupiers deliberately bombed a children's hospital in Mariupol. The destruction is enormous."
The UN human rights office has verified 1,424 civilian casualties since the Ukraine conflict began two weeks ago - with 516 people killed and 908 injured.
Read more: Six new civilian routes open out of Ukraine - as Russians 'agree to 12-hour ceasefire'
Read more: Labour goes nuclear: Starmer blasts PM for 'putting energy firms' profits ahead of Brits'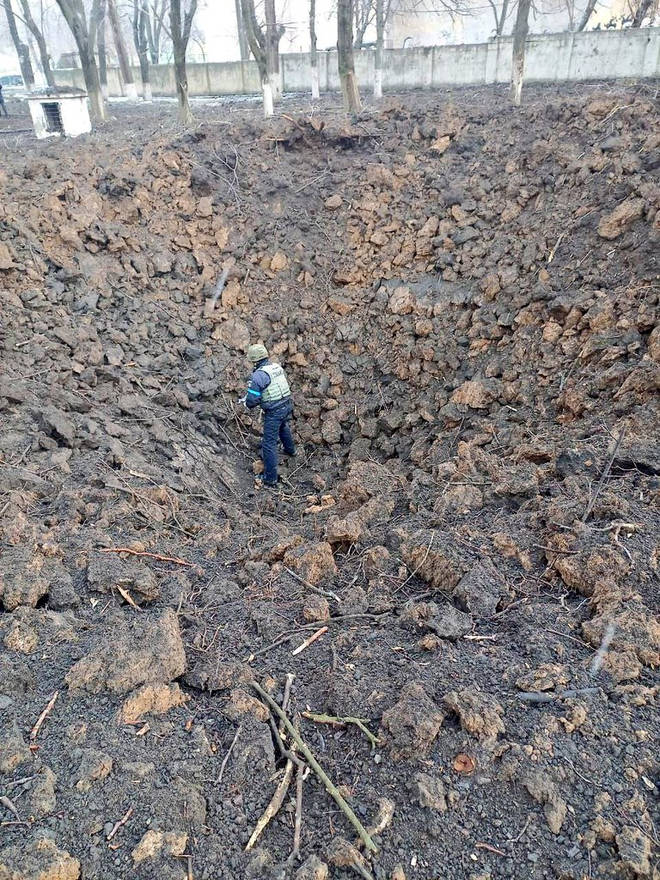 According to The Associated Press, authorities in Mariupol have begun to burying the city's dead in a mass grave.
Burial of civilians have been forced to halt due to continued shelling of the city, causing overflow problems in morgues.
Official say the city has now decided to place remains of the dead in a mass grave.
Several attempts have been made to evacuate civilians from the besieged city during agreed ceasefires which Ukrainian officials say Russian troops broke.
People in Mariupol have been without power, sanitation and basic necessities for almost a week.
With Ukrainian authorities claiming yesterday that a six-year-old girl named Tanya died from dehydration after her mother was killed from shelling by Russian forces.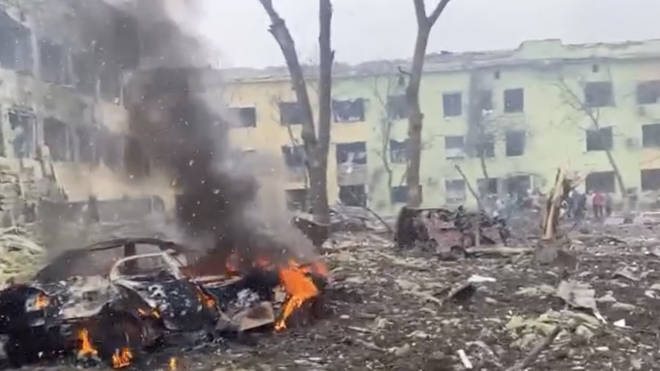 The attack comes after The World Health Organisation said it has documented 18 attacks on health facilities, workers and ambulances since the Russian invasion of Ukraine began.
At a press briefing on Wednesday, the WHO's director-general Tedros Adhanom Ghebreyesus said the UN health agency has delivered 81 metric tonnes of supplies to Ukraine and is now establishing a pipeline to send more equipment.
So far, Mr Tedros said the WHO has sent enough surgical supplies to treat 150 trauma patients and other supplies for a range of health conditions to treat 45,000 people.
Read more: UK soldiers go AWOL to fight Putin's forces in Ukraine
Read more: Pictured: Fleeing family killed by Russians after image that sickened the world
Dr Michael Ryan, the WHO's emergencies chief, acknowledged that sending medical supplies to Ukraine is unlikely to make a big difference.
"This is putting bandages on mortal wounds right now," he said.
Mr Tedros said some of the main health challenges officials are facing in Ukraine are hypothermia and frostbite, respiratory disease, heart disease, cancer and mental health issues.
He added WHO workers have been sent to countries neighbouring Ukraine to provide mental health support to fleeing refugees, mostly women and children.
Foreign Secretary Liz Truss said the West had spent too little on defence for "a number of years".
Speaking at a press conference in Washington, she said: "On the subject of defence spending, the reality is across the West we haven't spent enough on defence for a number of years and we've seen a build-up of military capability from Russia in terms of both technology and numbers."
She welcomed Germany increasing defence spending, adding: "I'm not going to pre-empt any future discussions between the Chancellor and the Defence Secretary.
"But as well as conventional defence we also need to step up our efforts in areas like information."
Unlike the Russians, the UK abandoned its information unit at the end of the Cold War, she said, adding: "We need to be making sure that on every possible front, whether its conventional defence, whether its technology or whether indeed its information we are able to outcompete our adversaries."
Adding: "since the end of the Cold War we took our eye off the ball", and "we must never let down our guard again".
She also urged allies to increase their investment in Nato.