'We must intervene' says ex-minister as Ofgem warns energy bills could rise by almost £1k
24 May 2022, 12:33 | Updated: 24 May 2022, 18:57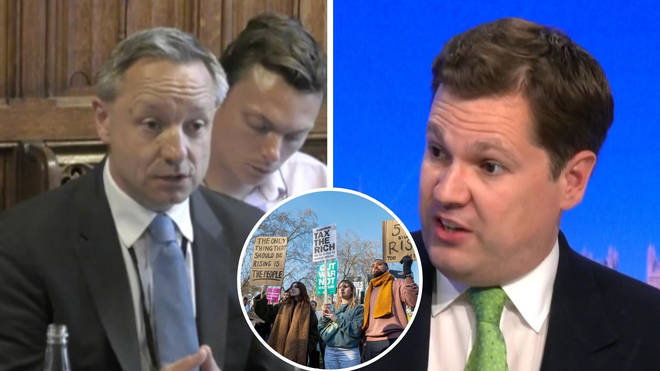 A former Cabinet minister has told LBC the Chancellor will announce a support package for struggling families soon, as an "intervention" is needed after Ofgem warned the price cap will rise by almost £1,000 in October.
Speaking to LBC's Tonight with Andrew Marr, Conservative MP for Newark, Robert Jenrick, said there needs to be an "intervention of some significance" to help families struggling with rising bills.
The former cabinet minister said the Chancellor will announce more support for households struggling with their bills "soon".
But he told Andrew: "You'll have to wait days or a couple of weeks, I don't think it will be very long before the Chancellor will come back to set out his plans."
He said there's reason for the Chancellor to "act swiftly" as he's now "armed with a guide from Ofgem".
"There's reason to instil some confidence by setting out a clear plan now – that's what the Chancellor's been mulling over, that's what he said at his CBI speech the other day, that he is developing a clear plan and is going to deploy that as quickly as possible."
Read more: Children suffer from food poisoning as parents switch fridges off to save on energy bills
Watch: James O'Brien: Rishi Sunak's wealth 'unjustifiable' amid cost of living crisis
Ofgem announced on Wednesday that the energy price cap will likely rise again by almost £1,000 in October.
The regulator is expecting the cap in October to be "in the region of £2,800", Ofgem chief executive Jonathan Brearley told the Business, Energy and Industrial Strategy Committee.
Currently the price cap stands at £1,971.
It follows an increase of £693 in April 2022, meaning prices have more than doubled in just over six months.
"I am afraid to say conditions have worsened in the global gas market since Russia's invasion of Ukraine," said Mr Brearley.
"Gas prices are higher and highly volatile.
"At times they have now reached over 10 times their normal level.
"I know this is a very distressing time for customers but I do need to be clear with this committee, with customers and with the government about the likely price implications for October.
"Therefore later today I will be writing to the Chancellor to give him our latest estimates of the price cap uplift.
"This is uncertain, we are only part way through the price cap window, but we are expecting a price cap in October in the region of £2,800."
Adam Scorer, chief executive of National Energy Action, said the rise in price cap will "plunge households into deep, deep crisis".
He said the announcement will "strike terror into the hearts of millions of people already unable to heat and power their homes".
"The financial, social and health impacts are unthinkable," he said.
"The UK Government simply must act and use the welfare system and schemes such as Warm Homes Discount to get significant financial support to people before winter. The ambition should be to find ways of covering the entire price increase for people on the lowest incomes."
Mr Brearley told the BEIS Committee future scenarios could include energy prices going up even more if Russia further disrupted gas supplies - and apologised for Ofgem's handling of the crisis.
"The price changes we have seen in the gas market are genuinely a once-in-a-generation event not seen since the oil crisis of the 1970s," he said.
"In any conceivable circumstances there would have been supplier failure.
"However, it is clear to me and it is clear to the current Ofgem board that, looking over all of our institution's history, had financial controls been in place sooner we'd have likely seen fewer suppliers exit the market, and for that on behalf of Ofgem and its board I would like to apologise."
Leader of the Liberal Democrats, Ed Davey, has called on the Prime Minister to declare a national cost of living emergency and convene a special meeting of COBRA.
Read more: Children's social care 'crumbling' and 'not fit for purpose' warns foster carer
Read more: Rich List Rishi Sunak 'could do anything with his life but he serves his country'
The COBRA meeting would bring together Ofgem, energy company bosses and government officials and ministers to discuss solutions to the cost of living emergency, including a windfall tax on the super profits of oil and gas companies.
"It is now or never to save families and pensioners on the brink," Mr Davey said.
"The government must declare the cost of living crisis a national emergency. Boris Johnson has sat on his hands for months, he cannot waste a single second longer.
"Millions of people will face the heartbreaking choice between heating their home and putting food on the table if the Government fails to act."
Read more: Cost of living crisis: Shop prices rise at highest rate in more than a decade
Mr Davey called on the Prime Minister to "finally show national leadership", saying Britain will "never forgive" him if he "fails to save families and pensioners in a national emergency".
The energy price cap - currently at a record £1,971 per year for the average household - is reviewed every six months and changed in October and April.
Ofgem considers a range of information when deciding where the price cap should be set. The price that energy suppliers pay for the gas and electricity they buy is a major part of this.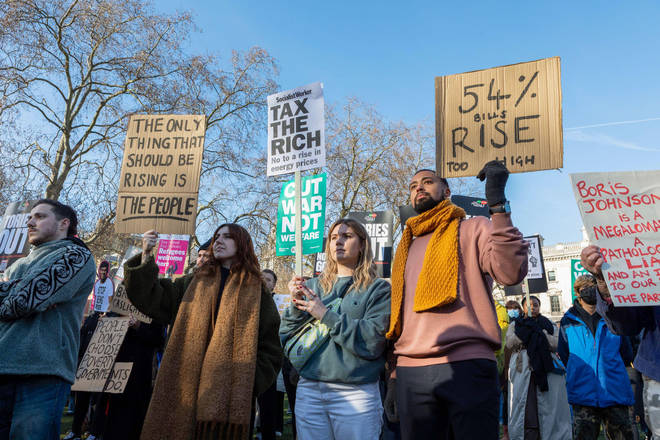 The price cap has gone up and down since it was introduced in 2019 - and was set at its lowest ever level in October 2020 at £1,042.
As the world emerged from lockdown in 2021, wholesale energy prices began to soar.
Gas prices have risen so rapidly that suppliers were often forced to sell the gas for less than they bought it for due to the price cap.
The April 2021 cap increased by 9% to £1,138, before going up to £1,277 in October 2021.
It then hit a record high in April 2022, rising to £1,971 - nearly a £700 rise.
Prices will have more than doubled in just over six months when the price cap rises again in October, Ofgem has warned.
Shadow chancellor Rachel Reeves said the prospect of the energy price cap rising to £2,800 in October is "extremely concerning and will cause huge worry for families already facing soaring bills and rising inflation".
She said: "How many more alarm bells does the Chancellor need to hear before he acts?
"The Government have got to get a grip on this crisis and to protect families and our economy."
She restated Labour's call for an emergency budget and a windfall tax on oil and gas giants.
Business Secretary Kwasi Kwarteng said bill payers had to "wait and see" what extra help would be on offer to cope with rising energy costs.
"Both the Prime Minister and the Chancellor have said that there will be further announcements in respect of giving assistance to people," he told MPs.
Downing Street acknowledged that energy prices were a "significant challenge" and said it was "actively looking at what more could be done in this space, that's something that the Chancellor and Prime Minister are focused on".