Sarah Jones blasts government over killer knife legal loophole after LBC investigation
11 January 2022, 11:11 | Updated: 11 January 2022, 22:30
This is the terrifying 21-inch knife that LBC was able to buy legally on the internet for just £23.49 due to a bizarre loophole in the law.
Despite having all the characteristics of a zombie knife, this potentially deadly blade is easy to buy and completely legal - simply because it does not have any writing on it.
Police would even have to leave it alone if they discovered it on a raid.
Police officers have revealed that laws introduced last year to tackle lethal blades are "pointless" and frustration is growing that officers are unable to take these dangerous weapons off the streets.
The Offensive Weapons Act 2019 came into force in July last year, and sought to ban the possession of dangerous weapons such as zombie knives, flick knives and others, even in private.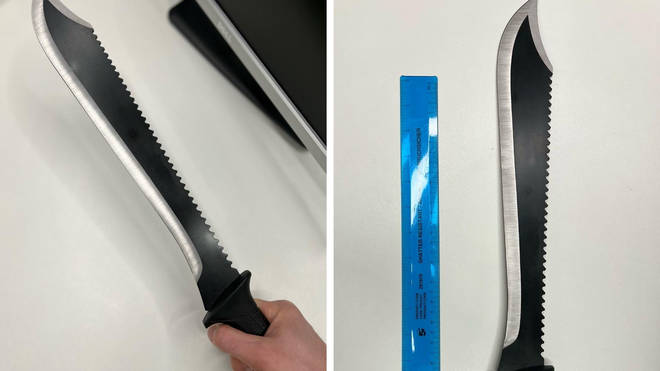 But the law has been so narrowly written that killer knives have been able to slip through the net and remain on the streets.
In the wake of our investigation, Sarah Jones, Shadow Minister for Policing and the Fire Service, said the government had failed to provide answers to the "national crisis".
Speaking to LBC, the MP for Croydon Central said: "The Government hasn't done the things it needed to do. This legislation was hailed by the Prime Minister as the big answer to what is a national crisis. It hasn't worked.
"In part because it hasn't even been implemented in full yet. Can you believe that part of that legislation was to make people prove they're over 18 if they want to buy a knife.
"They haven't even bothered to implement it. And there is absolutely no reason why anybody should need to buy these knives. 
"They should be taken off our streets entirely. This piece of legislation hasn't really changed anything and it was trumpeted as their answer to knife crime."
Read more: Mum who lost daughter, 14, during May 2020 lockdown too devastated to say the PM's name
Read more: MPs weep in partygate debate as Boris faces fury for ducking showdown
London's mayor Sadiq Khan - whose city has been blighted by knife crime - called on MPs to close the legal loophole which keeps the lethal blades on the streets.
LBC has taken the decision not to name the company which sold us the knife. It may be questionable whether such knives have a legitimate domestic purpose, but currently, to sell one is not breaking any laws. The fault, after all, lies in the legislation.
A so-called "zombie knife" must fit three key criteria. It must have a cutting edge, a serrated edge, and crucially, it must have "images or words that suggest it is to be used for the purpose of violence."
In practice, this means that police officers are raiding the homes of known criminals and discovering brutal blades that fit all the characteristics of a zombie knife, but if there is no violent writing or imagery on the blade, they cannot confiscate it or bring criminal charges.
Stuart Nolan, of DPP Solicitors, and chair of the Law Society's criminal law committee said: "You can have and buy quite openly an item that for all intents and purposes is exactly the same as the prohibited item, except it doesn't have writing on it that involves incitement to violence. The more you say it, the more difficult you may feel it is to understand, but that's what it says, and I can only interpret the law as I understand it from the statute."
To be completely clear, the loophole only applies in a private setting, as the possession of a knife in public would be illegal under the Prevention of Crime Act, 1953
Patrick Green, CEO of knife crime charity The Ben Kinsella Trust, said: "It's farcical. The whole premise of the Offensive Weapons Act was to do away with these knives, so I can't make head nor tail of why you would include a statement which says unless it has certain writing on it, it's not an offensive weapon.
"These are weapons which are maiming and killing people. The law has to be fit for purpose. This law in its present state isn't, and that's a real problem as we try to tackle knife crime."
And this is not just a dry point of law. Data recently collated by the College of Policing shows that in London in 2019/20, the vast majority of knives used in murders were machetes and hunting knives. Knives, like the one we purchased, with no legitimate domestic purpose.
Last year, the number of teenagers killed by knives in London reached its highest ever level. One of those victims was 15 year old Tamim Ian Habimana, who was stabbed to death in broad daylight in Woolwich in July.
His mother, Hawa Haragazika, said: "It's really disappointing. It's ridiculous, and it's disgusting to allow that. Because at the end of the day, it doesn't matter if there's anything written on the knife or not, it stabs people. So how can you allow that? It's a joke, and I feel so angry about it as a mother who lost her son a few months ago to knife crime."
Read more: Andrew Gosden disappearance: Two men arrested on suspicion of trafficking and kidnap
Read more: Four days after party email, my dad died. I've missed him every day since
London mayor Sadiq Khan told LBC: "Knife crime is a blight on our society, too many families, both when I was MP and mayor, whose lives have been changed forever because of the consequences of knife crime. And I think the question we've got to ask ourselves is why would anybody purchase that knife in the first place? What lawful use does purchasing that knife have?"
He said it was important to educate young people and added: "Closing the loophole is really important for Parliament to do but more importantly we've got to realise the best way to reduce crime is to prevent and encourage in the first place."
The Home Office said in a statement that: "Too many lives have been lost through serious violence and there is no place for the criminal use of knives in our society.
"In 2021 we banned a wide range of knives, weapons and firearms and existing legislation prohibits the possession of any machete or large knife in a public place without good reason - the penalty on conviction can be up to 4 years imprisonment.
"We also legislated against zombie knives in 2016 and it is now unlawful to sell these or to possess them in private.
"However, we are always actively working with police forces across England and Wales to see what further action is needed to take these deadly weapons off our streets."