Thousands of passengers face holiday chaos as Gatwick Airport workers announce fresh strikes throughout August
9 August 2023, 12:12 | Updated: 9 August 2023, 12:24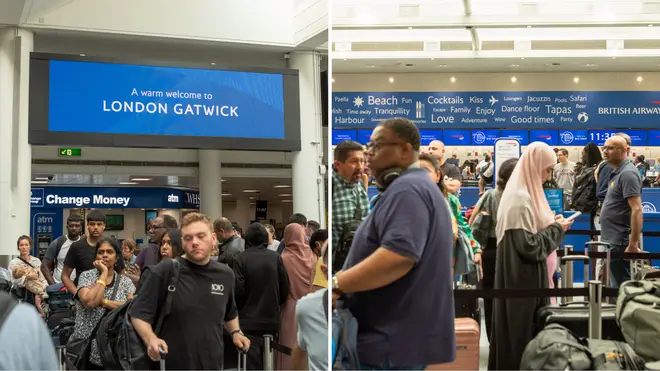 Gatwick Airport staff will take part in fresh strikes later this month, it has been announced.
More than 200 workers at Gatwick Airport will take industrial action across eight days, including the August Bank Holiday weekend.
The workers are members of the Unite union, who are employed at Red Handling, a ground handling company, and Wilson James, which operates the passenger assistance contract at the airport.
Both companies have failed to make offers that meet the workers' expectations, Unite union said.
The union's general secretary Sharon Graham said: "Red Handling and Wilson James need to wake up and smell the coffee, other employers at the airport are prepared to pay the going rate and there is no excuse why they shouldn't do the same.
"There is no way our members will accept a real terms pay cut and poverty pay.
"Unite's complete focus on the jobs, pay and conditions of its members will mean that our members at Gatwick will receive the union's unflinching support."
When are the strikes taking place?
Red Handling workers will begin their first strike at 00:01 on Friday, August 18. This will end at 23:59 on Monday, August 21.
Their second strike will begin at 00:01 on Friday, August 25. This strike will end at 23:59 on Monday, August 28.
Workers at Red Handling are responsible for ground handling for Norse Atlantic, Norwegian, Delta, TAP Air Portugal and Saudi.
Read More: Gatwick Airport strikes called off this weekend as workers vote to accept 10.3% pay rise
Read More: Gatwick airport set for 'inevitable' summer holiday chaos as staff announce eight days of strikes
Meanwhile, the strikes at Wilson James will begin at 00:01 on Friday, August 18. It will end at 23:59 on Sunday, August 20.
Their second strike will begin at 00:01 on Tuesday, August 22 and end at 23:59 on Thursday, August 24.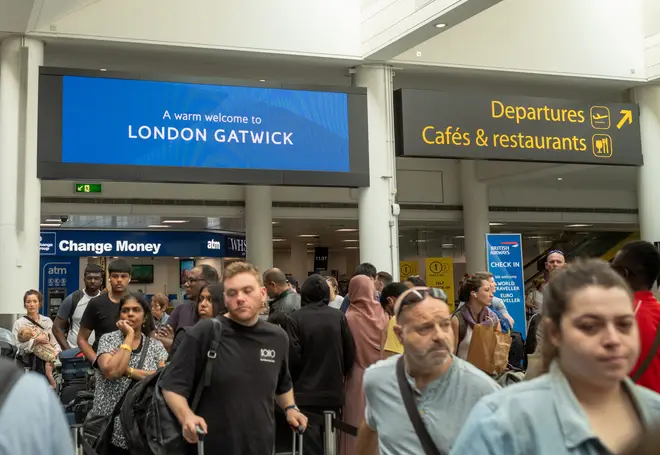 During the first four-day strike action at Red Handling, Unite union says some 216 flights could be disrupted or delayed, affecting approximately 45,000 passengers.
Unite regional officer Dominic Rothwell said: "The strike action is set to cause severe disruption throughout Gatwick Airport, but this dispute is totally of the employers' own making, they have been given every opportunity to make our members a fair pay offer but have failed to do so.
"The companies need to stop prevaricating and make an offer which meets our members' expectations."
It comes after strike action planned for last weekend at Gatwick Airport has been suspended after workers employed by GGS have voted to accept a pay offer.
The strikes, which were set to take place this weekend from Friday 4 August until Tuesday 8 August, was called off.