Gatwick Airport strikes called off this weekend as workers vote to accept 10.3% pay rise
2 August 2023, 12:28 | Updated: 2 August 2023, 13:00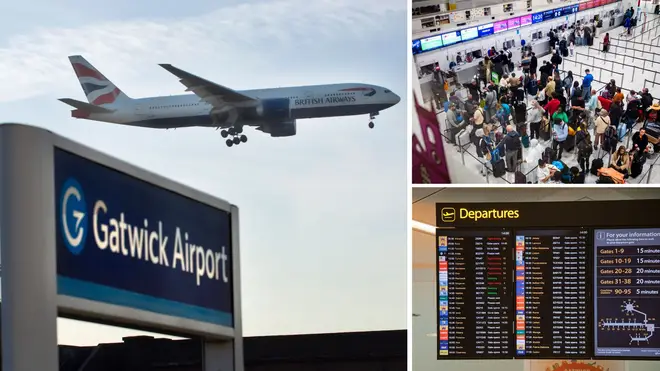 Strike action planned for this weekend at Gatwick Airport has been suspended after workers employed by GGS have voted to accept a pay offer.
The strikes, which were set to take place this weekend from Friday 4 August until Tuesday 8 August, have been called off.
It comes after GGS workers, employed on the British Airways contract, held negotiations with Gatwick Ground Services and were offered a 10.3% pay increase.
Unite the Union balloted GGS members on the offer, who voted to accept.
The deal will also include a "significant" market rate adjustment to their shift pay.
Unite general secretary Sharon Graham said: "This is a significant pay increase for workers at GGS. From the outset our members have been rock solid in their determination to secure a fair pay increase which has resulted in a just settlement.
"The pay campaign at Gatwick Airport is a great example of how Unite's unwavering commitment to jobs, pay and conditions for our members is delivering substantial financial benefits for workers."
Read more: London Underground Tube strikes: July dates and which lines are affected
Read more: Teachers strikes called off as all four education unions accept 6.5% pay rise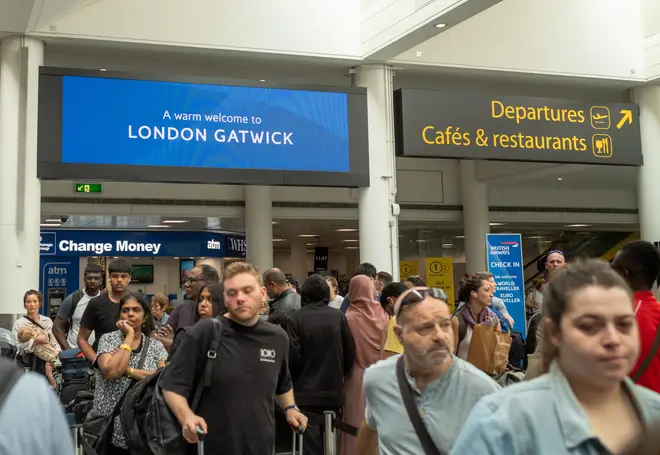 Earlier this month, airport staff across four private firms voted for the strike action, which included those from: ASC, Menzies Aviation, GGS and DHL Services.
Workers at ASC and Menzies already called off their strike action last month after receiving improved pay offers.
These companies outsource operations such as ground handling, baggage handling and check-ins for airlines.
However, despite the accepted deal, Unite the Union has warned of further action to come at the airport, as workers at Red Handling, Delta and DHL Gatwick Direct all voted for industrial action amid disputes on pay.
The planned action is expected to cause signify disruptions to airport operations.
"The threat of strike action continues to loom over Gatwick. Further strikes will be called in the near future, which will cause substantial disruption across the airport, unless the companies concerned make vastly improved offers which meet our members' expectations," Unite regional officer Dominic Rothwell said.
Gatwick is the busiest single-runway airport in the world, but due to air traffic control (ATC) restrictions amid the ongoing war in Ukraine, the airport is already experiencing major disruptions.
Unite members working in security at Gatwick also secured a 16% pay increase in June.
It comes after the government announced last month it would be implementing pay increases between five and 7% for staff across the public sector.
Last week school strikes planned by the UK's largest teaching union were also called off after NEU members in England voted to accept a 6.5% pay rise.