'It was like a break-up': Kwasi Kwarteng brands Suella Braverman attack on Rishi Sunak 'extraordinary'
15 November 2023, 09:36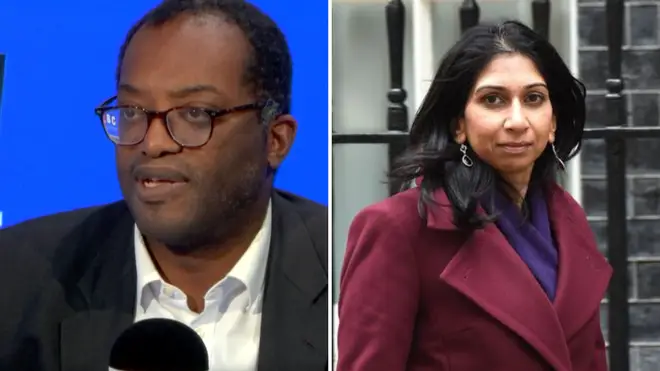 Kwasi Kwarteng has compared Suella Braverman's letter attacking Rishi Sunak after he fired her as Home Secretary to a "relationship break-up".
The former Chancellor said Ms Braverman's savage put-down of the Prime Minister in a resignation letter on Tuesday evening was "extraordinary".
Ms Braverman told Mr Sunak that he had broken a series of promises on migration, the Rwanda policy, gender laws, and Brexit, and said that he was simply "occupying" Downing Street, rather than delivering for the country.
Mr Kwarteng said that Ms Braverman "had to go" after her article attacking police ahead of the Palestine protest on Saturday, as well as her recent "offensive" comments on homelessness.
He said that the former Home Secretary was "stubborn and determined".
Read more: Suella Braverman accuses Rishi Sunak of 'betraying the nation' in scathing resignation letter
Read More: Suella Braverman's stinging resignation letter: Read the text in full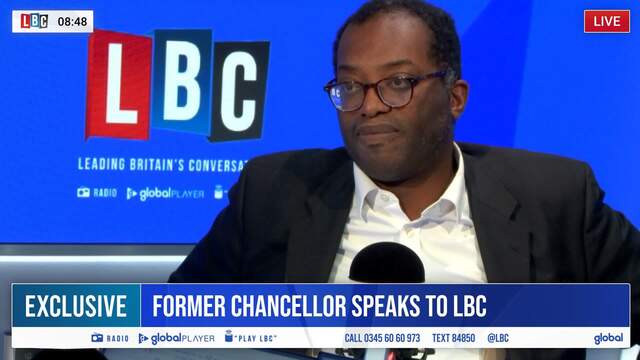 Kwarteng: Sunak will go even if he loses election only narrowly
Mr Kwarteng said he didn't know the conversations that had taken place between Ms Braverman and Ms Sunak.
"It read like a sort of a relationship breakup," he said. "I mean, it was absolutely extraordinary. And she seems very, very hurt by her dismissal. But I think publicly she was off piste. She was too much off piste."
Mr Kwarteng, who was briefly Chancellor last autumn under the premiership of Liz Truss, before their mini-budget containing unfunded tax cuts sent the markets into turmoil, said Ms Braverman was fired because Mr Sunak felt she had "stepped out of line".
But he said that her article, published in the Times last week, did not inflame tensions among pro-Palestine or right-wing protesters.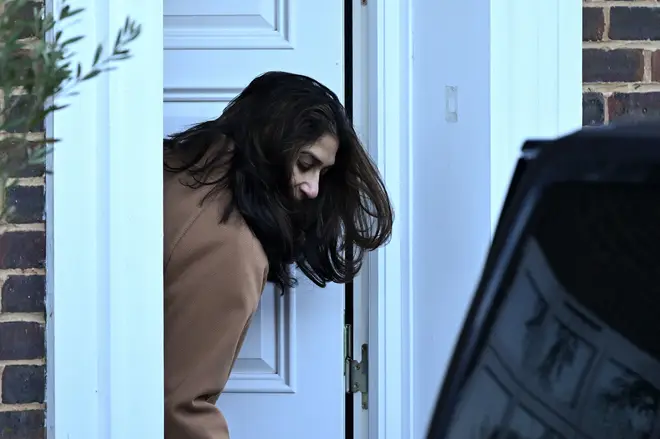 "I think the people who wanted to cause aggravation and mischief were set on that in any case," he said.
"But I think she had stepped out of line as far as the Prime Minister was concerned, clearly, and that's why she was dismissed."
He added that Ms Braverman had made a mistake by criticising the police so publicly. Mr Kwarteng said that as a Cabinet minister "you've got to deal well... with the stakeholders".
"If you're Home Secretary, you've got to have a good relationship with the police," he said, adding that Ms Braverman calling the Met out publicly "was quite punchy."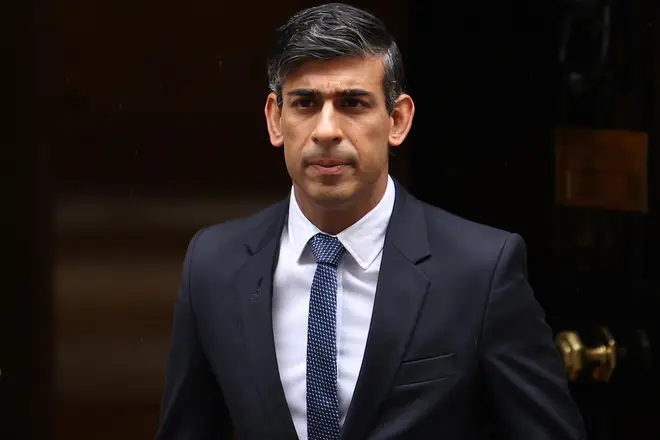 Ms Braverman had earlier caused an upset by saying that homelessness was a "lifestyle choice", which several of her fellow Cabinet ministers distanced themselves from.
Addressing her comments, Mr Kwarteng said: "I don't think it's true, I mean for some people it might be but it's clearly not the case for everybody. And it was an odd and offensive remark."
He added that he wasn't sure why Ms Braverman had to express her opinion so publicly.
Mel Stride reacts to Suella Braverman's scathing letter to Rishi Sunak
Ms Braverman - who has been a leading figure on the right of the Conservative Party - was fired from Mr Sunak's government on Monday amid a high-profile cabinet reshuffle.
She repeatedly clashed with the prime minister over immigration policy and policing of protests.
Ms Braverman said in her letter on Tuesday that Mr Sunak had "no personal mandate to be Prime Minister" because he had lost the leadership contest earlier last year to Ms Truss, before she resigned.
"I agreed to support you because of the firm assurances you gave me on key policy priorities," Ms Braverman added.
"Either your distinctive style of government means you are incapable of doing so," she continued, "or, as I must surely conclude now, you never had any intention of keeping your promises."
Throughout the astonishing three-page letter, she told Mr Sunak his "plan is not working" and that he needed to "change course urgently" as the Conservatives were "running out of time" ahead of the next general election.
She said he had promised to do "whatever it takes" to stop small boats crossing the Channel - but said he has ultimately failed on such key policies.
"I repeatedly urged you to take legislative measures that would better secure us against the possibility of defeat," she claimed, "You ignored these arguments. You opted instead for wishful thinking as a comfort blanket to avoid having to make hard choices. This irresponsibility has wasted time and left the country in an impossible position."
After expressing pride in her record as Home Secretary, Ms Braverman wrote: "Despite you having been rejected by a majority of party members during the summer leadership contest and thus having no personal mandate to be prime minister, I agreed to support you because of the firm assurances you gave me on key policy priorities."
She said Mr Sunak's response to "the rising tide of racism, intimidation, and terrorist glorification" is "uncertain, weak, and lacking in the qualities of leadership that this country needs".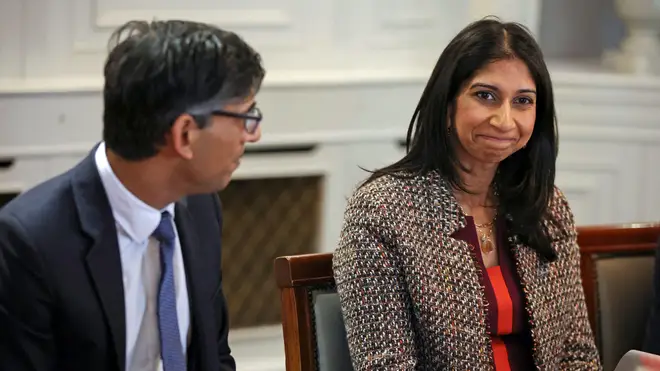 Continuing her scathing attack on the prime minister, Ms Braverman said: "Someone needs to be honest: your plan is not working, we have endured record election defeats, your resets have failed and we are running out of time."
"I will, of course, continue to support the government in pursuit of policies which align with an authentic conservative agenda," she added.
Her scathing attack comes ahead of the Supreme Court's ruling on Wednesday, deciding on the legality of the Rwandan asylum plans.
Issuing a public statement in response to Suella Braverman's extraordinary letter, a spokesperson for Mr Sunak said the prime minister "believes in actions not words".
"The prime minister was proud to appoint a strong, united team yesterday focused on delivering for the British people," the spokesperson said.
"The prime minister believes in actions not words. He is proud that this government has brought forward the toughest legislation to tackle illegal migration this country has seen and has subsequently reduced the number of boat crossings by a third this year.
"And whatever the outcome of the Supreme Court tomorrow, he will continue that work. The PM thanks the former home secretary for her service."
Providing immediate reaction to LBC, Work and Pensions Secretary Mel Stride said: "I have always found the prime minister to be a man of huge integrity and principal. I saw that when I worked closely with him during his leadership campaign and the way he conducted himself then."
He said Mr Sunak has "stuck to his guns" and has "taken considerable action" on immigration issues.