London TikToker stages 'embarrassing' stunt in busy A&E, throwing herself on the floor and screaming 'I'm dying'
9 November 2023, 16:25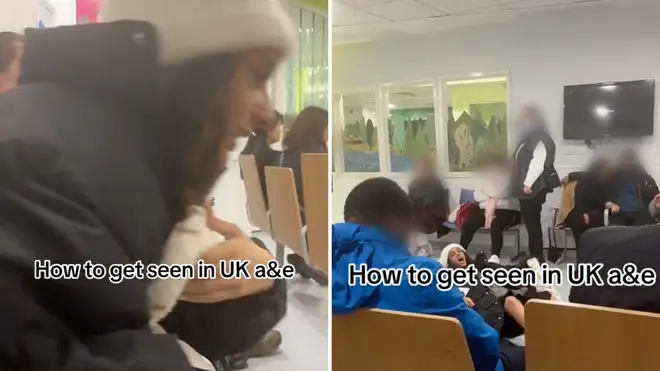 A London-based TikToker has posted a video of herself pretending to collapse in a crowded A&E ward while shouting "I'm dying" in an internet stunt.
Farah Shams, 23, enacted the stunt for her 480,000 TikTok followers in a video titled How to get seen in UK A&E.
The video was shot by a friend and shows Ms Shams standing up from her seat, walking to the middle of the waiting area, whilst shouting "Oh my God, I'm dying."
She then is seen slowly falling to the ground shouting: "Help."
On the floor, the TikToker is seen wiggling about, in what looks to mimic a seizure, before she gets up to ask: "Why is nobody helping me?"
A member of staff looks down on her while another, who appears to be a security guard asks her: "What's happened?"
Ms Shams shouts: "I'm dying, we're all dying!"
The guard then asks her to sit down before one of the patients exclaims: "Her friend's videoing this."
Since its upload, the video has garnered 4.1 million views, with many users criticising the content creator.
One user wrote: "Hospital staff got enough to deal with."
Read more: TikTok prankster Mizzy banned from using social media after posting videos without consent
Read more: 'This isn't new!': Shelagh Fogarty criticises Health Sec for comments on NHS waiting times
Another questioned her maturity and wrote: "That's not even funny. You silly little child act your age. People are seriously unwell and people are trying to help them."
A third commenter said: lack of consideration for NHS staff and just people in general."
A few other accounts called her "embarrassing".
Others joked that her behaviour would mean the hospital would not let her leave.
However, some found the video entertaining, with one user commenting: "This was funny why yall so mad?"
Ms Shams responded and called those critiquing her "keyboard warriors."
She wrote: "Legit everyone's sooooo pressed but half the people are keyboard warriors, if they were there they would've stayed quiet."
The video was uploaded on 27 October and Ms Shams has since claimed she pulled the stunt as she had waited six hours to be seen and then another three hours.
She was then reportedly discharged without being told.
This is not the only time the TikToker has posted videos where she brings attention to herself.
In one recent video, one of the clips features her shouting: "I want to be famous" in the middle of a busy shopping district.
Members of the public can be seen looking at her, as the TikToker attempts to engage with them.