Lucy Letby used secret code written in her diary to keep a catalogue of her horrific crimes, police reveal
24 August 2023, 11:27 | Updated: 24 August 2023, 11:49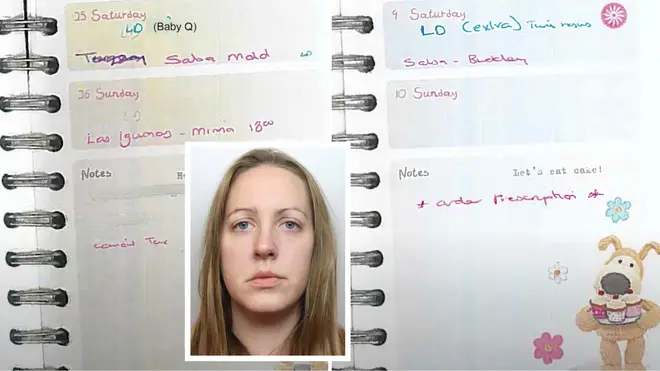 Lucy Letby used a secret code to record the dates of her crimes in a diary she kept in her bedroom, police have revealed.
Police described Letby as a "copious writer of notes," saying that among thousands of documents recovered were diaries, post-it notes and scraps of paper found in her Cheshire home.
She had a code of "coloured asterisks" among the documents, marking 'significant events' in the police investigation, detectives said.
They found her 2016 diary which had the code 'LO' next to dates marked June 23 and 24, the days of her fatal attacks on Baby O and his brother Baby P.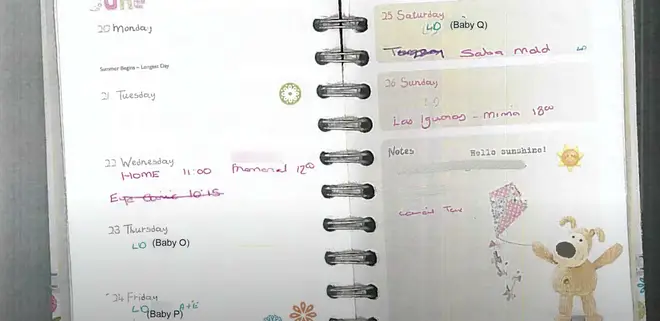 The same code appeared on April 6, 7, 8 and 9. On April 9 she tried to murder twin brothers Baby L and Baby M.
DI Rob Woods, who ran the search of her home when Letby was arrested for a second time, said in a police documentary: "There appeared to be, and it became clear later that it was, almost a code of coloured asterisks, and various other things that marked significant events in our investigation.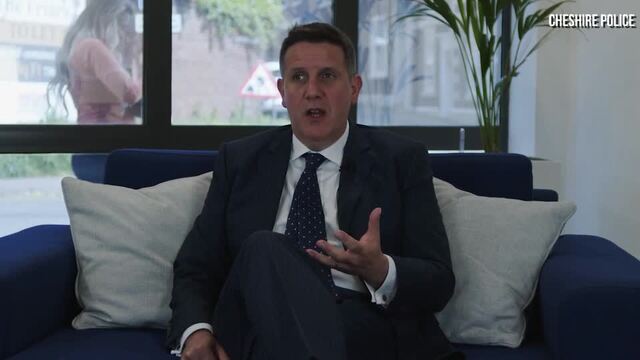 Cheshire Police reveal details of Lucy Letby's diary entries
"When we went to search the address for the second occasion that was something we knew that we were looking for because we didn't have the complete chronology.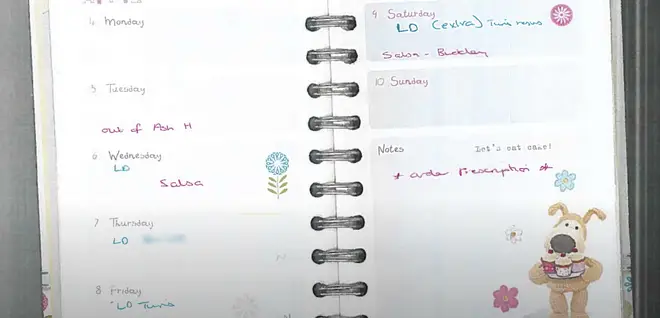 "There were a couple of years missing so that was a very clear item."
"We also knew that she was a copious writer of notes. We thought that perhaps having been arrested she might stop doing that.
"It turned out when we searched that 2nd address she had continued to write her thoughts and all sorts of processes about the investigation."
The development comes after one of Letby's friends said she stands by her - despite her being found guilty of murdering seven babies.
The friend, Dawn, has said she refuses to accept her friend could be guilty of the horrific crimes she committed.
Letby, Britain's most prolific child killer, will die in prison after being sentenced to 14 whole life orders.
Dawn, who grew up with Letby in Hereford, told the BBC: "Unless Lucy turned around and said 'I'm guilty', I will never believe that she's guilty."
Appearing to speak for a wider group, she said Letby's other friends also stand by her, adding: "We know she couldn't have done anything that she's accused of, so without a doubt, we stand by her. I grew up with Lucy and not a single thing that I've ever seen or witnessed of Lucy would let me for a moment believe she is capable of the thing's she's accused of.
Read more: Lucy Letby's parents 'want to move close to prison' so they can be near baby killer daughter
Read more: James O'Brien criticises 'half-hearted' reaction to killer nurse Lucy Letby warnings
Read more: Keir Starmer vows Labour won't block Rishi Sunak on law forcing offenders to face victims' families in court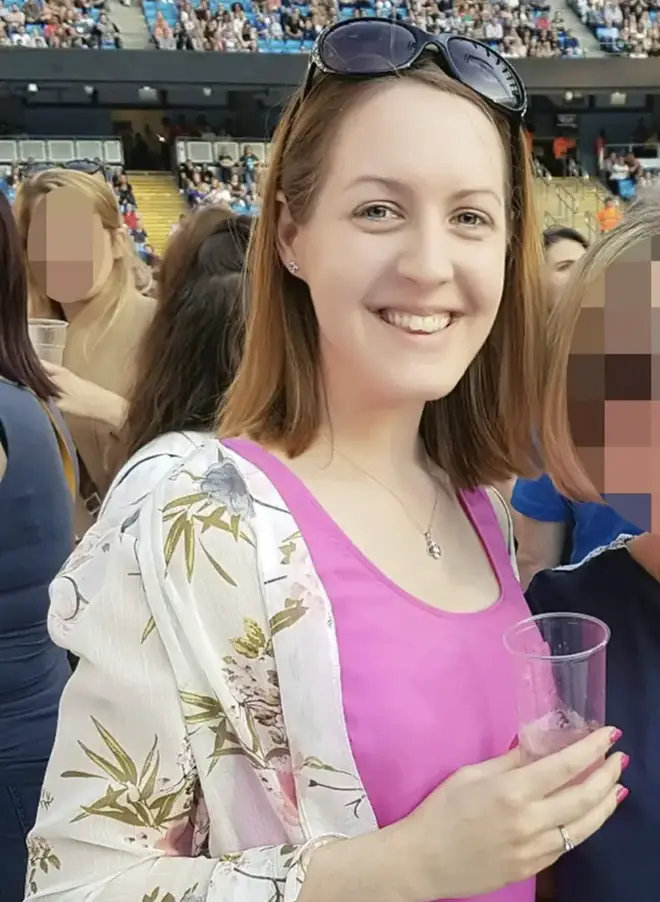 "It is the most out-of-character accusation that you could ever put against Lucy. Think of your most kind gentle soft friend and think that they're being accused of harming babies."
Her comments come as the fallout from Letby's crimes continues - with growing calls for better accountability for NHS managers.
Concerns about the serial killer were not addressed for months before she was finally taken off frontline duties.
Senior doctors at the Countess of Chester Hospital, where the 33-year-old carried out her year-long killing spree on the neonatal unit, have said that hospital bosses should be regulated in a similar way to doctors and nurses.
Meanwhile there have been an increasing number of calls for the inquiry into her crimes to be given statutory footing, which would mean witnesses would be compelled to attend to give evidence.
It comes as Letby has begun her whole-life sentence in prison for the murder of seven babies and the attempted murders of six more.
She did not appear in the dock for her sentencing hearing on Monday and ministers have vowed to change the law to ensure serious offenders can be forced to attend court.
Tamlin Bolton, a solicitor for law firm Switalskis, which is representing the families of seven of Letby's victims, said that the families thought it was a "disgrace" that Letby did not attend the hearing.
"One of the fathers said to me that it actually spits in the face of the justice system," she told BBC Breakfast.
It comes as paediatrician Dr Stephen Brearey, who blew the whistle on Letby in 2015, said that NHS managers need to be held accountable when things go wrong.
Asked if he would like to see regulation of hospital administrators, he told BBC Radio 4's Today programme: "Absolutely. Because doctors and nurses all have their regulatory bodies that we have to answer to.
"And quite often, we'll see senior managers who have no apparent accountability for what they do in our trusts, and they move to other trusts, and you worry about their future actions.
"There doesn't seem to be any system to make them accountable and for them to justify their actions in a systematic way."
He added: "I think our experiences aren't uncommon in the NHS, that you go to senior colleagues with a problem and you come away confused and anxious because that problem is being turned in a way in which you start to realise that they're seeing you as a problem rather than the concern that you have."
His colleague, Dr Ravi Jayaram, told ITV: "As far as I can tell the people in senior NHS management positions, there is no robust system of accountability of appraisal. This is the culture in the NHS and it has to change."
A doctors' union has also called for the law to change to better protect NHS whistleblowers.
The Hospital Consultants and Specialists Association (HCSA) said there should be an independent organisation where whistleblowers should be registered and that it should become a criminal offence if those who speak out face recrimination.
Dr Naru Narayanan, HCSA president, told Sky News: "There has to be better protection for people who raise concerns, but we see time and again that people who do so face retribution, revenge and retaliation, and they fear for their careers.
"There has to be a significant rehaul which has to be protected by law, where whistleblowers are afforded the protection they deserve."
It comes as the Government said that a statutory inquiry into Letby's crimes in "on the table".
Ms Bolton said that a statutory inquiry into Letby's crimes is "exactly" what the families of her victims want.
Dr Brearey echoed the call, telling the Today programme: "Just the magnitude of the events that occurred and the effect it has had on so many people, obviously primarily the families.
"I wouldn't, for them, expect anything other than a statutory inquiry with the most wide-ranging and statutory powers.
"It is clearly what the parents deserve.
"And you know, the problems that we encountered weren't confined to the problems in the trust - this is a multi-organisational learning opportunity involving other organisations, the CQC (Care Quality Commission), the GMC (General Medical Council), the College of Paediatrics as well as NHS England, and that can only be achieved with a statutory inquiry."
Quizzed on the prospect of a statutory inquiry, Education Secretary Gillian Keegan told Times Radio: "I was speaking to the Prime Minister yesterday and he made it really clear that what we need to do is make sure the families get answers, we learn the lessons as well, and it is a very transparent process that everyone can get behind.
"What will happen next is there will be a chair appointed, the chair will work with the families to look at the terms of reference, discuss the pros and cons of different types of inquiry, and then they will come to a conclusion.
"But it is most important that the families get the answers that they need and that they deserve and that it is a transparent process which gives us the lessons learned as well."
Pressed about whether it should be a statutory inquiry, she added: "That is something that is on the table, that is something that can be discussed.
"But there are pros and cons to the two types of inquiry, so when the chair works with them on the terms of reference that will be something that they can input to them."
Sir Robert Francis KC, who chaired the inquiry into serious care failings at Mid Staffordshire NHS Foundation Trust, said that the families of Letby's victims should decide on whether the inquiry into her crimes should be statutory.
He told Times Radio: "A chair should be appointed to consult with the interested parties, to consult with the tragic families that have been involved in this, to find out what they want, and you may find there's not one united voice about this.
"So I would ask them what they feel they want and why they want it and indeed other people."
Labour leader Sir Keir Starmer repeated his call for the inquiry to be put on a statutory footing.
Asked if the inquiry should consider the regulation of NHS managers, he told broadcasters: "I think a statutory inquiry should look at all relevant issues. It would have the power to do so.
"Then strong conclusions can be drawn."