Parking row killer guilty of stabbing dad-of-three 27 times and trying to kill neighbour
5 April 2022, 15:17 | Updated: 5 April 2022, 16:02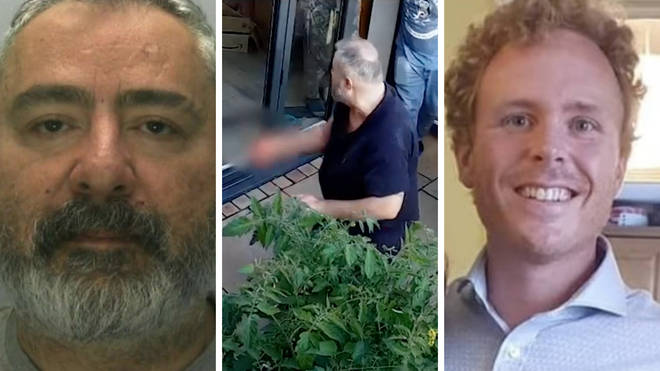 A man who stabbed his neighbour 27 times after subjecting him to years of threats and abuse has been found guilty of murder.
Can Arslan, 52, lay in wait for father-of-three Matthew Boorman and attacked the 43-year-old as he walked towards his front door after returning from work on the afternoon of October 5 last year.
The killing was the culmination of 12 years of threats from Arslan against his neighbours in Walton Cardiff, near Tewkesbury, Gloucestershire, many of whom had installed expensive security systems, Bristol Crown Court heard.
Mr Boorman's wife Sarah suffered a deep wound to her leg as she tried to pull the defendant off her husband, and the attacker then forced his way into the home of Peter Marsden and knifed him eight times.
The murder and subsequent threats and attacks were caught in graphic detail on the neighbourhood's many CCTV and doorbell cameras installed by anxious residents.
Read more: Guitarist, 24, admits murdering Bobbi-Anne McLeod, 18, and dumping body on a beach
Arslan admitted the attempted murder of Mr Marsden, causing grievous bodily harm to Mrs Boorman, and a charge of affray, but denied murder.
Instead, he claimed the charge he should face for killing Mr Boorman was manslaughter on the grounds of diminished responsibility.
But on Tuesday, a jury unanimously convicted him of murder after a day of deliberations.
During the trial, the court heard that Arslan was not mentally ill or in the grip of psychosis, but that he has been diagnosed with a personality disorder.
Trial judge Mrs Justice Cutts said she wanted a further psychiatric report prepared on Arslan before she would sentence him.
She told him: "I am not going to sentence you today; I am going to sentence you on June 9 when I will have an additional report on you. "In the meantime you will remain in Broadmoor."
Read more: Dance teacher, 48, spared jail after bombarding boy, 13, with 'intensely sexual' texts
Small rows over parking and a scratch to a car had escalated to the point where Arslan had repeatedly threatened to attack or kill those living near him.
In May, Mrs Boorman had made a statement to police setting out a summary of the threats they had received from the defendant.
She said they were worried about being murdered, or that someone was going to be seriously hurt very soon, adding they had not used their back garden for more than a year because of his threats.
Mr Boorman's statement said he genuinely feared for his safety and that of his family.
"I am very alarmed he made references in his conversations about missing prison and wanting to be arrested," he said.
"I genuinely fear his conversation was meant to be overheard by us, to let us know that he isn't scared of the police, is willing to go to prison, and when he is released he won't forget about the incident."
Read more: Missing child dies after being found near White Cliffs of Dover and rushed to hospital
He added: "I also believe he's trying to intimidate us into not making complaints to police. I am very scared of what Mr Arslan can do.
"He makes reference to being ex-special forces and has made threats previously of rape. This week he has taken images of my daughters' bedrooms.
"I don't know what he's capable of and this causes myself and my wife to be continually anxious regarding the nature of Mr Arslan."
Before the murder, Arslan was facing eviction proceedings and was subject to an injunction barring him from contacting his neighbours directly or indirectly in a bid to stop him abusing them.
Arslan made counter-allegations, accusing the Boormans of racially abusing him.
The day before the attack, a police officer had telephoned Arslan about the complaint he had made.
During the call, Arslan verbally abused the officer, calling him a motherf***** and a cocksucker, and told him he would sort his neighbour out himself, adding "I will murder him".
Arslan will be sentenced at a later date.