Mounted police clash with Black Lives Matter protesters in London
6 June 2020, 21:55
Mounted police clashed with Black Lives Matter demonstrators in London on Saturday amid ongoing protests.
Missiles were thrown at officers as they mounted a charge down Whitehall after tensions between activists and authorities rose.
The police guarding Downing Street donned full riot gear as the clashes continued.
Four people were arrested at the protests, all of whom are in custody.
The arrests were for assault on police, criminal damage, making threats and calling for violence and an incident of dangerous driving near the US Embassy.
LBC Senior Reporter Matthew Thompson said it had "descended into chaos," with protesters stampeding officers before they were kettled.
He said there was a "moment where it felt like it could descend into a riot" but the "frenzy" had since calmed.
There are still several hundred protesters on Whitehall, with two lines of police containing them.
Tensions flared between police and protesters after missiles were thrown in the direction of officers.
Both plastic and glass bottles were thrown towards police, who attempted to push the crowd away from Downing Street and down Whitehall.
Members of the crowd also began to argue amongst themselves, as one protester began shouting and urging others not to throw bottles.
Shortly afterwards, another group of officers wearing helmets descended on Whitehall from the direction of Parliament Square.
Still tense here outside Downing Street as punches are thrown at police and they try and force the crowd back down Whitehall.

Now it's just become a stand off as the protestors won't budge. @LBC @LBCNews pic.twitter.com/Zq7Plns9BY

— Matthew Thompson (@mattuthompson) June 6, 2020
Tensions flared as the crowd rushed towards them and a red smoke flare was thrown in the air.
One officer was thrown from her horse as it bolted after a flare was hurled towards the line of police.
A spokesperson said she was "currently in hospital, receiving treatment for her injuries which are not life threatening."
They added: "The officer fell from her horse, and we are examining the full circumstances of what took place."
Police in helmets and holding shields formed two lines on Whitehall, with mounted officers in-between.
This separated the crowd, with the majority on the side of Parliament Square.
Officers tried to force the crowds further down Whitehall, with some protesters linking arms and turning their backs to police to stop themselves being moved on.
A few demonstrators stood on walls outside of the Cabinet Office, holding signs and chanting.
Later, mounted officers moved away from Whitehall, with a line of police remaining outside Downing Street.
Officers attempting to push protesters down Whitehall were met with resistance from the crowd, with some demonstrators shouting "stand your ground" to the others.
Graffiti has been daubed on buildings on Whitehall, including the Cabinet Office.
A small "BLM" motif has been painted on the Cenotaph in black paint, while cardboard placards have been propped up on the war memorial's steps.
There was also a minor scuffle at the US Embassy as police attempted to disperse the crowd gathered there.
It comes after a largely peaceful demonstration, which started earlier on Saturday afternoon in Parliament Square.
A crowd gathered at 1pm, brandishing placards and chanting.
The majority of the demonstrators were wearing masks and face coverings, with some also opting for gloves.
Placards carried by demonstrators referenced the coronavirus crisis, with one that said: "There is a virus greater than Covid-19 and it's called racism."
Many other signs said "black lives matter" and "no justice, no peace".
Mayor of London Sadiq Khan praised those who protested peacefully on Saturday but said people who became violent "let down the cause".
He said: "To the thousands of Londoners who protested peacefully today, I stand with you and I share your anger and your pain.
"George Floyd's brutal killing must be a catalyst for change worldwide."
He added: "No country, city, police service or institution can absolve itself of the responsibility to do better.
"We must stand together and root out racism wherever it is found. Black Lives Matter.
"To the tiny minority who were violent and threw glass bottles and lit flares - you endangered a safe and peaceful protest and let down this important cause."
Before the protests started, Metropolitan Police Commissioner Cressida Dick asked people not to attend.
Speaking on LBC this morning, she said: "Feelings have been running incredibly high, a huge amount of conversations and dialogue and anger.
"I would ask people to express that in any other way than gathering on the streets.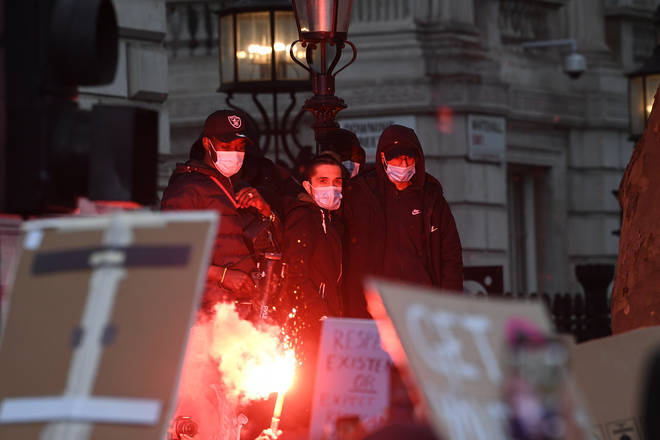 "If they do gather on the streets then my officers will of course seek to uphold the law, but they will make a case by case decision on what is presented in front of them."
UK action began last weekend as sympathisers knelt in symbolic solidarity with George Floyd and other black victims of police brutality.
While echoing US grievances, British activists have also pointed to hate crimes in the UK.
Campaigners have wielded placards stating "The UK is not innocent," alongside the names and faces of victims of racial violence in the country.
Panic with horses charging down Whitehall as someone throws a flare towards the line of mounted riot police outside Downing Street. @LBC pic.twitter.com/k61iRio3y6

— Rachael Venables (@rachaelvenables) June 6, 2020
The death of Mr Floyd has sparked mass protests in the US, UK, and elsewhere in the world.
He died after a white police officer held him down by pressing a knee into his neck in Minneapolis on May 25, sparking days of protests in the US.