Nicola Sturgeon denies upstaging Humza Yousaf at SNP conference
16 October 2023, 14:58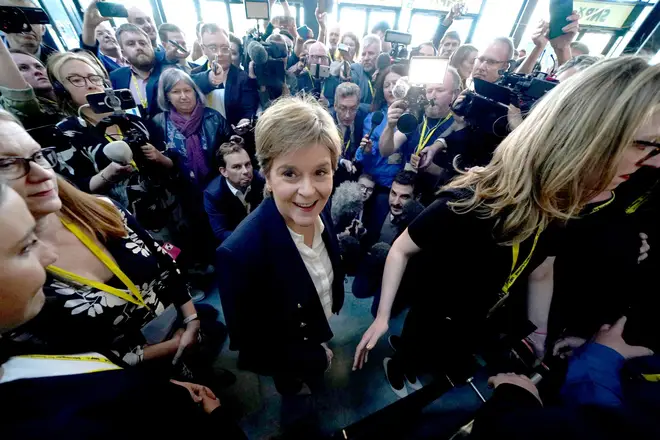 Nicola Sturgeon has denied overshadowing Humza Yousaf's first SNP conference as leader - despite arriving to cheers and receiving a standing ovation from members.
The former SNP leader said there was no doubt "who is in charge" of the party, and threw her weight behind Yousaf's new independence strategy.
She also rejected suggestions that the Police Scotland investigation which had seen her arrested and released without charge, had cost the SNP the Rutherglen and Hamilton West by-election
Humza Yousaf has admitted that the investigation into SNP finances had been raised on the doorsteps during the campaign.
Asked why the SNP lost the by-election, Nicola Sturgeon said: "I think what the party is doing and what the party needs to do is remember and remind people why we won so many elections in the past almost 20 years now.
"It's about being on the side of people who aspire for a better life for themselves.
"It's about standing up and providing a voice for people who are often marginalised... standing up to vested interests.. standing up for Scotland."
She said it was also about making the connection between the SNP's drive towards independence and other issues which are a priority for people.
Asked if her arrival was overshadowing Yousaf who was elected leader earlier this year after her unexpected decision to quit, she said he was doing a "fantastic job".
"I've been watching from afar. This is a very different conference experience for me than the ones I've been used to.
"I think Humza is doing a fantastic job as leader of the party and as First Minister. I don't think there is any doubt from what I've seen who is in charge."
Quizzed on whether she had spoken to the police again following her arrest she said "no".
She also said the SNP's new position on independence has her "full unequivocal support".
The position agreed at the conference on Sunday differs from the de-facto referendum position she set out before standing down as first minister and SNP leader earlier this year.
She had wanted the SNP to win at least 50% plus one of the vote share at the General Election to open independence negotiations with the next UK government. Yesterday the party instead agreed that if it wins a majority of MPs that would be enough to trigger talks on delivering independence with whoever is in No10.
"One of the reasons I took the decision to step down was that I believed I'd given it my all on moving the country to independence but that I had taken it as far as I could," she said.
"I think in those circumstances it was right – that was my objective – that the party took the time to consider the way forward it wanted to adopt."It did that yesterday, it did that unanimously as far as I could see, and that position has my full, unequivocal support."
She also denied claims by Joanna Cherry MP, that under her leadership the party had shut down open debate, including on independence strategies.
"I've always been somebody that takes criticism on board, argues my case, will continue to argue my case. My record as SNP leader speakers for itself; it's for other people to judge that," she said.