Pro-Palestine protest planned for Armistice Day can go ahead, Met chief confirms, as ban threshold 'not yet reached'
7 November 2023, 19:16 | Updated: 8 November 2023, 07:27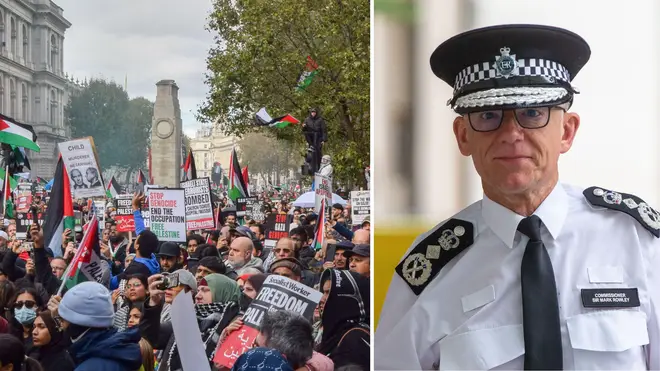 Metropolitan Police Commissioner Sir Mark Rowley will not formally ask the Home Secretary to ban a pro-Palestine protest planned for this weekend.
The Met has already issued a statement calling for demonstrators to "postpone" protests on Armistice Day, as senior officers are concerned about "criminal acts" being carried out by "breakaway groups intent on fuelling disorder".
Deputy Assistant Commissioner Ade Adelekan said on Monday: "The risk of violence and disorder linked to breakaway groups is growing.
"This is of concern ahead of a significant and busy weekend in the capital.
"Our message to organisers is clear: Please, we ask you to urgently reconsider. It is not appropriate to hold any protests in London this weekend."
But the Met chief does not plan to ban the protest, as the force does not believe the legal threshold to do so has been met.
It comes amid mounting pressure on the police force to cancel the protest, including from the Prime Minister Rishi Sunak, who said the march should not go ahead.
Mr Sunak labelled plans for an Armistice Day protest as "provocative and disrespectful" and said there was a "clear and present risk that the Cenotaph and other war memorials could be desecrated".
Read More: 'Suella Braverman succeeded - she's caused hate', claims caller after Home Secretary criticises pro-Palestine marches
Read More: 'Truly appalling': Elderly army veteran poppy seller 'punched' by pro-Palestine protesters at Edinburgh station
Meanwhile, the Home Secretary Suella Braverman called it "entirely unacceptable to desecrate Armistice Day with a hate march through London".
Sir Mark said: "If over the next few days the intelligence evolves further and we get to such a high threshold - it's only been done once in a decade - where we need to say to the home secretary we need to ban the march element, then of course we will do."
"But that's a last resort we haven't reached," he told the BBC.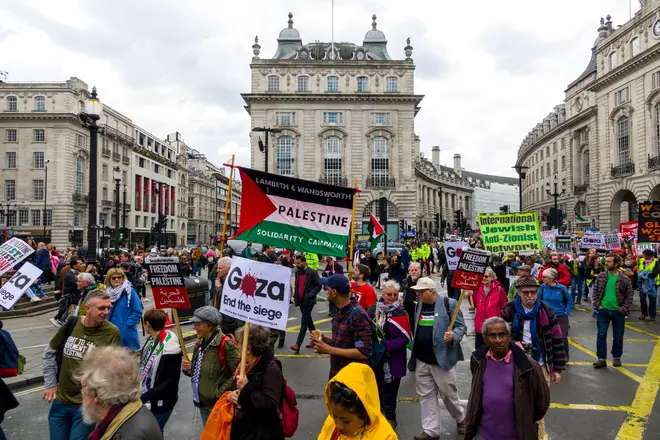 Sir Mark later said that police would do everything in their power to prevent disruption on Armistice day.
He said in a statement: "The events taking place this weekend are of great significance and importance to our nation. I completely recognise the significant public and political concern about the impact of ongoing protest and demonstrations on this moment of national reflection. Therefore I am determined we will do everything in our power to ensure they pass without disruption.
"The reason we have an independent police service is so that among debate, opinion, emotion and conflict, we stand in the centre, focused simply on the law and the facts in front of us.
"The laws created by Parliament are clear. There is no absolute power to ban protest, therefore there will be a protest this weekend.
"The law provides no mechanism to ban a static gathering of people. It contains legislation which allows us to impose conditions to reduce disruption and the risk of violence, and in the most extreme cases when no other tactics can work, for marches or moving protests to be banned.
He added that there had been calls to use this power to ban the Palestine solidarity march on Saturday.
But he said that the use of the power was "incredibly rare", adding that it can be based on intelligence suggesting there will be serious disorder.
Sir Mark said there had been "an escalation of violence and criminality by small groups attaching themselves to demonstrations, despite some key organisers working positively with us.
He added that "the intelligence surrounding the potential for serious disorder this weekend does not meet the threshold to apply for a ban.
"The organisers have shown complete willingness to stay away from the Cenotaph and Whitehall and have no intention of disrupting the nation's remembrance events. Should this change, we've been clear we will use powers and conditions available to us to protect locations and events of national importance at all costs.
"Officers will continue to take swift and robust action against any breakaway groups or individuals intent on using legitimate, lawful protest for their own agenda through Saturday and Sunday.
"If over the next few days the intelligence evolves, and we reach a threshold where there is a real threat of serious disorder we will approach the Home Secretary. Right now, we remain focused on the facts in front of us and developing our plan to ensure the highest levels of protection for events throughout the weekend.
Meanwhile, asked whether he believes pro-Palestinian marches should be allowed to take place on Saturday, Lord Soames - Winston Churchill's grandson and Tory Party grandee - told Andrew: "I think that a lot of people died during the war to assert freedom.
"And because you may not agree or disagree with their views and because it is very contentious and very difficult, it's going to put tremendous strain on the police, I think it must be allowed to go ahead. It's nowhere near the Cenotaph.
"It's in the afternoon and most of these people, 90% of those people are not there to make trouble.
"They're there to express a deeply held view. And I think it must be allowed to go ahead and I think it would be a great mistake to play politics with it."