'Truly appalling': Elderly army veteran poppy seller 'punched' by pro-Palestine protesters at Edinburgh station
7 November 2023, 08:14 | Updated: 7 November 2023, 10:22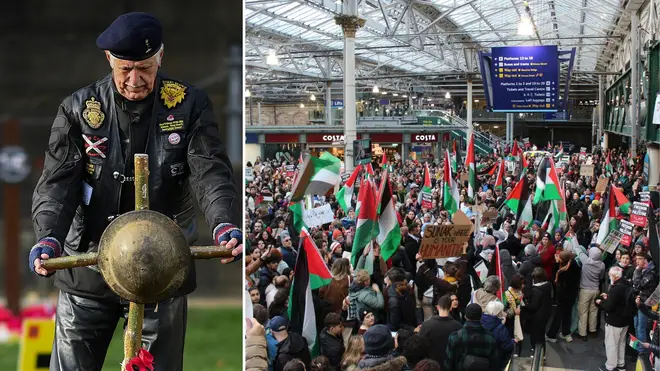 An army veteran poppy seller has said he was "punched and kicked" as pro-Palestine protesters staged a sit-in at a train station in Edinburgh.
Jim Henderson, 78, needed help to escape after he was surrounded by people displaying "Freedom for Palestine" banners at Edinburgh Waverley train station on the weekend.
He told the Daily Mail he had "never known anything like it."
"I was getting shoved backwards, in danger of falling, and one of them stood on my foot and split my toe.
"So I thought I had got to get the money out of here. So I went down, and as I bent down someone punched me in the back. And then I got another punch in my side."
Read more: Palestine activists vow to continue with Armistice day protests despite police pleas to postpone
Massive protest against genocide in Gaza at Waverley Station at the end of the march in support of Palestine in Edinburgh today. pic.twitter.com/uykZF095Wg

— Ragged Trousered Philanderer (@RaggedTP) November 4, 2023
He added: "You don't do that, and kick someone from behind and that was when I couldn't get out of the way. That's when I bent down and...bang."
Justice Secretary Alex Chalk told LBC this morning: "It sent a shudder down the back of my spine.
"I cannot believe that something like that would happen. It's truly, truly appalling.
"If there was a public order incident I would hope the police would step in very robustly.
"The police should be there to protect people like that."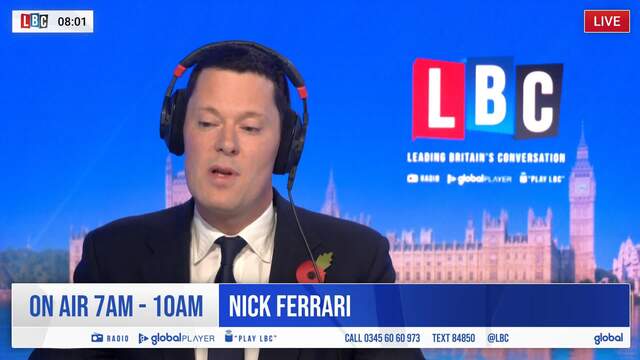 Justice Secretary reacts to reports a poppy seller was 'punched by pro-Palestinian protesters'
British Transport Police Assistant Chief Constable Sean O'Callaghan said today: "Detectives from British Transport Police are investigating a reported assault at Edinburgh Waverley Station on Sat 4 November.
"The incident occurred at approximately 3.30pm during a demonstration at the station."
Palestine activists have pledged to press on with a demonstration in London on Armistice day, despite the police urging them to postpone the march.
The Met said that senior officers are concerned about "criminal acts" being carried out on November 11 by "breakaway groups intent on fuelling disorder who are attracted by these regular events."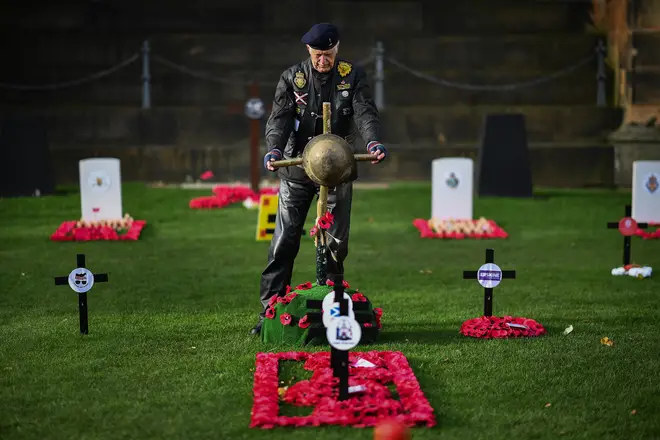 Deputy Assistant Commissioner Ade Adelekan said: "The risk of violence and disorder linked to breakaway groups is growing.
"This is of concern ahead of a significant and busy weekend in the capital.
"Our message to organisers is clear: Please, we ask you to urgently reconsider. It is not appropriate to hold any protests in London this weekend."
But Raghad Altikriti of the Muslim Association of Britain said that the protest would go ahead on Saturday, telling LBC's Andrew Marr that if the official organising groups pulled out, more sinister "fringe" elements could launch their own march instead.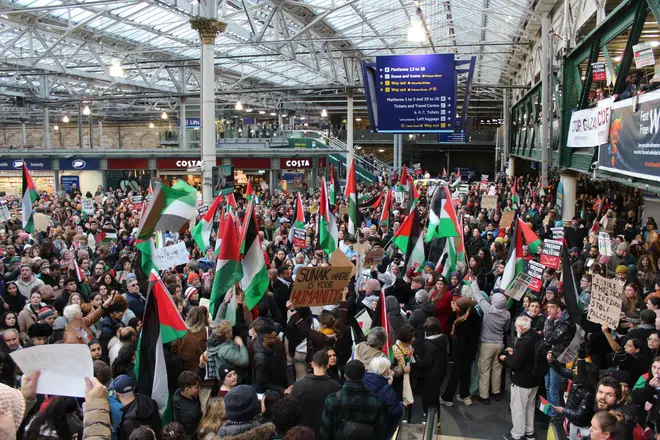 We do have respect for Armistice Day," she said. "We are not marching on Remembrance Sunday... the banning of this protest would be dishonouring the memory of those who fought for freedom of speech, freedom of assembly."
She added: "People have been marching again and again every Saturday because of the sheer horror that's on the scale of those who have been killed in Gaza. The scenes coming out are simply horrifying, the number of dead children, the doctors, the journalists and it's just turning into a bloody situation".
Police have been forced to make more than 100 arrests at the pro-Palestine marches in London, including some for anti-Semitic chanting. Two women who wore paraglider stickers in an apparent reference to the Hamas attacks were arrested on suspicion of inviting support for a proscribed organisation.
It comes after Rishi Sunak said that Metropolitan Police have the "absolute and total backing" of ministers to tackle criminality at the march.