'Let's get it in the open': RMT leader Mick Lynch agrees to negotiate with government live on TV amid ongoing strikes
2 September 2023, 12:46 | Updated: 2 September 2023, 12:54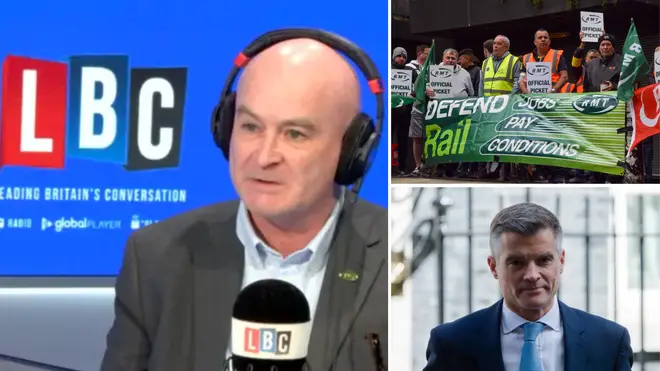 The RMT's leader Mick Lynch has called for public negotiations with the government as strikes continue to cripple rail passengers.
It comes as 20,000 RMT union members from 14 operating companies stage a strike across the country.
Asked by LBC's Ian Payne if he would agree to negotiating with the government live on TV, Mr Lynch called for negotiations to be out "in the open".
"I don't think the government would ever agree to that because they'd have to show their skills in debating these issues and I don't think they want to do that," he told LBC.
"They very rarely turn up for interviews. They very rarely go off a pre-prepared script and a statement that's prepared for them by a professional civil servant.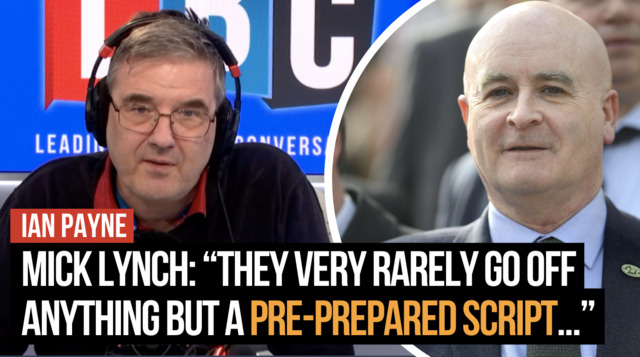 Mick Lynch: The government wouldn't agree to public negotiations
Mr Lynch continued: "The RMT and the trade unions always turn up for any debate. I've debated with government ministers in the past on the media. I'm very happy to do those negotiations in public if that's what they want to do."
It comes as passengers travelling across the rail network on Saturday are told to check their journey before they travel, with members at 14 operators currently on strike.
It comes after Aslef members walked out on Friday, also crippling rail services.
Their members will also refuse to work overtime on Saturday.
Read More: 'A fight for our communities': Mick Lynch rallies against ticket office closures outside Downing Street
Read More: How are the train strikes affecting each operator?
Workers from the following companies will take part in strike action on Saturday:
Avanti West Coast
c2c
Chiltern Railways
Cross Country Trains
East Midlands Railway
Great Western Railway
Greater Anglia
LNER
Northern Trains
South Eastern
South Western Railway
Transpennine Express
West Midlands Trains
GTR (including Southern, Gatwick Express, Thameslink and Great Northern)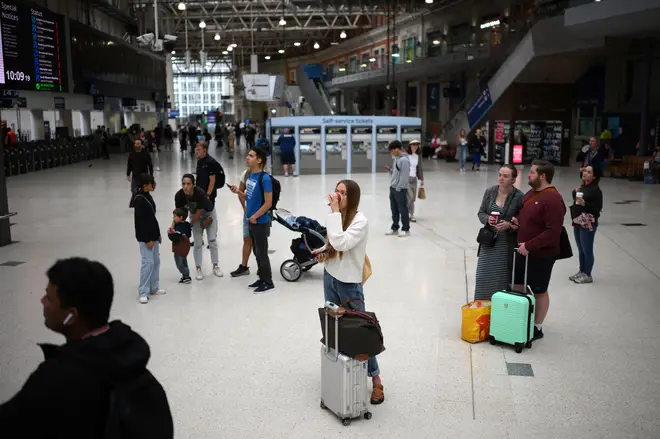 Mr Lynch also continued to criticise the planned closure of ticket offices across the country.
"I've travelled up and down the country - people are absolutely furious about this...and furious about how the country is being run," he said.