RMT's Mick Lynch says Keir Starmer does not show enough support for strikes - as he warns no end for commuter agony
21 June 2023, 09:45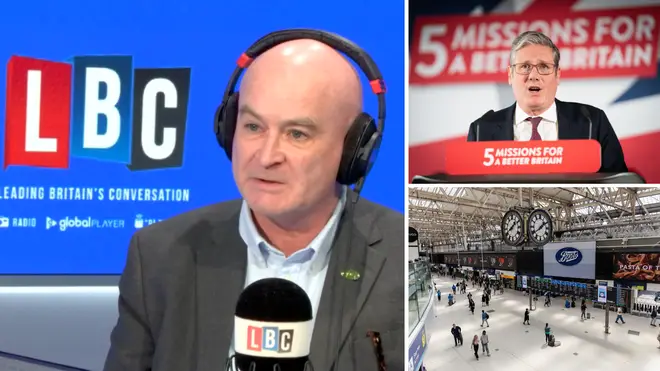 RMT leader Mick Lynch has said Keir Starmer does not give striking workers enough support - as he warned there is no end in sight for commuter misery.
Speaking exclusively to LBC's Nick Ferrari, Mr Lynch said: "I don't think we are getting enough support from Keir and I've said that many times.
"I think he could be a bit more assertive. Not just for us, but for all those working people that are struggling [and] working people in general could have a bit more support."
Mr Lynch added that Sir Keir's presence on an RMT picket line would not make much of a difference, but said the Labour leader needs to set out a clearer vision of how he is going to help working people.
Listen and subscribe to Unprecedented: Inside Downing Street on Global Player
'He could be a bit more assertive': Mick Lynch says RMT isn't getting enough support from Starmer
Assessing the RMT's position after one year of train strikes, Mr Lynch warned that his union is not close to reaching an agreement with the government.
"The government have locked down this dispute. They have said to the rail delivery group that there are no negotiations. They are not even giving them any instructions to move on the dispute," Mr Lynch said.
"It's very likely there'll be more strike action by the RMT I'm afraid...we are locked into a dispute that has got no resolution."
Read More: 'Show leadership': Starmer hits out as Sunak 'to skip vote' over banning Boris from Parliament for misleading MPs
Read More: Unions criticise Government after strikes reach worst level in over 30 years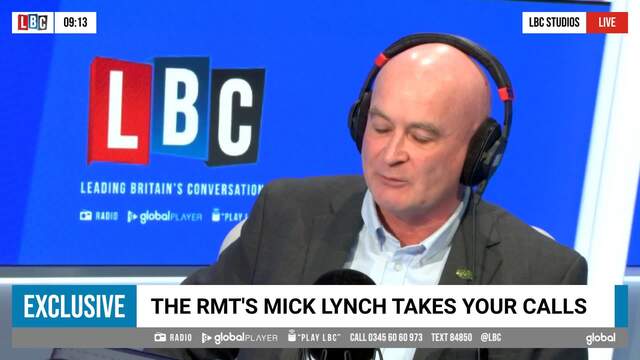 'Working poverty': Mick Lynch on stagnant wages and effects of austerity
Mr Lynch also claimed that his workers have been offered a five per cent pay rise for the whole period up to 2022, as well as four per cent for 2023 - a nine per cent pay rise overall.
But he added that he has not met with the Transport Secretary Mark Harper since January.
In a message for Mr Harper, who will be LBC's Tonight with Andrew Marr on Wednesday, Lynch said: "Get into a position to facilitate a deal…take the shackles of the employers - and then we can get a straight-forward, simple deal that we can put in a referendum."