'It's ridiculous!': Furious Sainsbury's shoppers criticise new barriers 'detaining' customers who fail to show receipt
3 May 2023, 16:02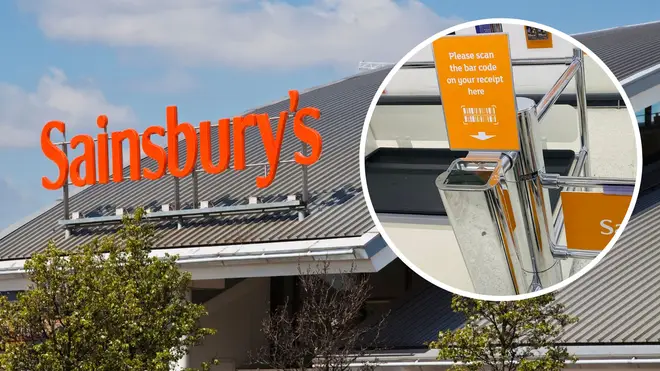 Sainsbury's shoppers have hit out at the supermarket giant after the introduction of new security gates which prevent customers from leaving until they scan their receipt.
The supermarket retailer has been hit by a torrent of complaints after introducing new security gates at self-checkouts in some of its stores, which means customers must scan their receipt before being able to leave.
After the gates were first introduced in a small number of stores last December, there was an initial spark of outrage from the public but on a much smaller scale, as it only affected a proportion of customers.
However, now that more stores have rolled out the anti-theft gates, a second wave of anger has broken out, as shoppers have accused Sainsbury's of placing all its customers "under suspicion of stealing".
Stores in Balham, South London and Winnersh, Berkshire are amongst some of those impacted by the new move.
Read more: McDonald's fined nearly £500k after customer found mouse droppings in food wrapper half way through eating burger
Social media users have voiced their complaints online, with many threatening not to return to the store.
One social media user said: "Probably the last time I use Sainsbury's! The town supermarket has installed a barrier and receipt scanning system. It is not security it is surveillance and imprisonment."
Another complained: "I bumped into the barriers! This Sainsbury's doesn't let you leave the self-checkout area unless you scan your receipt. How charming."
While someone else added: "Our Sainsbury's has also gone DIY and you have to scan your receipt at exit gates, or you can't get out!! Ridiculous. It also causes a pile up of people waiting when some are slow at doing their scanning job for them!"
The new security measures follow new figures published by the Office for National Statistics last September, which revealed shoplifting had increased by 22 per cent in 2022.
Read more: Nisa to open a further 400 shops this year as part of recruitment drive
These figures, however, coincide with the growing financial pressures faced by the public amid the cost of living crisis – some food items increasing by as much as 50% in the space of a year.
And Sainsbury's aren't the only supermarket to roll out the new anti-theft measures, Aldi, Morrisons and Primark have also introduced similar barriers as concerns grow about the rise in theft.
A spokesperson for Sainsbury's told MailOnline the gates are only used in a "small number of stores" and "self service checkout areas."
They declined, however, to give an official number of how many stores use the new gates.