'Shambolic' prison transport contract blamed for 375% rise in missed hospital appointments, LBC learns
2 November 2023, 08:55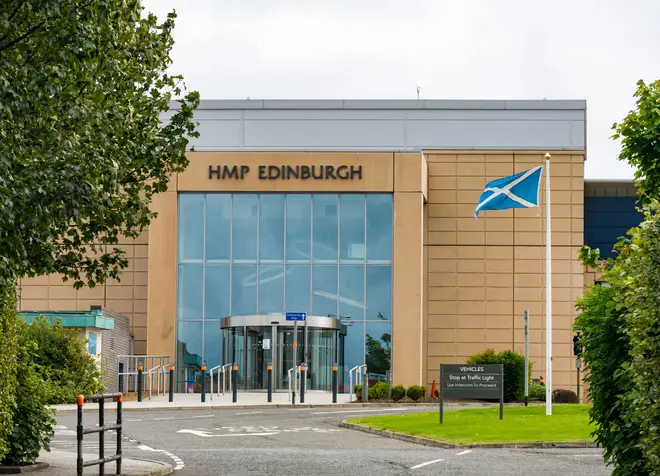 A "shambolic" prison transport contract is being blamed for a huge rise in missed hospital appointments.
Figures exclusively obtained by LBC through a Freedom of Information request reveal a 375% increase in the number of inmates not getting to scheduled visits in the space of just one year at HMP Edinburgh.
The data shows 333 hospital appointments arranged for inmates were missed in 2022.
That's up from just 70 in 2021 - and still more than double pre-pandemic figures of 165 in 2019.
Each missed outpatient appointment is estimated to cost the NHS around £100.
And LBC understands rises in missed health visits were reported across the Scottish Prison Estate in 2022 with problems continuing into 2023.
Read more: Mental health nurse and prison inmate who became lovers among 16 jailed after £1m drug-smuggling plot uncovered
A recent inspectorate report suggested the main cause is GEOAmey - who are contracted by the Scottish Prison Service to transport inmates - facing increased demand with not enough staff.
It read: "GEOAmey experienced significant staffing challenges and we witnessed an inadequate service performance impacting heavily on prisons and prisoners with cancelled hospital appointments, inter-prison transfers, and late arrivals into prisons."
Read More: Scottish Water staff plan weekly strikes over three months amid pay row
Read More: Elon Musk accuses Scotland's First Minister of being a 'blatant racist' sparking social media pile-on
The Scottish Prison Service told LBC: "The health and wellbeing of those in our care is a key priority for SPS, and we work hard to minimise any potential disruption to their appointments and to our partners in the NHS.
"There has been a significant increase in demand on prisoner transport, which is provided by GEOAmey, including to attend healthcare appointments.
"It is vital that we deliver a service which meets the needs of the whole of the justice system, those in our care, and Scotland as a whole, and we continue to work with all partners, and GeoAmey, to meet this challenge and identify solutions."
Scottish Conservative Lothians MSP Sue Webber described the rise in the number of prisoners missing appointments as "staggering".
She told LBC: "It is clear from these deeply concerning findings that the prisoner transport contract is causing complete chaos in our justice system, yet SNP ministers have failed to act.
"These missed appointments also have a devastating knock-on effect on our NHS, where one in seven Scots are already languishing on a waiting list.
"This contract has turned into a total shambles and ministers must ensure it does not collapse completely, otherwise more and more patients will end up not being able to make appointments."
A GEOAmey spokesperson said: "Despite operating in a very challenging labour market and experiencing high volume demand, we have ensured more than 98% of people have arrived at court or their appointments on time and without incident since 2019.
"We remain committed to continual improvement and remain in positive discussions with our justice sector partners in order to collectively improve service to the wider judicial system."
A Scottish Government spokesperson said: "Everyone in prison should have access to the healthcare they need and it is clear that the current performance of the GEOAmey contract is not working how it should and causing disruption for the Scottish Prison Service and others.
"That is why we are working with partners to address the current issues and a series of practical steps are being taken to reduce the pressure on GEOAmey, including improving recruitment to resolve the issue."