Tesco profits tumble by nearly 20% despite pandemic sales surge
14 April 2021, 07:29 | Updated: 14 April 2021, 08:24
Tesco's pre-tax profits tumbled by nearly 20 per cent to £825 million over the past year despite a surge in sales during the coronavirus pandemic.
The supermarket giant announced on Wednesday morning that Covid-19 costs of almost £900 million offset its rise in sales.
It said profits were weighed down by £892 million in Covid-related costs and the company's decision to hand £585 million in business rates relief back to the government.
Tesco had benefited from a jump in demand for groceries during the pandemic, with more meals eaten at home amid restrictions on the hospitality sector and changes to working habits.
Group sales excluding fuel increased by seven per cent to £53.4 billion for the year, buoyed by soaring online sales.
Online sales jumped by 77 per cent to £6.3 billion in the UK as the company doubled delivery capacity to meet rising demand from housebound customers.
Read more: Tesco to enforce mask wearing and lone shopping
Read more: Tesco returns £585 million from business rate holiday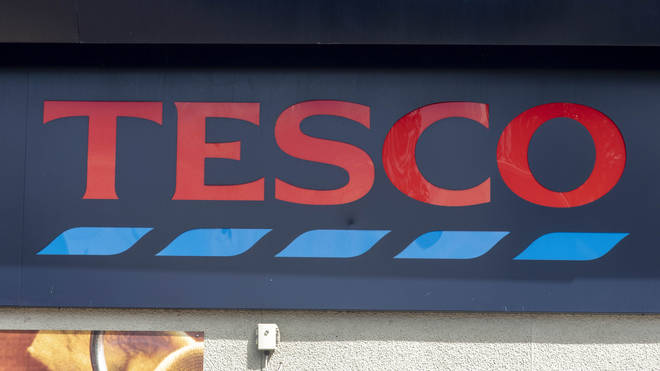 Ken Murphy, chief executive of Tesco, said: "Tesco has shown incredible strength and agility throughout the pandemic.
"By putting our customers and colleagues first we have built a stronger business.
"While the pandemic is not yet over, we're well-placed to build on the momentum in our business.
"We have strengthened our brand, increased customer satisfaction and improved value perception."
Russ Mould, an investment director at AJ Bell, told LBC's Nick Ferrari the company's nine per cent increase in sales over the last year was a "tremendous effort for a company so big".
"But, not all milk and honey for them," he said.
"Profits were down by a fifth. That's because they've had over £800 million of costs associated with Covid, they've been paying out staff bonuses and they have repaid the business rate relief, so they've been doing their bit there as well."
He added that they have given staff a third bonus and have still seen profits increase, meaning "they're taking market share back" in the coming year "in the dogfight for consumer's wallets".
Retail brand expert Siân Novakovíc, strategy director at global brand transformation agency Landor & Fitch, said: "Tesco has successfully responded to the pandemic by showing a real understanding of customer needs, not only on a practical level but also on an emotional level, bringing to life its iconic slogan 'Every Little Helps'."
She added: "We may even see Tesco once again overtake Ocado, if it can continue online growth and innovate to launch an unmatched, seamless multi-channel experience for shoppers."