Man dragged by police from burning truck seconds before it bursts into flames
5 March 2020, 16:14
This is the shocking moment a man is pulled from a burning truck by police just seconds before the vehicle bursts into flames.
The bodycam footage shows traffic police in Bridgewater Township, New Jersey, during a routine stop to check a driver's licence and registration.
But situation is plunged into chaos after a truck crashes into a barrier a short distance away.
The officer attending, Trooper Robert Tarleton, springs into action and drives to the scene of the crash, which is already engulfed in flames.
Realising how dangerous the situation is, Trooper Tarleton helps off-duty police officer Lieutenant Edward Ryer drag the unconscious driver to safety.
Just seconds after they manage to get the man away from the scene, the entire truck exploded.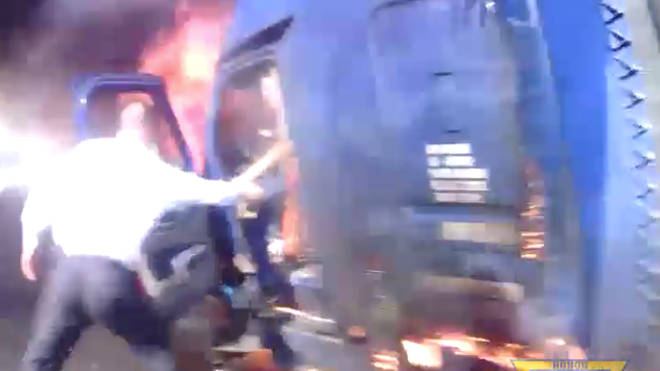 Speaking to ABC News, Trooper Tarleton said: "I heard the truck hit the guardrail. And at that point, I looked up and I saw the truck crash and I thought someone could be hurt over there."
Lieutenant Ryer was heading home from work when he saw the crash and pulled over.
He said: "I saw him strike the guide rail and the bridge and then, within a second, the van burst into flames."
The driver, named locally as Ron Hickman, 63, from Ohio, is understood to have passed out behind the wheel shortly before the crash.
Speaking to Action News, his daughter Tabitha Finnegan said: "He told me he felt real dizzy, lightheaded.
"He remembers putting the blinker on to get onto the side of the road and the next thing he remembers is waking up on the side of the street."
Mr Hickman was released from hospital on Tuesday and is back in his home state of Ohio to recover.