How can you have fun but stay safe this bonfire night? Everything you need to know about fireworks, laws, first aid and safety
1 November 2023, 10:48 | Updated: 1 November 2023, 10:51
The laws surrounding fireworks and bonfires for Guy Fawkes night explained: Here's everything you need to know about the 5th of November.
Bonfire Night, also known as Guy Fawkes Night, is an annual celebration held on November 5th. It commemorates the failure of the Gunpowder Plot of 1605, in which a group of Catholic conspirators, led by Robert Catesby, attempted to blow up the Houses of Parliament in London.
The plan was to assassinate King James I and restore a Catholic monarch to the throne. Guy Fawkes, who had the task of lighting the fuse to detonate the gunpowder the plotters had placed beneath Parliament, was caught the night before and the plot failed.
Bonfire Night celebrations typically include lighting bonfires, setting off fireworks, and burning effigies known as "Guys" on top of the bonfires. This represents the execution of Guy Fawkes and the failure of the plot. Children often make up their own backyard Guy effigies leading up to Bonfire Night.
There are also food traditions like eating toffee apples, potatoes baked in the embers of the fire, and Parkin cake.
The rhyme "Remember remember the 5th of November, gunpowder, treason and plot. I see no reason why gunpowder treason should ever be forgot" is recited in commemoration of the event.
Read more: London's New Year's Eve fireworks ticket sales announced
Read more: Bonfire Night fizzles out across Manchester parks as council blames 'rising costs'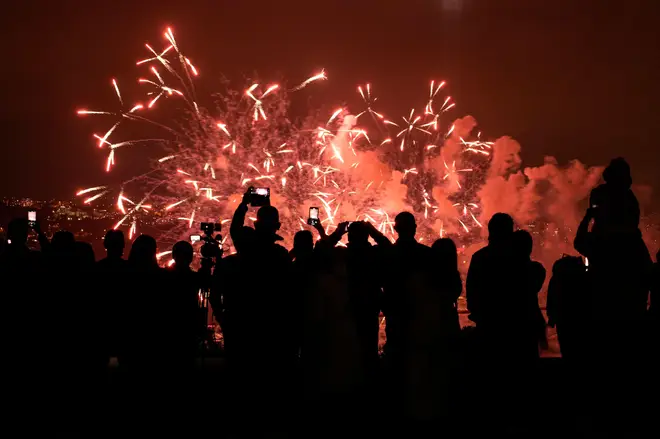 Fireworks are fun when enjoyed safely – that's the message from the Royal Society for the Prevention of Accidents (RoSPA), as the nation prepares for bonfire night celebrations.
RoSPA says that attending an organised display is the safest option, but with some people unable to get out and about and some local councils cancelling firework displays, there could be an uptick in people celebrating at home. And with every bonfire night witnessing serious injury cases, RoSPA recommends anyone hosting a display at home to read its firework safety advice.
What are the laws around fireworks? Is there an age limit? Where can you set them off?
It is illegal to set off fireworks in public places, including streets and parks.
It is illegal to buy, attempt to buy, give or in any way make a firework available to someone under the age of 18.
It is illegal to set fireworks off before 6pm and after 11pm. This extends to midnight on 5th November and 1am on Hogmanay, Chinese New Year and Diwali.
Local councils can put in place Public Space Protection Orders to ban fireworks in specific areas.
What about pets?
The Animal Welfare Act sets out suggestions on how to help pets even if the household setting off fireworks doesn't have one of their own.
Government advice is to not set off fireworks near livestock or horses, or any buildings which contain livestock and anyone planning a rural firework display should warn neighbouring farmers in advance. The same recommendation is given for urban fireworks and neighbours should be warned about the explosions from fireworks.
Fireworks season can be a stressful time for our beloved pets, and their owners, our sister station Classic FM are bringing you special shows of relaxing classical music to help keep you and your furry and feathered friends calm and reassured around Bonfire Night - find out more here
Read more: 10 calming pieces of classical music for your pet
RoSPA's 10 Point Firework Code:
Plan your firework display to make it safe and enjoyable, and check the time you can legally set off fireworks
In England, Scotland and Wales only buy fireworks which carry UKCA or CE marks. In the case of Northern Ireland look for the UKNI symbol along with the UKCA or CE mark. Keep your fireworks in a closed box, and use them one at a time
Read and follow the instructions on each firework using a torch if necessary
Light the firework at arm's length with a taper and stand well back
Keep naked flames, including cigarettes, away from fireworks
Never return to a firework once it has been lit
Don't put fireworks in pockets and never throw them
Direct any rocket fireworks well away from spectators
Never use paraffin or petrol on a bonfire
Make sure that the fire is out and surroundings are made safe before leaving.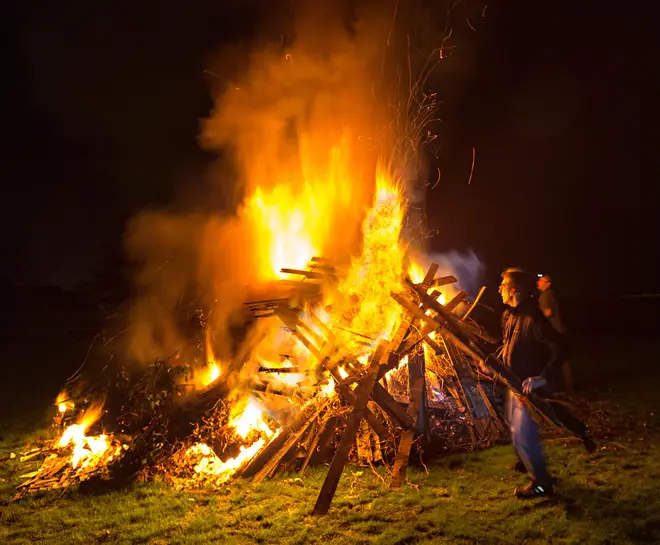 First aid and healthcare charity St John Ambulance is urging everyone to learn basic first aid skills ahead of Bonfire Night and Diwali celebrations.
Volunteers from St John will be out and about, keeping communities safe at dozens of fireworks events across the country so that anyone who needs first aid gets it quickly. However, injuries are much more likely to occur at private parties, where trained volunteers won't be on hand to help.
Thousands of people visit A&E every year for treatment of a firework-related injury but knowing how to treat in a firework first aid emergency can be vital to help prevent avoidable trips to hospital, reducing pressure on the NHS.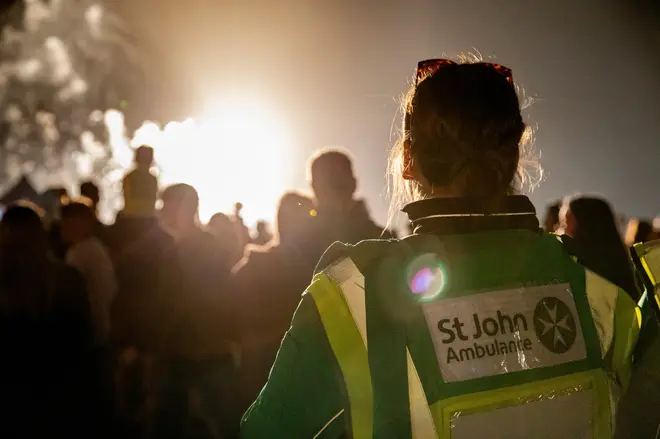 St John Ambulance's Firework First Aid

Burns or scalds
If someone's got a burn or scald:
Move the person away from the heat and danger
Start cooling the injury as soon as possible. Place the burn or scald under cool water for 20 minutes minimum
If the burn is deep, or larger than the person's hand, on their face, hands or feet, or the casualty is a child - call 999 immediately
Remove jewellery and clothing around the area, unless stuck to the burn
Cover the burn loosely, lengthways with kitchen film wrap to help prevent infection and keep it clean
Don't burst blisters
Monitor and treat for shock if necessary
Always seek further medical help if you are concerned about a change in someone's condition, or if the casualty is a child. Call 111 for urgent medical advice, or 999 in an emergency.
Debris in the eye
If someone's got something in their eye:
Tell them not to rub it, so they don't make it worse or cause more damage
Pour clean water over their eye to wash out what's in there and/or to cool the burn
If this doesn't work, try to lift the debris out with a damp corner of a clean tissue
If this doesn't work either, don't touch anything that's stuck in their eye – cover it with a clean dressing or non-fluffy material
Then take or send them straight to hospital, however as not every hospital has an eye department, ring 111 to locate the most appropriate facility to go to.
Smoke inhalation
If someone's inhaled smoke fumes:
Move them away from the smoke so they can breathe in some fresh air
Help them sit down in a comfortable position and loosen any tight clothing around their neck to help them breathe normally
If they don't recover quickly, call 999 for an ambulance. Keep them calm whilst they are waiting.
For more information or first aid advice, visit www.sja.org.uk.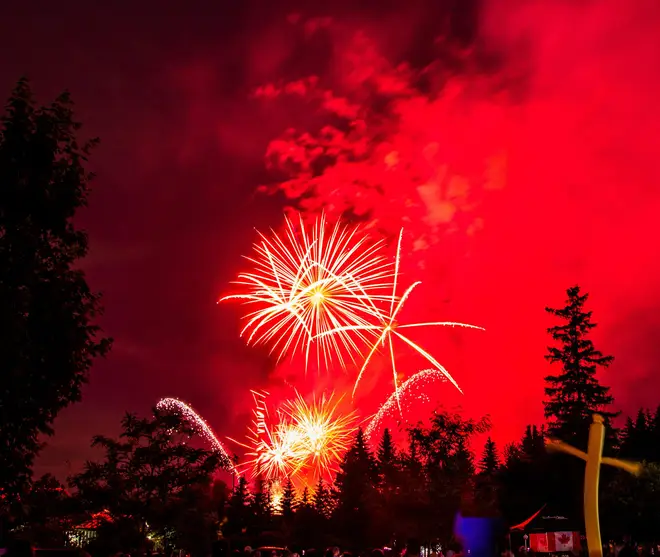 Dr Lynn Thomas, Medical Director at St John Ambulance, said: "Our highly-skilled volunteers are a familiar sight every year as they keep local communities safe at many firework events and Diwali celebrations across the country. Their presence will be a reassurance that, should anyone need first aid assistance, there is someone with the correct training on hand.
"For those celebrating at smaller community events, we would, as ever, urge extreme caution and advise strictly following instructions when handling, lighting and watching fireworks. In those unfortunate instances when someone has a minor injury, knowing what to do and acting fast can prevent further harm and relieve suffering. However, always dial 999 in the case of serious injuries."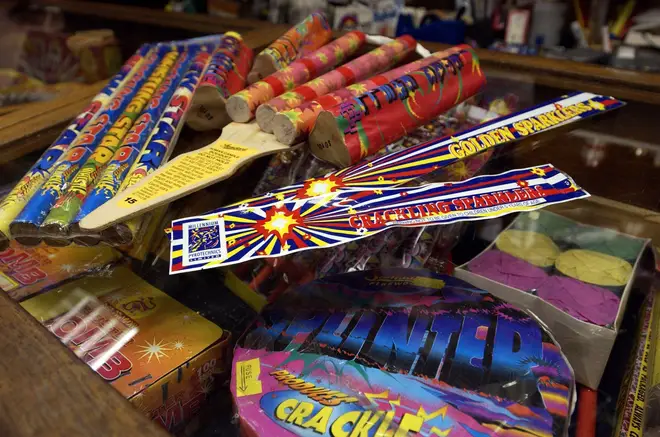 Phil Le Shirley, Public Safety Advisor at RoSPA, said: "Bonfire night can be a magical time for families and communities, and we believe the safest way to enjoy fireworks is by going to an organised display where there will be the appropriate safety protocols in place.
"However, we do recognise that not everyone can attend organised displays and may wish to have their own at home. We therefore advise those people to only purchase fireworks from licensed sellers, follow the manufacturers guidelines and dispose of them safely.
"It's also important to remember that sparklers are classed as fireworks and therefore are illegal to be sold to anyone under the age of 18, and sparklers should not be given to children under the age of five."