What do the new bin rules mean for me? Everything you need to know about rubbish collection in England
26 October 2023, 14:29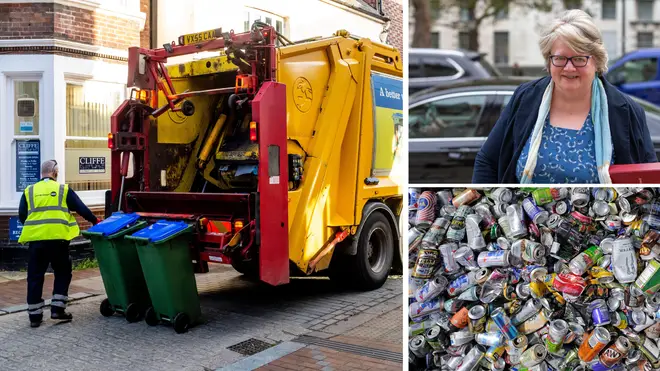 The new bin collection rules include the 'three bin system' for recycling and the collection of non-hazardous non-recyclable material, food, and garden waste. Here's everything you need to know about how these changes will affect your household.
The rules will be enforced in 2026, affecting millions of Britons across the country.
Environment Secretary Thérèse Coffey is positive about these changes and says it will replace the current "postcode lottery" system.
The government also says the changes will contribute to improving the environment.
However, some local councils are concerned about the costs.
Read more: Huge change to bin collections across England – will you be affected by the new rules?
What is the current recycling system in England?
Currently, the recycling system sees people living in different areas unable to recycle the same materials.
For example, glass is collected from homes in Sheffield, but not Leeds.
Ms Coffey said these changes will "help us all recycle more easily".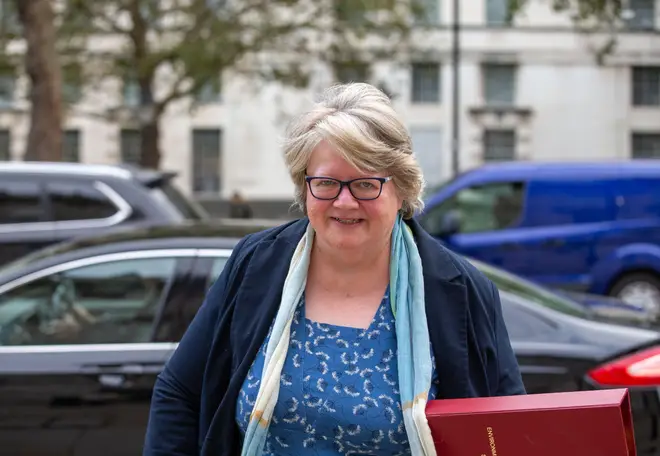 She said: "Simpler recycling will help us all recycle more easily, doing our bit to help save the planet and make the best use of precious resources that we use every day.
"We are ending the postcode lottery of what you can put in your bin so that wherever you live in the country, you will be able to recycle the same products with confidence."
What are the new changes to the recycling system?
From 2026, recycling across the country will be standardised, meaning that all English homes, schools and businesses will recycle the same material, according to the Department for Environment, Food and Rural Affairs (Defra)
These rules may also be expanded to cover places of worship, charity shops, residential hostels and prisons.
What is the 'three bin' system and what exactly can be recycled under the new rules?
The 'three bin' system means that local waste authorities will collect all dry recyclable materials from one bin, including glass, card, paper, plastic and metal.
However, some types of material cannot be recycled.
All paper and card can be collected, excluding:
Wallpaper
Stickers and sticky paper
Paperback and hardback books
Padded lined enveloped
Paper and card containing glitter or foil
Non-recyclable rubbish is planned to be collected every fortnight.
Metal that can be recycled includes steel and aluminium products such as tins, cans, aerosols, foil, food trays, jars, bottle lids and tubes.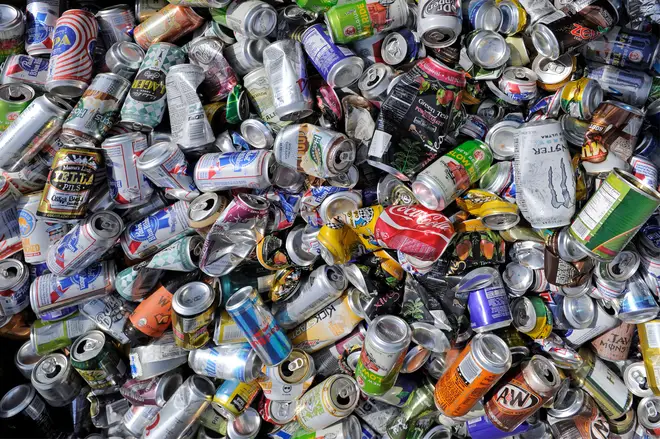 Plastic will also be collected, including:
Plastic bottles made of polyethene terephthalate (PET)
Cartons for food, drink and other liquids
Plastic film packaging and plastic bags
Pots, tubs and trays made of PET
Plastic tubes larger than 50mm x 50mm made of polypropylene or polyethylene
What are the new rules about food waste collection and how will this impact me?
The environment secretary also announced the introduction of "weekly food waste collection" which will be introduced by March 2026.
This will see food waste being collected weekly from households across England unless the local waste authority is on a long-term contract.
Food waste includes bones, fruit and vegetable peels, eggshells, coffee grounds and tea bags.
The government says this measure will reduce the amount of food ending up in a landfill.
What do the new measures about garden waste include?
Ministers plan to introduce free garden waste collections for every home, taking away the choice from councils to charge or not.
Some garden waste items will not be collected, including soil, ash, animal waste, full-sized trees and turf cutting.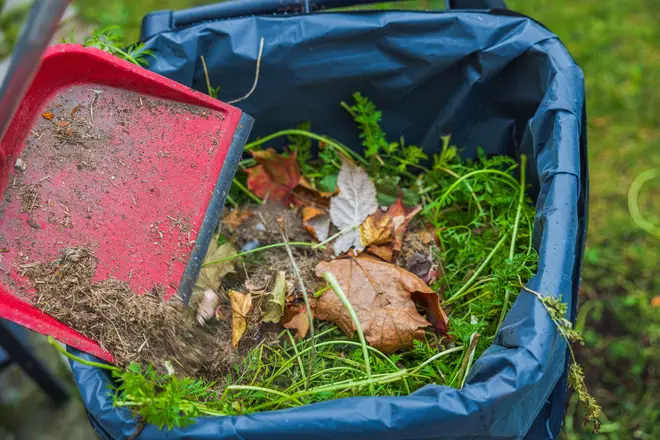 Why are local councils concerned about the new bin collection rules?
Regarding the free garden waste collections, the District Councils' Network (DCN) warns this could lead to people who don't use the service paying for those who do.
The DCN, which represents many local authorities, also state that councils may not be able to obtain the right recycling equipment, such as bins, vehicles and larger depots, to meet the 2026 deadline.
Councillor Sarah Nelmes, the DCN's environment spokesperson, said Wednesday's "announcement that councils will be able to collect waste materials however they decide is a victory for common sense.
"We can continue to rely on the local solutions which have increased recycling rates and we now have the certainty we need to take long-term decisions on how to improve services for our residents and to help us move towards net zero.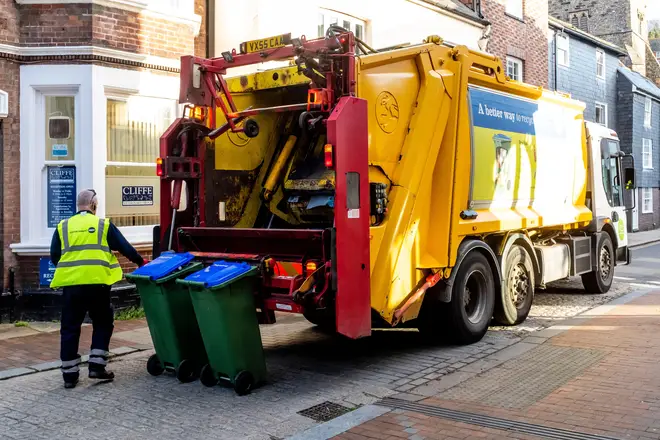 "Although we will be spared the costs of buying vast numbers of bins and vehicles for the sole purpose of conforming to top-down stipulation, there will still be significant costs attached to the reforms, and we await further detail from the Government on how they will be funded", she added
Councils are also concerned that non-hazardous material being collected every two weeks will negatively impact the environment as more fuel will be used during transportation.
The government have said it will provide "reasonable funding" to cover the extra costs councils may face. The money will come from new burdens funding and payments through Extended Producer Responsibility for packaging.
How will the new bin collection rules help the environment?
The government proposed these changes in 2021 to contribute towards its goal of eliminating all reusable and recyclable waste going to landfills by 2050.
It is also proposed that non-hazardous industrial waste should be collected every two weeks.
Councils are worried this will negatively impact the environment as more fuel will be used during transportation.
England currently has a recycling rate of over 44%, which has stagnated for the last ten years.
On 1 October, single-use plastic items were banned with the hope of boosting England's recycling rates.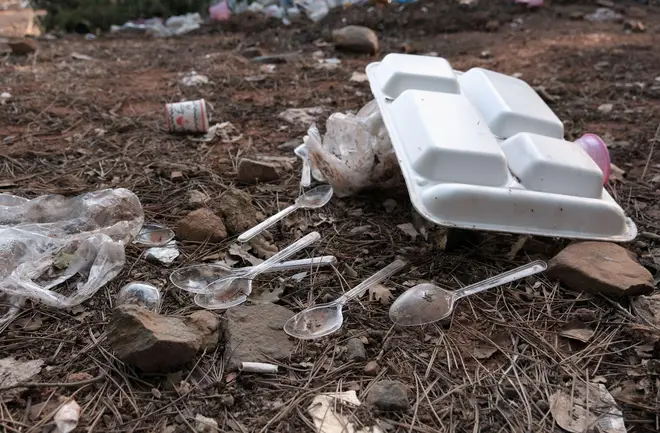 Read more: Takeaway mayhem as hospitality firms face £200 fines as plastic packaging ban set to come into force this weekend
Read more: Poppies are plastic-free for first time since 1968, as they go on sale ahead of Remembrance Sunday
Darren Rodwell, an environment spokesperson for the Local Government Association (LGA), said: "Public satisfaction with local waste services remains very high, which councils have worked hard to achieve.
"What works in urban centres is different to rural communities. We are pleased the government has listened to the LGA and councils and decided not to significantly reduce the flexibility in how councils collect waste from people's homes.
"Our national ambitions for waste and recycling will only be achieved by fully empowered local delivery, alongside measures transferring the costs from taxpayers onto the waste producers."