'Put aside defeatism': Chancellor tells LBC he wants lower income tax amid claims he will cut burden in Autumn Statement
19 November 2023, 08:21 | Updated: 19 November 2023, 09:30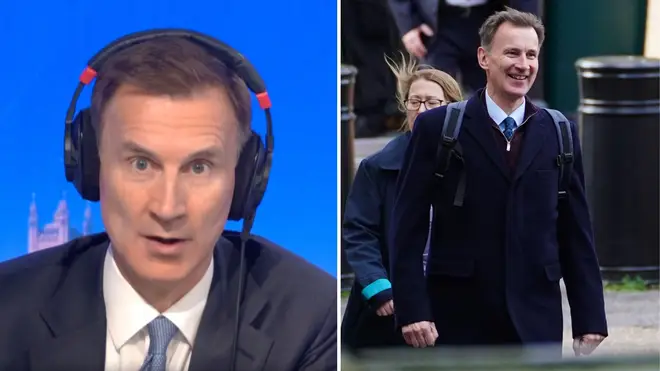 Jeremy Hunt has said it is time to "put aside defeatism" and admitted he wants to see lower taxes as claims emerged he is considering cutting them for lower earners this week.
The Chancellor is due to present his Autumn Statement on Wednesday, where it was widely expected he would slash inheritance tax.
But rumours have emerged that he could cut tax for lower and middle incomes in a surprise move after inflation tumbled by more than half.
He warned that he did not want to do anything that could derail the fight against inflation - something it's feared income tax cuts could do - but he recognised he can now focus on growth and "put aside" defeatism.
Speaking to LBC's Matthew Wright on Sunday morning, Hunt said: "We have turned a corner this week. Inflation has halved, that was the big threat when Rishi Sunak and I took office.
Read more: Jeremy Hunt to 'face red wall revolt' if he cuts inheritance tax while squeezing benefits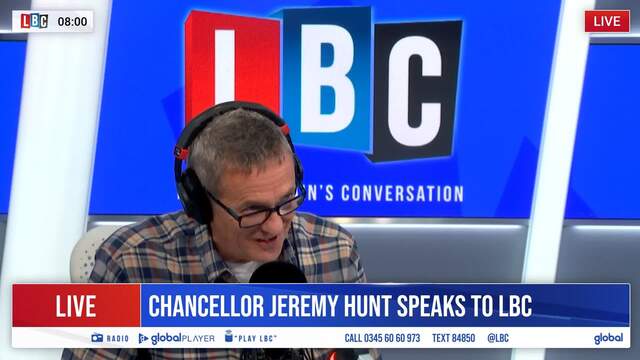 Jeremy Hunt says he wants to see income tax cuts
"It was 11.1%. Now it's gone down to 4.6%. And we can now focus on the growth of the economy.
"And I think we do need to put aside some of the pessimism and defeatism and declinism about our prospects.
"We've actually got a very resilient economy, it's growing faster than Germany, France or Japan since 2010.
Read more: 'It's a turning point for the economy': Chancellor Jeremy Hunt hints at tax cuts in Autumn Statement 'for growth'
"And we've got a very strong technology sector, which is one of the big industries of the future. So I think we've got lots going for us.
"When it comes to tax, we will be responsible, and having halved inflation, which is what the Prime Minister pledged to do, we're not going to do anything that suddenly means it takes off again.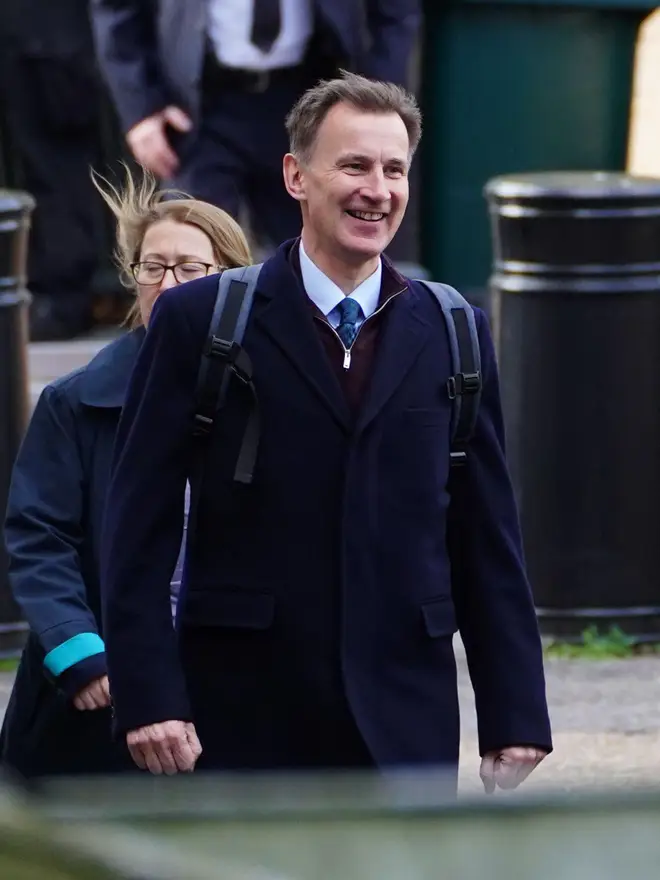 "We've got to be really careful. And we will continue to be responsible. But there is a dividing line between us and Labour because we do believe that low taxes are important to a growing economy."
He said the most successful economies in the world, in North America and Asia, have lower tax burdens.
"I would like to see lower taxes over time, but we're not going to throw away the hard work of the last year," he added.
The Sunday Times has reported that Rishi Sunak is weighing up whether to cut income tax or National Insurance.
The financial picture means the Prime Minister and Hunt have billions in additional spending power. He has headroom of about £25bn, well above the £6bn he had in March.
While Hunt has made combatting inflation his priority during his year-long stint as Chancellor, he has been hesitant to fuel the fire with income tax breaks.
But he could offset any inflationary effects by squeezing welfare payments and other cuts.
A cut to inheritance tax, meanwhile, could be held back until the Spring Budget, after criticism it would only benefit the wealthy.
It was thought any cuts to income tax would have to wait until then, but his hand could yet be forced after public finances improved and poor growth forecasts emerged.
Decisions also need to be made on whether to raise the pensions triple lock by 8.5%, in line with average earnings, or by 7.8%, which is the amount remaining after bonuses are taken out.
Benefits may also only be raised by 4.6%, based on what the consumer price index - a measure of inflation - stood at in October, or the 6.7% the same index was in September.
But Hunt faces unrest from Conservative MPs in former Labour heartlands in northern England if he cuts inheritance tax at the same time he reforms welfare.
Hunt has also confirmed he will stand in the new seat of Godalming and Ash at the next general election.