British couple John and Susan Cooper die after staying next to room in Egypt hotel treated for bed bugs hours before
7 November 2023, 21:47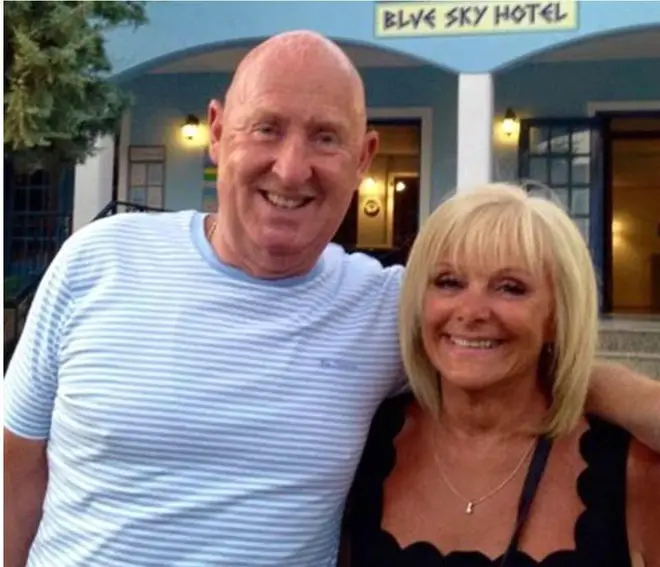 A British couple who died on holiday in Egypt were staying next to a hotel room that had been treated for bed bugs only a few hours earlier, an inquest has heard.
Burnley couple John and Susan Cooper, aged 69 and 63, died after staying at the Steigenberger Aqua Magic Hotel in the Red Sea resort of Hurghada, Blackburn Coroner's Court heard.
A report heard at a previous hearing suggested that they didn't die either from carbon monoxide poisoning or food poisoning.
The report said possible exposure to an "infectious biological agent or toxic chemicals" could have caused their deaths.
And a German tourist at the hearing on Tuesday said that the room next to the Coopers had been treated for bed bugs, after he reported an infestation.
Read more: Hotel worker dies in pool at luxury spa resort in Scotland
Read more: Boy, 10, dies after being electrocuted in reception area of Blackpool hotel
The couple fell ill and died the next day.
Kelly Ormerod, the Coopers' daughter, said her parents, a builder and travel agent worker respectively, were fit and healthy for their age.
She said they had been enjoying a "brilliant" holiday with her, their three grandchildren and family friends.
Her mother had been to the same hotel in April that year and described it as "fabulous", and decided to go back with the whole family.
They had all been to the hotel restaurant on the evening of August 20 before going to bed.
Ms Ormerod's daughter, Molly, then aged 12, was staying on a single bed in her grandparents' room, which she said had a "yeasty smell". But at 1am Mr Cooper rang to say she was feeling a little unwell and he escorted his granddaughter to her mother's room in an upper floor.
The next morning, Mr and Mrs Cooper failed to emerge for breakfast, so Ms Ormerod went to their ground floor room, 5107, to discover the pair were seriously ill.
Ms Ormerod said her father came to the door saying: "I really don't feel very well," with him retching and screwing his face up.
"He just literally slumped and sat on the corner of the bed and said: 'I'm really not well," Ms Ormerod told the hearing.
She said her mother was in bed, "groaning", with vomit in her hair and around the room, where she noticed a strange "heavy" smell.
Two doctors were summoned but they were in "panic mode", Ms Ormerod said, as her parents further deteriorated and her father struggled to breathe.
Tearfully, Ms Ormerod added: "His eyes kind of... a glazed, staring look."
CPR was attempted but Mr Cooper was declared dead on the hotel room floor and his wife was taken to a clinic at the hotel where she became "super agitated" and delirious, the inquest heard.
Mrs Cooper was taken to hospital by ambulance but declared dead at 4.12pm.
Both were returned to the UK in sealed, zinc-lined coffins, the inquest heard.
A statement was read from Dominik Bibi, a truck despatcher from Germany, who arrived with seven family members in the early hours of August 20.
Mr Bibi said his mother-in-law, who used a wheelchair, was booked to stay in room 5106, the ground-floor room next to the Cooper's room.
His statement added: "On entering I immediately noticed a funny smell, like that of mould or damp.
"There was a lot of bed bugs in the bed and under it."
He said a cleaner and night manager came and apologised and his mother-in-law took his and his wife's room, further down the corridor at 5102.
Hours later around lunchtime he was outside her room when he saw three men, two wearing the hotel uniform and the other with a two or three litre pesticide canister he assumed being used to get rid of the bed bugs.
After five or 10 minutes they left the room and used masking tape to tape up around the door and seal the room.
"I would not say the job was very professional," Mr Bibi's statement continued.
He said that day, the air conditioning in the hotel was not working and a cleaner told the family the hotel was undertaking maintenance on the system.
He said he himself and other members of his family were unwell, but he expected that during a holiday in Egypt.