Three men arrested over 'racially aggravated altercation' at Waterloo Station on Armistice Day
13 November 2023, 17:39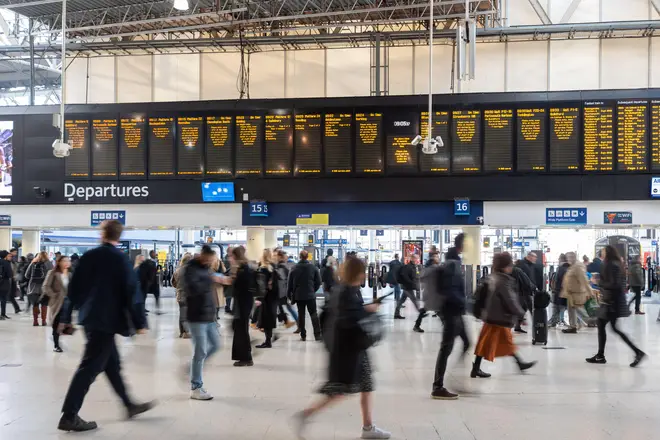 Three men have been arrested in connection with a "radically aggravated altercation" at Waterloo Station on Armistice Day, British Transport Police said.
The incident took place "after a demonstration was dispersed" at around 17.30 on Saturday, the force said.
A 57-year-old man from Surbiton, a 61-year-old from West Molesey, and a 33-year-old from Christchurch were all arrested.
The group remains in police custody.
A total of 145 people were arrested by the Met Police following several demonstrations over the Remembrance Day weekend.
Around 300,000 pro-Palestine demonstrators marched through central London on Saturday as they called for a ceasefire in Gaza.
Far-right counter-protesters also demonstrated, clashing with police close to the Cenotaph war memorial - the day before the national service of remembrance in Whitehall.
Police confirmed an investigation into alleged hate crime over the weekend was ongoing.
Read More: PM and Met slam chaotic Armistice Day which saw more than 100 arrests and nine police officers hurt
Read More: Rishi Sunak calls for unity on Armistice Day, as police fear 'serious disorder' amid Palestine march counter-protests
It comes after seven people were charged with offences after Armistice Day violence in London which was condemned by politicians and police.
John Harvey, Ethan Stapely, Taylor Warne, Sam Fairclough, James Buckley, William Duncan and Karl Jordan were charged on Sunday with offences ranging from assault and resisting arrest to possession of weapons and drugs after the chaos on London streets on Saturday.
Harvey, 75, of Hackney, was charged with criminal damage with Stapely, 23, of Norfolk charged with resisting arrest.
Warne, 21, of Kent, was charged with possession of Class A drugs - whereas Fairclough, 33, of Flintshire, and Buckley, 42, from Manchester were both charged with possession of an offensive weapon.
Duncan, 48, of West Lothian, was charged with being drunk and disorderly - and Jordan, 47, of Hounslow, was charged with the assault of an emergency worker.
The charges are the first after 145 protesters were arrested and nine police officers were injured in clashes between far-right and Pro-Palestine groups on Saturday.
The seven individuals will appear at Westminster Magistrates' Court on Monday.