New coronavirus restrictions imposed on Bolton, Health Secretary announces
8 September 2020, 14:00 | Updated: 8 September 2020, 15:35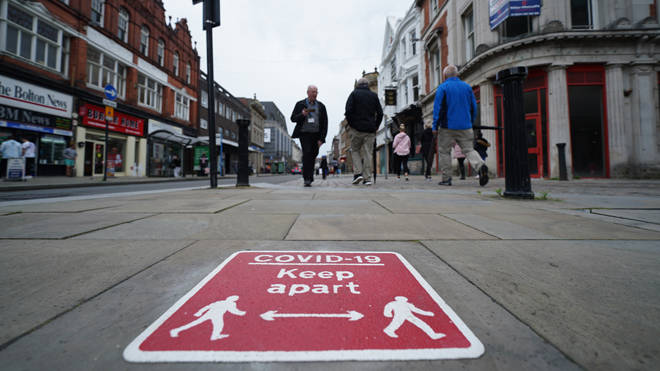 Health Secretary Matt Hancock has announced tight new coronavirus restrictions on Bolton, to begin immediately.
Speaking in the House of Commons, Mr Hancock said that all hospitality will be restricted to takeaway only and all venues will be required to close between 10pm and 5am each night.
Guidance starting that people cannot socialise outside their household will be enshrined in law, giving the police powers to enforce social distancing.
The significant nightlife restrictions come as the Health Secretary said a number of pubs had been identified as hot spots and blamed the rise in cases in Bolton on socialising amongst "people in their 20s and 30s".
The restrictions to effectively shut down restaurants, pubs and cafes mark the first local lockdown in England since Leicester and the local MP has called for the Treasury to support those businesses affected.
LBC reporter Sarah Collins said many pubs have already pulled their shutters down and closed, saying there is a lot of frustration amongst the hospitality sector.
Care homes and hospitals will also be placed under visitor restrictions to protect the most vulnerable.
Read more: 'Long Covid' sufferers tell of battling debilitating symptoms that last for months
Watch: "We're blinded by the people we're not testing," says infectious disease expert
Measures were initially introduced by Bolton Council on Saturday, with people asked not to mix with other households in any setting, either indoors or outdoors, and to only use public transport for essential purposes.
The council said they "hoped that these measures will prevent a local lockdown in Bolton," of the type that has now been introduced.
The town's infection rate has increased to 114 cases per 100,000 people per week - the highest in England.
Those aged between 18 and 49 account for more than 90% of the cases, the local authority said.
In the Commons the Health Secretary warned younger people not to be complacent around the virus, stressing that they are still at risk of long term effects from the disease.
"The long-term effects can be terrible and of course they can infect others," Mr Hancock said, "six months on many people are still suffering from chronic fatigue, muscle pain, and breathing difficulties, previously fit and healthy people reduced to barely being able to function."
Read more: NHS Test and Trace official issues apology to people unable to get tests
Read more: Brits told to maintain Covid-19 safety rules after rise in cases
"A King's College survey published today shows that 300,000 people in the UK have reported symptoms lasting for more than a month and 60,000 people have been ill for more than three months," he added.
Speaking to LBC News after the announcement, Bolton West MP Chris Green said local businesses will need help from the government if there are to be rolling lockdown measures in the town.
"It is going to be a huge impact because people have just begun to regain a little bit of normality," Mr Green said.
The Conservative MP added: "We have a very good Eat Out To Help Out period, we have had a huge boost to so many restaurants and cafes and now we're at square one."
"It is difficult for the owners and employers obviously, but also for their teams who are in a really difficult position. We're looking also at the furloughing coming to an end as well. So I want to see...what support the Treasury can give."
Schools in Bolton will remain open and Bolton Director of Public Health, Dr Helen Lowey, has written to all parents to reassure them about the measures that are in place to make schools safe.
The continued restrictions on care home visits in Bolton come despite calls from local MP Yasmin Quereshi for the government to reassess the rules, as loneliness amongst older people rises.
In a letter to the Health Secretary on Wednesday the Labour MP for Bolton South East stressed that visitor restriction changes "would need to ensure the safety of everyone involved" but said she feared " the current situation is harmful, and not to take action in this instance would continue this harm".
In the Commons Mr Hancock thanked the people of Bolton for making sacrifices, saying: "I want to say this to everybody directly living in Bolton - I know how anxious this can be, and I know the impact that these measures will have.
"We're asking you to take a step back at a time when we all just want to get on with our lives and what we love and back to normal. But we need to take this crucial step to keep the virus at bay.
"Because as we've seen elsewhere, if we act early and control the virus then we can save lives."
Lockdown measures in Leicester are set to be reviewed on Thursday, Mr Hancock said.
Listen & subscribe: Global Player | Apple Podcasts | Google Podcasts | Spotify