Police break up 150-person wedding at north London school
22 January 2021, 10:22 | Updated: 22 January 2021, 18:41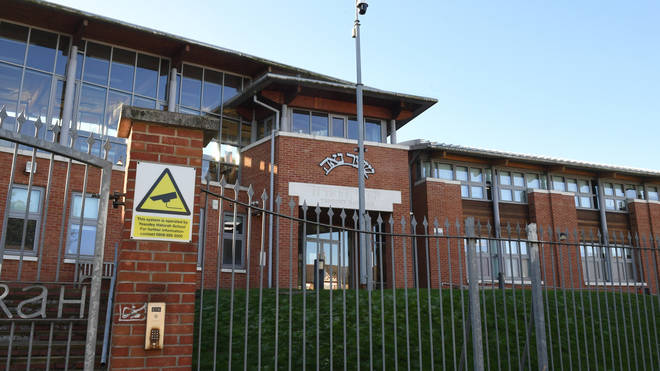 A wedding organiser is facing a £10,000 fine after police broke up a celebration attended by around 150 people at a north London school.
The windows of the venue, reportedly at Yesoday Hatorah Girls Senior School in Stamford Hill, had been covered to stop people seeing inside, the Met Police said.
Police said the event was a "completely unacceptable breach of the law", adding: "There is no excuse for this type of behaviour."
READ MORE: New £800 fines for those attending house parties from next week, Priti Patel announces
READ MORE: Met Police officer, 37, dies after testing positive for Covid-19
Asked about the event by LBC's James O'Brien, Mayor of London Sadiq Khan said: "It beggars belief that people are going to house parties, going to weddings, breaking the rules in this way.
"They've got no idea if they've got the virus, they've got no idea if others have got the virus and they're playing Russian roulette with their safety, their family's safety and their community's safety."
Around 150 people were found packed together at the venue, with many fleeing before officers arrived at about 9.15pm on Thursday.
The Met originally said about 400 people had gathered inside the building, but later said the number was closer to 150.
Five guests were fined £200.
A statement from the school, whose principal, Rabbi Avrahom Pinter, died in April after contracting coronavirus, said the hall had been leased to an outside organisation and "we had no knowledge that the wedding was taking place".
A spokesman said: "We are absolutely horrified about last night's event and condemn it in the strongest possible terms."
The school's car park is used as a drive-in Covid-19 test centre on Sundays for people who have a pre-booked appointment, while children could be seen going to class on Friday morning.
Prominent members of the Jewish community condemned the wedding, with Chief Rabbi Ephraim Mirvis calling the event "a most shameful desecration of all that we hold dear".
He said on Twitter: "At a time when we are all making such great sacrifices, it amounts to a brazen abrogation of the responsibility to protect life and such illegal behaviour is abhorred by the overwhelming majority of the Jewish community."
Marie van der Zyl, president of the Board of Deputies of British Jews, said the breach "goes against Jewish teaching that preserving life is of the highest value".
Wedding ceremonies can only take place in exceptional circumstances under current coronavirus restrictions in England, with only up to six people allowed to attend.
Detective Chief Superintendent Marcus Barnett, Central East BCU Commander, said: "This was a completely unacceptable breach of the law, which is very clearly in place to save lives and protect the NHS.
"An NHS that is under considerable pressure at a time when Covid 19 has killed nearly 100,000 people. This is a deadly and very dangerous disease. We can all see that and we must act responsibly.
"People across the country are making sacrifices by cancelling or postponing weddings and other celebrations and there is no excuse for this type of behaviour."
Elsewhere, the Met said the owner of a makeshift nail salon operating from a garden outbuilding in Croydon, south London, is facing a £1,000 fine, while two women found having treatments there on Monday could get £200 fines.
Police also gave fines to seven people who gathered to watch television and eat together at a home in Romford, east London, last Sunday.