'Palestine protests at MPs' offices are intimidation' says Labour's Rachel Reeves after march on Keir Starmer's HQ
19 November 2023, 23:10 | Updated: 19 November 2023, 23:13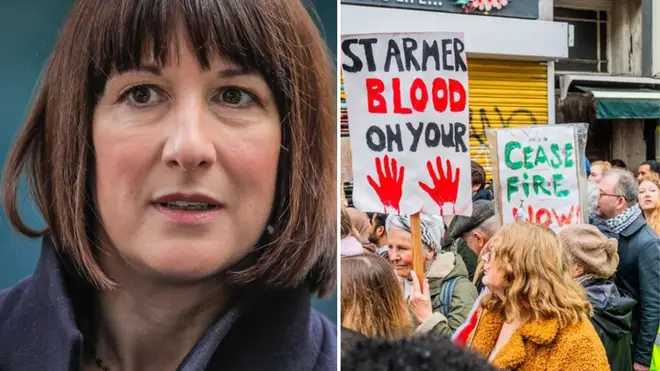 Labour shadow Chancellor Rachel Reeves has said that protests outside MPs' offices have "crossed the line" into "intimidation".
Speaking after hundreds of people marched on Keir Starmer's north London offices on Saturday, Ms Reeves said she supported the right to protest - but that the demonstrators had acted in an "anti-democratic" way.
The Labour leader has come in for criticism from some in his party for resisting calls for an end to the fighting - instead pressing for pauses to allow aid into Gaza as Israel continues its military operation.
Sir Keir has said he feels worried about his family's safety amid the Israel-Hamas row. One man at the protest on Saturday was seen to make explicitly anti-Semitic comments about Sir Keir's wife Victoria Alexander, who is Jewish.
The man said in a clip posted to social media: "His wife's a Zionist. His wife supports Israel and he'll go and support Israel, the little s***."
Other protesters outside Sir Keir's office in Camden chanted that he is a "wasteman" and sang "What do we want? A ceasefire. When do we want it? Now".
Read more: Israel 'finds Hamas base' under Gaza hospital and says hostages taken there on October 7, as 'release deal close'
Read more: Palestine supporters arrested at Waterloo 'sit in' amid dozens of marches, as demonstrators also target Starmer's office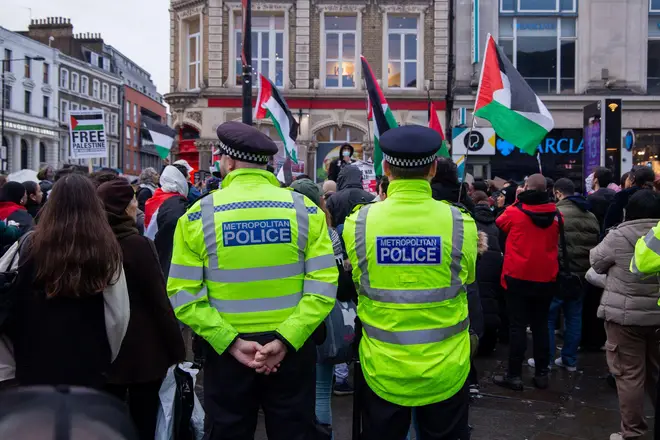 Chants of "From the river to the sea, Palestine will be free" were also heard from the protesters, who were making their way south from Chalk Farm.
The chant has been heavily criticised for being anti-Semitic, and suggesting a genocide of Israelis whose state exists between the Jordan river and the Mediterranean Sea.
Ms Reeves said on Sunday: "I believe in the right to protest, I don't believe in the right to intimidate.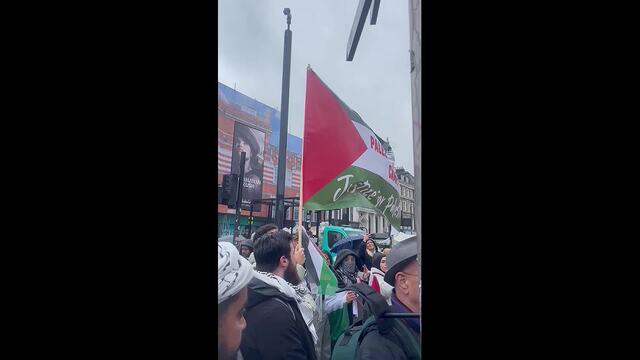 Palestine demonstrators gather at Sir Keir Starmer's office
"Some of those protests, I believe, over the last few days have crossed the line from protest to intimidation," she told Sky's Trevor Phillips. "Protesting outside people's homes, putting pressure on them in that way, I think it's totally unacceptable.
"In a democracy we elect our MPs and they make decisions. They represent their constituents but they also listen to all of the evidence. Anything that would attempt to intimidate an MP to vote in a certain way or to put pressure on them - it is anti-democratic in my view."
Ms Reeves added: "I would urge those people who are conducting those protests: I understand why you call for a ceasefire but do things in a responsible way and don't intimidate or put pressure in that way on elected representatives, or anyone else for that matter."
She told BBC's Sunday With Laura Kuenssberg programme that the "huge pressure" MPs have been put under leading up to the vote and afterwards is "very concerning", adding: "(Former home secretary) Suella Braverman's comments about these being hate marches et cetera are appalling but I don't support the intimidation of members of Parliament."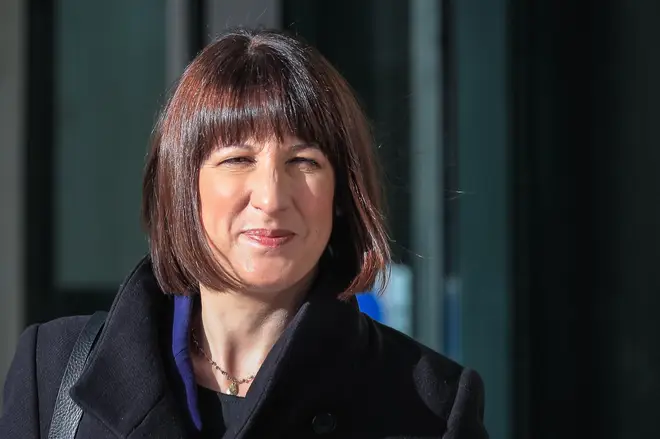 Ms Reeves added: "This sort of intimidation and taking protests to people's homes, I think that goes beyond the line."
She said it has not happened to her but has to some of her colleagues.
MPs on both sides of the ceasefire debate have faced abuse since Wednesday's Commons vote.
Shadow Welsh secretary Jo Stevens had her constituency office vandalised after abstaining on the Gaza vote, while Naz Shah, who quit the front bench to support a ceasefire, said she has received "Islamophobic hatred".
The Palestine Mission to the UK has also been repeatedly vandalised, ambassador Husam Zomlot said.
Palestine supporters have been marching in London every Saturday for weeks, since the start of the conflict.
This Saturday saw over 100 smaller marches take place, rather than the concentrated larger marches of previous weeks.
Ten people were arrested on Saturday, including five who were part of a 'sit-in' at Waterloo Station.