Palestine supporters arrested at Waterloo 'sit in' amid dozens of marches, as demonstrators also target Starmer's office
18 November 2023, 14:02 | Updated: 18 November 2023, 23:29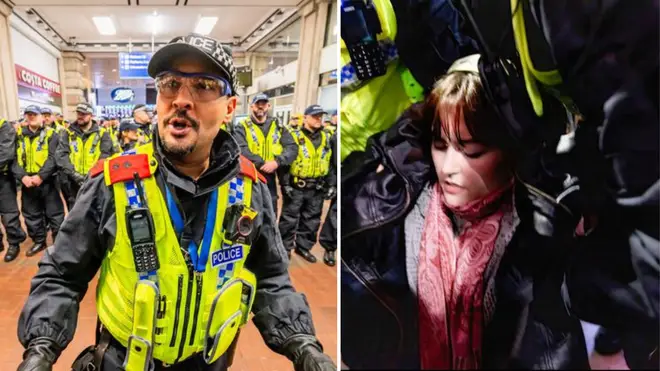 Several pro-Palestine protesters were arrested on Saturday after staging a 'sit-in' at Waterloo Station, one of over 100 marches across the UK, which also included a demonstration outside Sir Keir Starmer's constituency office in north London.
Officers made ten arrests in total on Saturday, as pro-Palestine protesters launched series of smaller demonstrations on Saturday instead of the large marches that have taken place since Israel first responded to the Hamas attack on its people on October 7.
Offences include breach of bail conditions, public order, racially aggravated public order, inciting racial hatred, affray and obstruction.
Five of the arrests came in Waterloo as Palestine supporters and Just Stop Oil members sat on the floor of the central London station to demand a ceasefire. British Transport Police soon moved in to arrest them.
Officers said that no services had been disrupted, and that the protest had been moved outside the station. The protesters then sat on Westminster Bridge Road, before police moved them on again. They then walked to Parliament Square.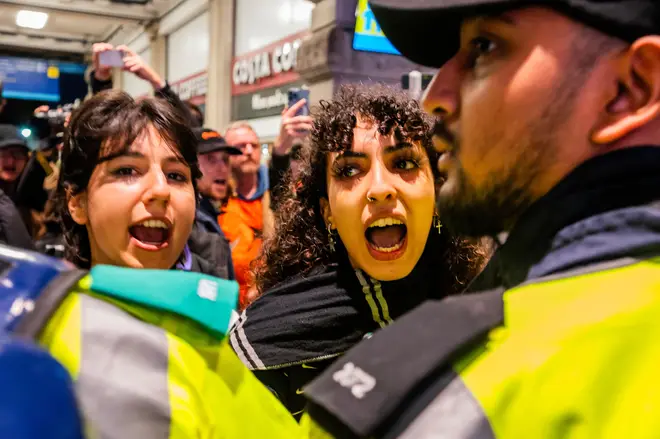 Among the other large protests was a march on Labour leader Sir Keir's office in Camden, as the Labour leader continued to resist calls for an end to the fighting - instead calling for pauses to allow aid into Gaza as Israel continues its siege.
Protesters also gathered outside Downing Street again, with that gathering becoming ugly later in the evening. A protest in south-east London saw two people arrested, while some demonstrators were seen clashing with police in Manchester.
Demonstrations also included events in Whitechapel in east London and Acton in west London, as well as several others outside the capital.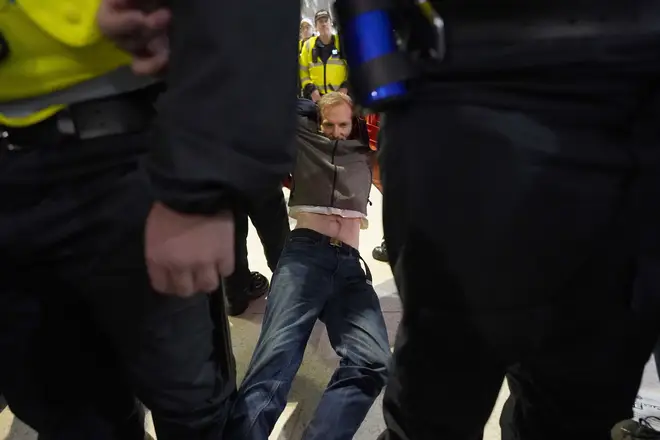 Outside the Labour leader's office, protesters in the road chanted "Keir Starmer's a wasteman" and "What do we want? A ceasefire. When do we want it? Now". Police were deployed to the constituency office.
Chants of "From the river to the sea, Palestine will be free" were also heard from the protesters, who were making their way from Chalk Farm.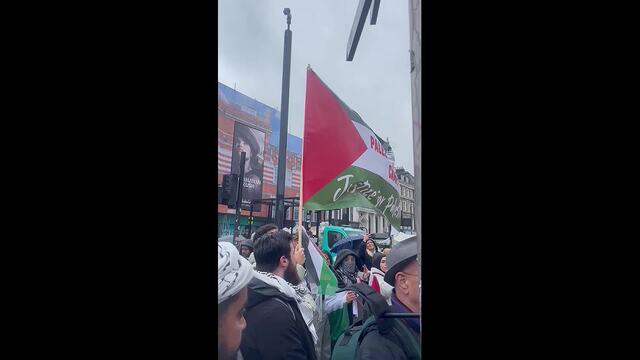 Palestine demonstrators gather at Sir Keir Starmer's office
The chant has been heavily criticised for being anti-Semitic, and suggesting a genocide of Israelis whose state exists between the Jordan river and the Mediterranean Sea.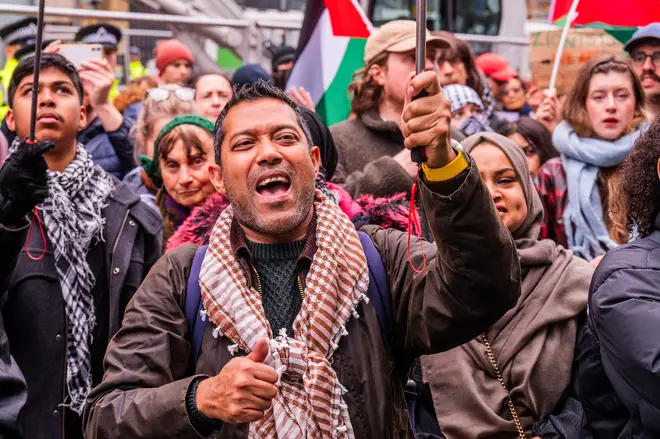 One man was seen to make explicitly anti-Semitic comments about Sir Keir's wife Victoria Alexander, who is Jewish.
The man said in a clip posted to social media: "His wife's a Zionist. His wife supports Israel and he'll go and support Israel, the little s***."
Sir Keir has said he feels worried about his family's safety amid the Israel-Hamas row.
He told the News Agents: "I've always been concerned about them. I've got a wife who has her own life and I need to ensure that she can live her life in the way that she wants to.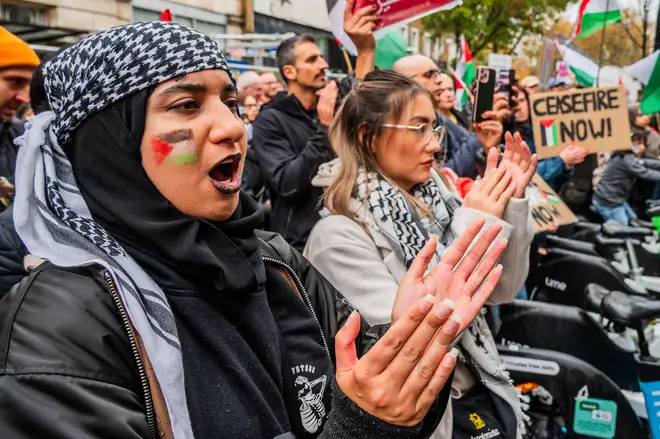 "I've got two children: I've got a 15-year-old boy, and a 12-year-old girl. And my biggest concern – about the only concern I have going forward – is asking myself over and over again, particularly at the moment, how do I protect them as we go into this?"
Fiona Sharpe, of Labour against Anti-Semitism, said the display outside Sir Keir's Camden office was "appalling".
Ms Sharpe, who did not witness the display first hand, told LBC's Clare Foges: "People outside Keir Starmer's office this afternoon are yelling and screaming about the fact that of course he should be kicked out of office".
She added that Jewish people in the UK were afraid to come to London, adding that she witnessed the start of the "quite frankly appalling demonstration in Camden" on Saturday afternoon.
Read more: Thousands of school pupils in Manchester, Glasgow, Bristol and London walk out calling for ceasefire in Gaza
Another protest took place in Lewisham in south-east London on Saturday. Police said that a 20-year-old woman was arrested for having an anti-Semitic sign, and a man who tried to stop officers making the arrest was arrested for obstruction.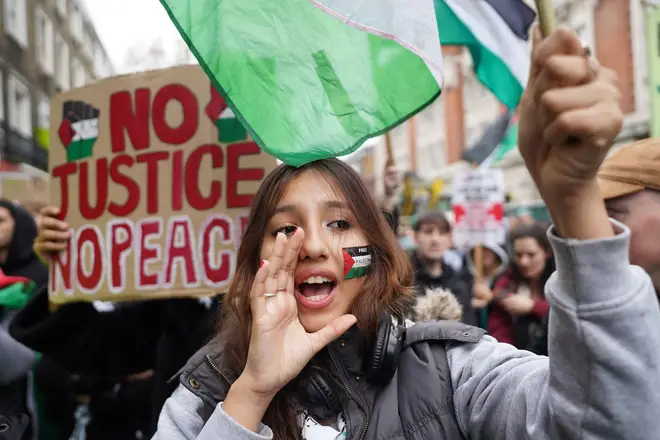 The Israel-Hamas war has proved to be a serious challenge to Sir Keir, who saw ten frontbenchers - the most prominent being Jess Phillips - quit this week after he opposed an SNP bid to call for a ceasefire in the Commons.
Sir Keir has backed Israel's right to defend itself in the wake of Hamas's massacre on October 7.
Read more: 'This for me is duty': Keir Starmer says he's 'undaunted' by prospect of becoming next prime minister
But his refusal to support a total end to hostilities - something viewed by supporters of Israel's actions as unrealistic - has led to a clash within his party at a time when he is hoping to cruise to an election win.
Dr Amar Latif, an Oxford councillor, who resigned from the Labour party over Sir Keir's position on Gaza, said that "the only way to bring a long lasting peace to this region is through an immediate ceasefire".
He told LBC: "We need to be absolutely clear here that the difference between a humanitarian pause and and ceasefire humanitarian pause suggests that people are dying through a passive process. And of course, while some people are dying, because they can't access food, water, and fuel.
"There are significant numbers of people who are dying because there are bombs falling on them and a humanitarian pause, anything short of a ceasefire, doesn't stop that".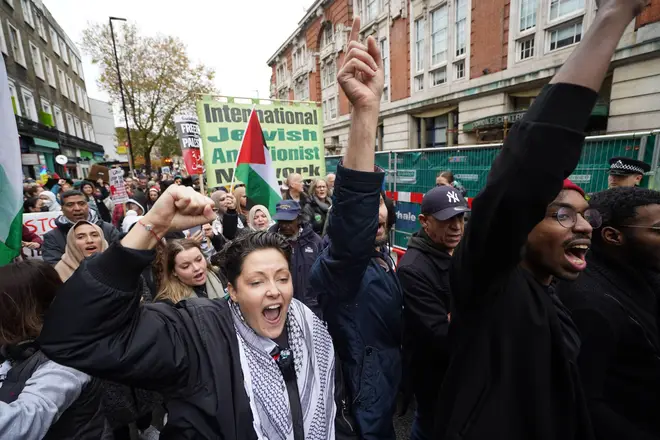 Big hitters including London mayor Sadiq Khan, Greater Manchester mayor Andy Burnham and Scottish Labour leader Anas Sarwar have all called for a ceasefire.
A total of 56 Labour MPs backed the call in the Commons, and the frontbenchers who supported it had to quit the role and return to Labour's back benches.
Sir Keir said after the vote: "I regret that some colleagues felt unable to support the position tonight."
Hamas authorities in Gaza say more than 11,000 people have been killed since Israel launched Operation Iron Swords against the strip.
And there is outrage around the world at Israel's bombing, with questions now raised over whether a key Hamas centre will be uncovered at the Al Shifa hospital, which the Israel Defence Force has begun securing.
The hospital was hit as Benjamin Netanyahu's government insisted the complex was also being used by Hamas, which Israel has vowed to dismantle.
Besides Labour in-fighting, the war has had serious consequences for communities across the world.
The rate of anti-Semitic incidents across London has ballooned since the start of the war.
And the pro-Palestine marchers were accused of being hateful by the last home secretary, Suella Braverman, whose criticism of the policing of the demonstrations helped contribute to her sacking.