'This for me is duty': Keir Starmer says he's 'undaunted' by prospect of becoming next prime minister
17 November 2023, 18:08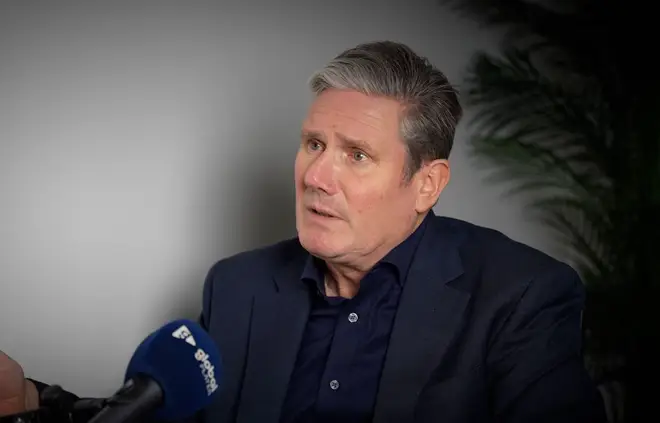 Keir Starmer has said he's 'undaunted' by the prospect of becoming the UK's next prime minister despite the challenges it will entail.
Speaking to LBC's Lewis Goodall on The News Agents podcast, Sir Keir Starmer has said that while being prime minister would be 'difficult', he feels he has a 'sense of duty' to help the party achieve its goals.
Asked whether the prospect of being prime minister daunts him, Sir Keir said: "No, I don't feel daunted. This for me is duty. I haven't lived all my life with the idea even that I would be Prime Minister. I haven't held that as my ambition all through my life.
"When we lost in 2019, I felt a driving sense of duty to get our party back to where it could achieve what it was set up to achieve, which is to represent and change the country on behalf of working people. And that is my central focus and drive."
He continued: "I know it will be difficult, it's been difficult already along the way, it will be even more difficult in the final weeks and months into the general election.
"And even more difficult in government because government is always more difficult than opposition. I'm not daunted by that."
But he said these difficulties are trumped by his concerns for his family: "The only concern I have going forward is, asking myself over and over again, particularly at the moment, how do I protect them as we go into this."
Listen on Global Player, the official LBC app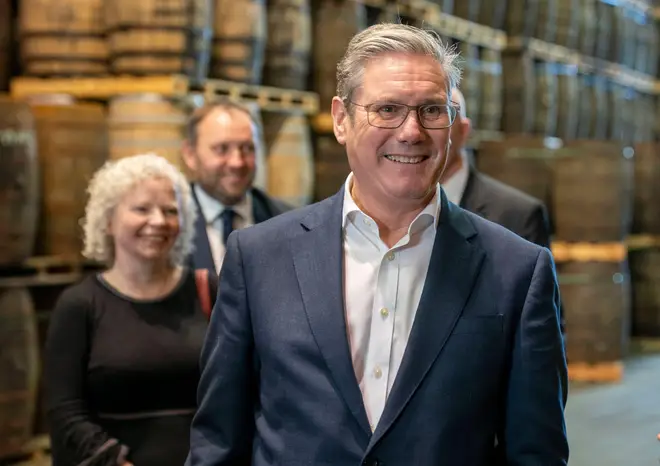 Read more: Jeremy Hunt deliberating cuts to inheritance tax in Autumn Statement
Read more: Everything we know about the Autumn Statement- from Inheritance Tax cuts to energy bills help
Quizzed on whether he would invite former Labour prime ministers Gordon Brown and Tony Blair back into government, if elected, he said: "I'm looking forwards, not backwards. I always look forwards, not backwards."
Sir Keir continued: "I will do it my way with my team, rather than sort of running backwards in history to hug someone."
It comes after a tumultuous week for the Conservative party, as Rishi Sunak sacked Suella Braverman from her role as Home Secretary ahead of a cabinet reshuffle.
Listen to the full interview on The News Agents podcast this evening on Global Player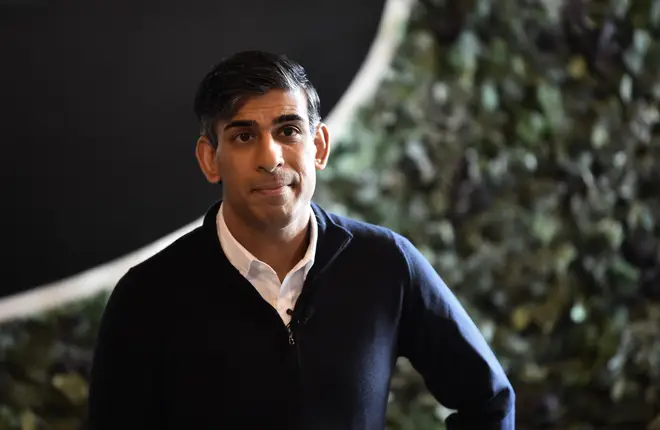 Mr Sunak also took the country by surprise after he invited former ex-PM David Cameron back into office as Foreign Secretary.
Opinion polls currently show that the Conservatives trail Labour by a matter of double digits and are expected to lose office to Sir Keir Starmer's party.
The Tories also had their Rwanda migrant plan ruled unlawful by the Supreme Court earlier this week - Mr Sunak has since said he will introduce emergency legislation to overcome the legal refute.
Asked about the Government's response to the Rwanda judgement, Sir Keir said: "The idea that a court in this country, a respected court, the Supreme Court comes to a unanimous decision and the reaction of government is to say, we're going to pass a law to simply reverse the decision of the court.
"That is a million miles from where the law and order Conservative Party used to be."