Bowie, Ali, Wilder: Remembering The Big Names We Lost In 2016
15 December 2016, 08:34 | Updated: 19 December 2016, 14:53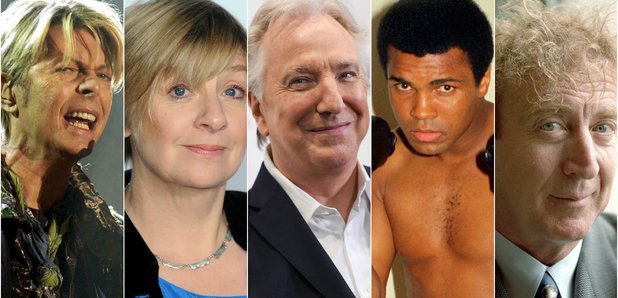 The world have lost some much-loved stars this year. We remember the big names who died in 2016.
From the second week in January when David Bowie died just days after releasing his final album, so many popular celebrities have passed away.
David Bowie
Rock legend, actor and artist David Bowie died aged 69 on 10th January.
Alan Rickman
Die Hard and Harry Potter actor Alan Rickman died aged 69 on 14th January.
Glenn Frey
Eagles frontman Glenn Frey died aged 67 on 18th January.
Sir Terry Wogan
Broadcaster Sir Terry Wogan died on 31st January aged 77.
Harper Lee
Harper Lee, author of To Kill A Mockingbird, died aged 89 on 19th February.
Frank Kelly
Actor Frank Kelly, best known for playing Father Jack in the comedy series Father Ted, died aged 77 on 28th February.
George Martin
Beatles producer Sir George Martin died aged 90 on 8th March.
Paul Daniels
Magician Paul Daniels died aged 77 on 17th March.
Ronnie Corbett
Comedian Ronnie Corbett died aged 85 on 31st March.
Howard Marks
Howard Marks, the former drug dealer and writer known as Mr Nice, died aged 70 on 10th April.
David Gest
Reality TV star and music producer David Gest, the former husband of Liza Minnelli, died aged 62 on 12th April.
Victoria Wood
Comedian Victoria Wood died aged 62 on 20th April.
Prince
Superstar Prince died aged 57 on 21st April.
Muhammad Ali
Legendary boxer Muhammad Ali, known as "The Greatest" died on 3rd June.
Caroline Aherne
The genius behind Mrs Merton and The Royle Family died of cancer, aged just 52 on 2nd July.
Kenny Baker
Star Wars actor, who played R2D2, died on 13th August.
Dalian Atkinson
Former Aston Villa striker Dalian Atkinson died after reportedly being tasered by police on 15th August.
Gene Wilder
The actor, star of Willy Wonka And The Chocolate Factory, Blazing Saddles and See No Evil, Hear No Evil, died on 29th August, aged 83.
Arnold Palmer
One of the first golf superstars Arnold Palmer died on 25th August, aged 87.
Leonard Cohen
Poet, singer, songwriter. He died on 7th November.
Fidel Castro
Revolutionary hero or murderous dictator? Opinions were split over the former leader of Cuba as he died on 25th November.
Chapecoense Real
The entire Brazilian football team was on a flight to Colombia when it crashed outside Medellín. Only three players survived.
Andrew Sachs
The actor, most famous for brilliantly playing Manuel in Fawlty Towers, died on 30th November.
Greg Lake
Seen here on the left of Emerson, Lake & Palmer, the singer of one of the greatest Christmas songs - I Believe In Father Christmas - died on 7th December.
AA Gill
The journalist died from lung cancer on 10th December.
Zsa Zsa Gabor
The Hollywood icon best known for her string of ex-husbands died aged 99 on 18th December.