Rishi Sunak boasts David Cameron's return was 'best kept secret' in behind the scenes video from reshuffle
15 November 2023, 14:34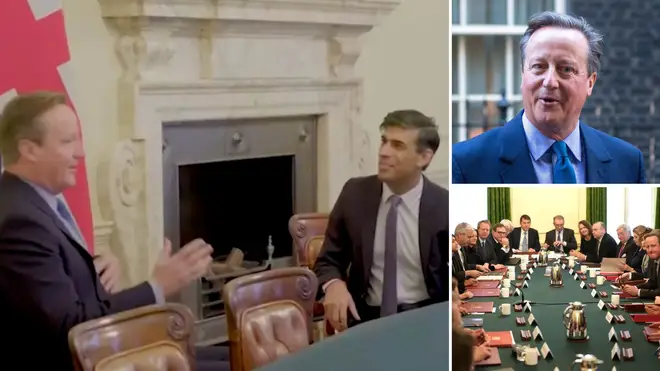 Rishi Sunak has boasted that David Cameron's return was the "best kept secret" in a behind the scenes video from his Cabinet reshuffle.
The clip gave an insight into the Cabinet shake-up on Monday, which saw Suella Braverman sacked as Home Secretary and replaced by James Cleverly while former PM David Cameron was brought back as Foreign Secretary.
Mr Cameron was given a peerage by Mr Sunak at the start of the week as he made a surprise return to politics.
"This is somehow the best kept secret," Mr Sunak said.
Mr Cameron replied: "Unbelievable."
Read more: Plan B under way: Rishi Sunak admits Rwanda migrant scheme defeat in fiery clash at PMQs
Read more: Rishi Sunak vows to 'stop the boats' despite Rwanda ruling, as he says sending migrants to a third country is lawful
Rishi Sunak says David Cameron's return was 'best kept secret'
Mr Sunak is understood to have first spoken to Mr Cameron during a secret meeting last week.
He was taken into Downing Street through a back door to discuss the potential for a return and the pair outlined a comeback deal, which Mr Cameron formally agreed to on Friday.
The reshuffle also saw promotions for Richard Holden, who was made Tory Party chairman, Victoria Atkins, who became Health Secretary, and Laura Trott, who is Chief Secretary to the Treasury.
Esther McVey also made a return to the Cabinet as Minister without Portfolio. But it is understood that her brief is to be the 'minister for common sense' in her Government role.
Meanwhile, Steve Barclay was moved from Health Secretary to Environment Secretary after Therese Coffey was sacked.
The clip also showed Mr Sunak addressing his fresh Cabinet for the first time on Tuesday.
He said he was confident he now had an "energetic and enthusiastic team" to deliver on his priorities.
"I'm confident we can demonstrate to the country we're making progress on the priorities I set out at the beginning of the year; to halve inflation, grown the economy, reduce debt, cut waiting lists, and to stop the boats," Mr Sunak said.
"That's the change we're going to deliver and looking around this table, I know we have an energetic and enthusiastic team that is going to deliver for the country.
"So let's get to work."