Pivot! Sofa wedged on stairs as furious customer says delivery men simply 'walked away'
26 January 2023, 14:16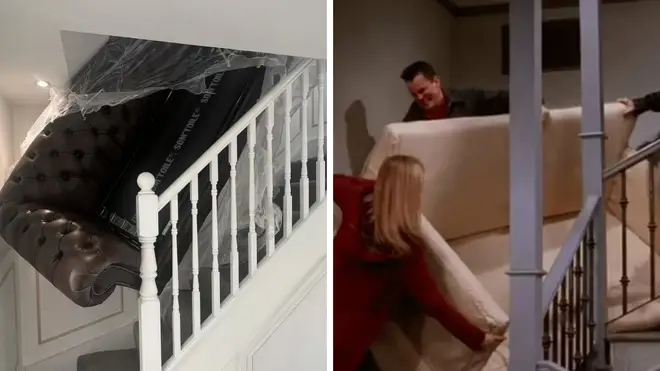 An angry homeowner has accused delivery men of 'trashing' his home after they left a sofa wedged on the stairs in an incident reminiscent of a famous scene from the sitcom Friends.
Luke Ansell was moving in to a new house in Bournemouth, and ordered the £2,000 couch from designersofas4u.co.uk.
But he said the deliverymen, who initially said they handle awkward drop-offs all the time, got the sofa wedged on his stairs and then left, saying they had no time to rectify it.
However the company says it carried out an investigation and disputed his account.
Mr Ansell posted pictures of the sofa on a local Facebook group and said four 'lovely members of the community' came to his aid to move it upstairs.
Read more: NatWest closes further 23 branches across UK in fresh blow for high street
Read more: Man, 61, charged after Matt Hancock 'assaulted and branded a murderer' on the Tube
He said he had paid extra for 'white glove' delivery of the item and the delivery men who arrived on January 19 said there was room to take the sofa up the stairs to his second floor office.
He said plasterwork and his bannister had been damaged.
The company said in a statement that the sofa had been 'left in a safe place on the landing' but offered to replace the damaged sofa as a goodwill gesture.