Surge testing in new London areas after Indian variant found
22 May 2021, 09:48 | Updated: 22 May 2021, 10:17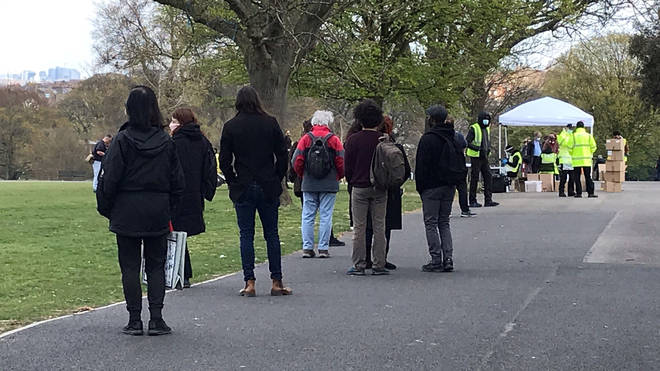 Surge testing is being deployed in Harrow, Ealing, Hillingdon and Brent after confirmed cases of the Indian variant were found, it has been announced.
From today, anyone living in targeted settings and postcodes of that area are being urged to get a PCR Covid test, regardless of whether or not they have symptoms of the virus.
Local authorities will "shortly confirm" the areas where additional testing will be offered within those boroughs, the Department of Health and Social Care (DHSC) said.
NHS Test and Trace is providing testing and genomic sequencing in education settings and targeted areas across the four boroughs, following the identification of the B1617.2 strain.
Those who tested positive for the variant have been told to self-isolate and their contacts are being identified.
People who have symptoms can book free tests online or by phone, while those without symptoms are advised to visit their local council's website for more information.
READ MORE: Thousands to get third Covid-19 jab in new 'Cov-Boost' trial, Matt Hancock announces
A Department of Health and Social Care (DHSC) spokesperson said: "If you have symptoms you should book a free test online or by phone so you can be tested at a testing site or have a testing kit sent to your home.
"If you have no symptoms, you should visit your local council's website for more information.
"In tandem with increased testing, enhanced contact tracing will be used for individuals testing positive with a variant of concern.
"This is where contact tracers look back over an extended period to determine the route of transmission."
Earlier this week Health Secretary Matt Hancock urged people to get fully vaccinated to tackle the rise in cases of the Indian variant of Covid-19.
Cases of the Indian variant of coronavirus in the UK have risen by more than 2,000 in the space of a week, according to figures from Public Health England (PHE).
The latest weekly data showed there were 3,424 cases of the B1617.2 mutation - an increase of 2,111 on the previous week.
While most cases were concentrated in the North West - particularly Bolton - and London, PHE said it was seeing "clusters of cases" across the country.
Speaking at a press conference on Wednesday, Mr Hancock said the variant makes it "even more important" for people to get vaccinated. He added that it was "so important" for people to come forward for their second jab.
England's deputy chief medical officer, Professor Jonathan Van-Tam, said "the challenge ahead of us in the next two, to three, to four weeks" was to "make sure we outrun the virus with really vigorous pull-through on vaccine delivery.
"When you are called you must come forwards and help us finish the job," said Prof Van-Tam.
Surge testing and vaccinations have already been introduced in Bedford, Burnley, Hounslow, Kirklees, Leicester and North Tyneside.