UK astronomers discover ultramassive black hole '30 billion times the size of the Sun'
29 March 2023, 19:17 | Updated: 29 March 2023, 19:18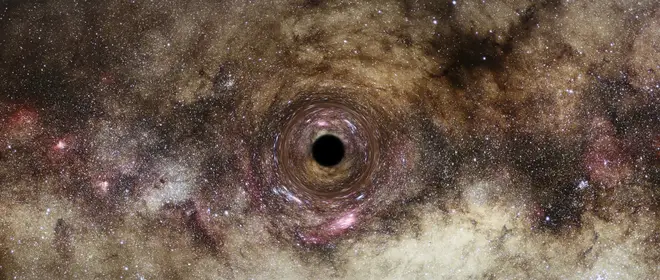 Astronomers at Durham University say they have found one of the universe's largest ever black holes to date using a new technique.
The astronomers say the "ultramassive" black hole was discovered by observing its pull on passing light, a technique known as gravitational lensing.
The black hole is estimated to be around 30 billion times the size of the Sun.
The scientists say their findings, published in the journal Monthly Notices of the Royal Astronomical Society, are "extremely exciting".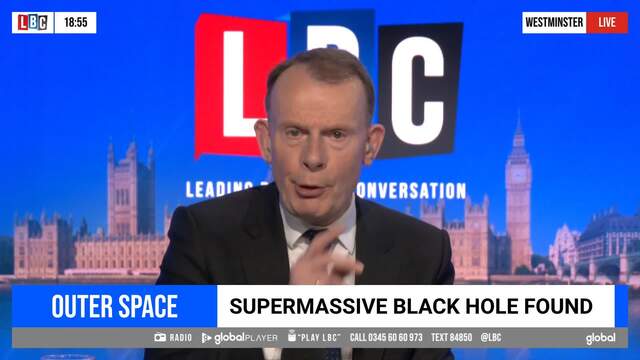 Andrew Marr wonders if we should be concerned about the recently discovered supermassive black hole
The paper's lead author, Dr James Nightingale, said the discovery helps us to further understand the laws of nature as the black hole is where nature is "acting at its most extreme".
Asked what the discovery can teach us about the origins of the universe, Dr Nightingale told LBC's Tonight with Andrew Marr: "The most important thing it would teach us about the origins of the universe is that it tells us the upper limit of how large a black hole can feasibly be.
"By knowing how large the biggest black holes near us today (are)…that means we know how much the black holes must have grown since they initially formed at the very beginnings of the universe.
"The bigger the black holes we find today, therefore, the more constraints that puts on what the universe must have done in the beginnings to form the initial seeds of these black holes."
Read More: Elon Musk urges pause to 'out of control' AI development over 'threat to civilisation'
Read More: Science Secretary 'confident' data laws mean public can continue to use TikTok
Dr Nightingale said the black hole is approximately two billion light years away which, in the context of astronomy, means it is "relatively close by".
By comparison, black holes discovered from the early origins of the universe would have been some 12 billion light years away, he added.
What is a black hole?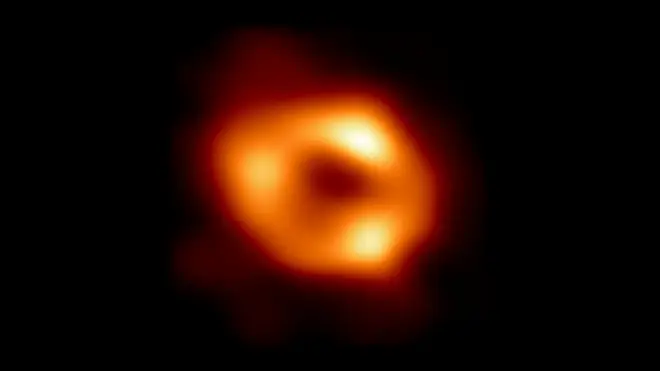 A black hole is an area in space where gravity pulls so much that light is unable to get out, according to NASA.
The gravity is so strong as matter has been squeezed into a tiny space, which can happen when a star is dying.
Since no light is able to get out, regular people are unable to see black holes.
But space telescopes with certain tools help physicists to find black holes in the universe.