Wales to ban travel from UK Covid-19 hotspots
14 October 2020, 15:29 | Updated: 14 October 2020, 17:48
Welsh First Minister Mark Drakeford has announced that people from parts of the UK that have high rates of coronavirus will be prevented from travelling to Wales.
First minister Mark Drakeford says it'll apply to those living in Tier 2 and 3 areas in England, and high risk places in Scotland and Northern Ireland.
He said the move was needed to "to prevent the spread of infection within Wales and to other areas of the UK."   
It is being taken after the Prime Minister did not respond to the First Minister's requests to make advisory travel guidance in English coronavirus hotspots mandatory.
Read more: PM says national circuit breaker would be a 'disaster' and defends regional Covid strategy
Read more: Birmingham students given already used Covid-19 tests
The Welsh Government's plans will bring people elsewhere in the UK in line with measures currently in place in the 17 areas of Wales under local lockdown restrictions.
Under those rules, people must not enter or leave an affected area without a reasonable excuse such as work or education.
But currently, people living in Covid-19 hotspots elsewhere in the UK are free to enter areas of Wales not under restrictions where levels of the virus are low.
There has been no formal response from @BorisJohnson to my requests to restrict travel into Wales from coronavirus hotspots.

I am preparing new regulations to protect the health of people in Wales that will come into force on Friday.

— Mark Drakeford (@fmwales) October 14, 2020
Earlier on Wednesday, Scotland's First Minister Nicola Sturgeon said she backed Mr Drakeford's calls for the UK Government to introduce travel restrictions on people in areas with high levels of coronavirus.
Following the annoucement, she tweeted: "Fully support @fmwales on this. These are public health decisions, and nothing to do with constitutional or political debates.
"@scotgov will also take whatever action we consider necessary to control COVID.
Fully support @fmwales on this. These are public health decisions, and nothing to do with constitutional or political debates. @scotgov will also take whatever action we consider necessary to control COVID. https://t.co/FTFKIwBrfE

— Nicola Sturgeon (@NicolaSturgeon) October 14, 2020
Speaking to the Welsh parliament, First Minister Mark Drakeford said that Prime Minister Boris Johnson has not replied to his requests for travel restrictions to be imposed in areas of England with high levels of coronavirus.
"I have therefore asked for the necessary work to be brought forward, which would allow for devolved powers to be used to prevent people from travelling into Wales from high-prevalence areas of the United Kingdom," he said.
He said it was "important" to emphasise that it was not an issue regarding the border between Wales and England but a "matter of fairness".
"We've already heard from the First Minister of Scotland and she's eager to support what we're trying to do here. Now is the time for the Prime Minister to do the same thing," Mr Drakeford told the Senedd.
"If he isn't willing to do so then the timetable is for us to use the powers in Wales by the end of the week."
Read more: Tier 3 lockdown restrictions loom for Greater Manchester and Lancashire
Read more: Merseyside police chief criticises "selfish, dangerous" crowd in Liverpool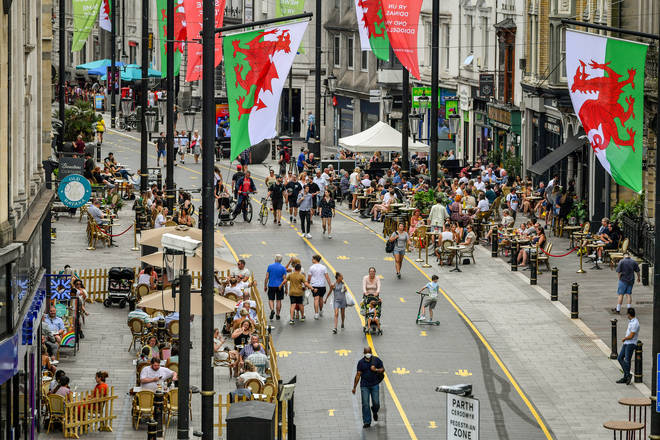 The chief executive of the Welsh NHS, Dr Andrew Goodall, said he would also "welcome any actions that help us have a control of the levels of community transmission" when asked if he was in favour of the travel ban.
Plaid Cymru leader Adam Price has also welcomed the Welsh Government's plan, saying the announcement was "long overdue" and necessary to protect people in Wales.
"We now need a clear timetable for exactly when the draft legislation will be ready to publish, the proposed timescales and plans for implementation and how this is to be communicated across the UK," Mr Price said.
"With half term arriving for much of England next week, timing is now critical."
However, Paul Davies, leader of the Welsh Conservatives, called on the Welsh Government to publish supporting evidence to justify a ban on people from areas of the UK with high levels of coronavirus from coming into Wales.
"It is incumbent on the First Minister to explain just why he has chosen to act in this way, and what supporting evidence he and his ministers have seen to justify a ban and then publish it so it can be properly scrutinised," Mr Davies said.
"If he cannot or will not, then he must review and rescind this ban immediately."
Earlier on Wednesday, Mr Drakeford said the Welsh Government will look at the coronavirus figures in Wales during the rest of this week to decide whether a circuit-breaker lockdown is necessary.
He explained: "We have other measures in place already, which may be helping us to begin to turn the tide.
"I want to see whether there is further evidence of that. If there's not, if numbers continue to rise, then we will have to take further action."
The Welsh Government is finalising its regulatory approach to the travel restrictions which are planned to come into force on Friday October 16 at 6pm.