Coronavirus: Trump urges states to obtain their own supplies, says 'we're not a shipping clerk'
20 March 2020, 10:54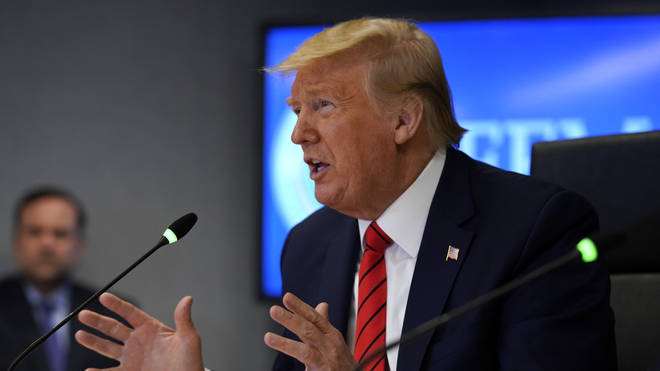 Donald Trump has urged individual US states to obtain their own medical supplies to fight coronavirus after saying the federal government was "not a shipping clerk".
The US president said on Thursday the government was "not supposed to be out there buying vast amounts of items then shipping," following warnings from medical staff about declining supplies of critical items including masks and ventilators.
He added: "You know, we're not a shipping clerk."
Following his comments, Mr Trump joined a teleconference with state governors, who repeatedly told the president they were having difficult securing such supplies.
READ MORE: [Live] Chancellor to unveil workers support package
Mr Trump's administration has come under increasing criticism in recent weeks for his apparent lack of guidance over the response to the virus.
Meanwhile, the US Centres of Disease Control and Prevention (CDC) has said that healthcare staff could resort to "homemade" options for masks, if none are available.
Its guidance included a "last resort" example of fashioning a face covering with a bandana or scarf.
READ MORE: Donald Trump tests negative for coronavirus
Mr Trump also said on Thursday that new drugs being tested could be "a game changer" for those with the virus, but was later accused of spreading misleading information.
The US Food and Drug Administration later said the drugs were still being tested for effectiveness and safety - something that can take months and may not get results.
In statement, it said there were "no FDA-approved therapeutics or drugs to treat, cure or prevent Covid-19."
READ MORE: Donald Trump extends travel ban to include UK and Ireland
Government legislators are currently working on a $1 trillion (£870 billion) aid package to help the US economy, and give money straight to the country's citizens.
They have also been discussing how to increase the manufacturing process of medical supplies and how to build temporary field hospitals to take on the illness.
The US has currently recorded more than 14,000 cases of Covid-19.