Donald Trump lambasts impeachment inquiry in letter to Nancy Pelosi
17 December 2019, 21:12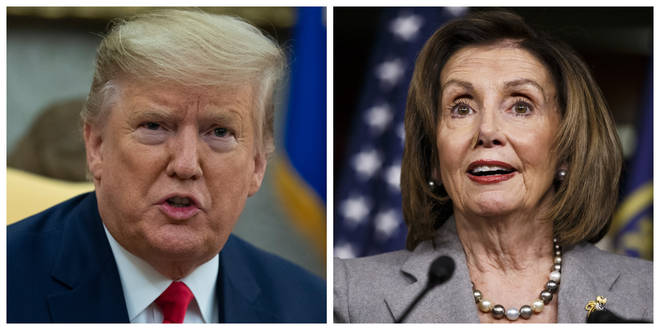 Donald Trump has sent a letter to House Speaker Nancy Pelosi blasting her efforts to impeach him as an "unprecedented and unconstitutional abuse of power".
The President accused Pelosi of "cheapening the importance of the very ugly word, impeachment" and "declaring open war on American Democracy" in her pursuit of his impeachment.
In the six page letter, Donald Trump called the inquiry "spiteful", "a crusade" and an "election-nullification scheme".
Trump wrote: "You dare to invoke the Founding Fathers in pursuit of this election-nullification scheme — yet your spiteful actions display unfettered contempt for America's founding and your egregious conduct threatens to destroy that which our Founders pledged their very lives to build."
"It is a terrible thing you are doing, but you will have to live with it, not I!" he continued.
The President stated: "More due process was afforded to those accused in the Salem Witch Trials."
The letter comes as President Trump faces an impeachment vote on Wednesday over allegations he pressured Ukrain to investigate his Democratic rival joe Biden for political gain.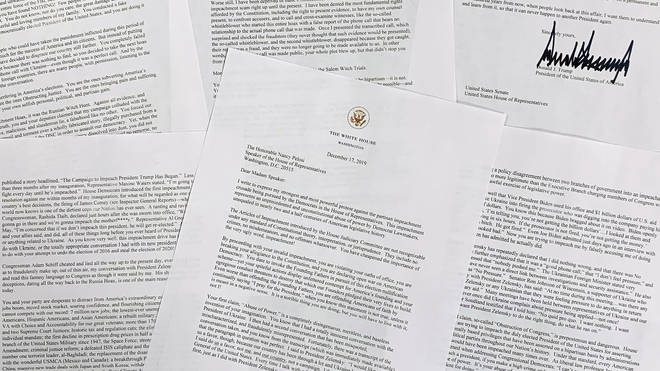 Speaking in his own defence, Mr Trump said that his actions "include no crimes, no misdemeanors, and no offenses whatsoever."
He also denies any abuse of power, calling it "completely disingenuous, meritless, and baseless."
Speaking about the alleged conversation between himself and Ukrainian President Zelensky, saying their conversation had been "misquoted, mischaracterized and fraudulently misinterpreted."
"Every time I talk with a foreign leader, I put America's interests first, just as I did with President Zelensky", the president continued.
He also accused the House of "falsely accusing him of doing what Joe Biden has admitted he actually did".
"You are the ones interfering in America's elections," Trump says, adding that Democrats are "bringing pain and suffering to our republic for your own selfish personal, political and partisan gain."
Within a large section of the letter, the President mentions what he sees as his political victories saying that Democrats are "desperate to distract" from the state of the economy and other administration efforts.
Mr Trump is facing two impeachment charges, obstruction of Congress and attempting to use his political office to pressure Ukraine.
If the House votes as expected on Wednesday then mr Trump is expected to be the third president in US history to be impeached.
He will then go on trial in the Senate.