Nancy Pelosi turns photo Donald Trump used to attack into her Twitter banner
17 October 2019, 09:55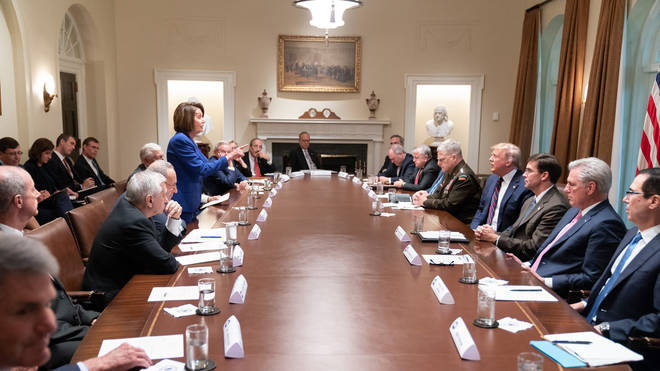 Nancy Pelosi has redirected a social media attack by Donald Trump, by turning a photo he claimed showed her having an "unhinged meltdown" into her Twitter cover photo.
The image Donald Trump tweeted shows the Speaker of the United States House of Representatives pointing her finger at the President during a meeting on Syria.
Donald Trump captioned the photo "Nervous Nancy's unhinged meltdown!"
However Nancy Pelosi's Deputy Chief of Staff Drew Hammill used the photo to Nancy Pelosi's advantage by making it her cover photo, tweeting his thanks to Donald Trump for sharing it.
The photo has been widely circulated on social media with some users saying it could be Nancy Pelosi's new campaign poster as she is depicted as "the sole woman in the room, literally standing up to the President".
In a brutal exchange of words on Twitter, Donald Trump branded Nancy Pelosi a "sick person" that "needs help fast".
His Twitter outburst followed a meeting at the White House on Syria, which came shortly after the House overwhelmingly passed a resolution opposing the Trump administration's troop withdrawal.
Nancy Pelosi and Senate Democratic leader Chuck Schumer are said to have left the meeting after Donald Trump started calling Speaker Pelosi "a third-rate politician."
Nancy Pelosi needs help fast! There is either something wrong with her "upstairs," or she just plain doesn't like our great Country. She had a total meltdown in the White House today. It was very sad to watch. Pray for her, she is a very sick person!

— Donald J. Trump (@realDonaldTrump) October 17, 2019
Ms Pelosi tweeted that she was "deeply concerned" that Congress had been denied its right to be informed as it makes decisions about US national security.
Tensions between the White House and congressional Democrats have risen in recent weeks as the Democrats' impeachment investigation into Trump and his contacts with Ukraine continues.
I am deeply concerned that the White House has canceled an all-Member classified briefing on the dangerous situation the President has caused in Syria, denying the Congress its right to be informed as it makes decisions about our national security.

— Nancy Pelosi (@SpeakerPelosi) October 16, 2019