Oregon wildfire destroys over 300,000 acres of land
20 July 2021, 09:33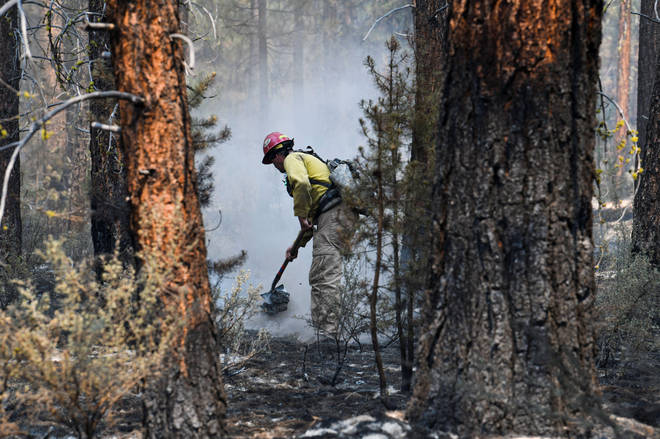 The largest active wildfire in the US continues to rage across Oregon, and has now burned through more than 300,000 acres of land.
The so-called Bootleg Fire measures 537 square miles and is burning 300 miles south-east of Portland, Oregon, in the Fremont-Winema National Forest area.
Over 2,000 homes have been evacuated during the fire, which began on July 6. Meanwhile another 5,000 homes are at risk, and around 70 homes and 100 outbuildings have fallen victim to the flames.
Concerns that the situation could worsen have been raised following threats of thunderstorms and lightning, resulting in Oregon officials requesting assistance from outside the Pacific Northwest in order to prepare for additional blazes.
The National Weather Service is predicting thunderstorms throughout Monday night which could worsen existing fires, as well as starting new ones.
"Although the lightning activity predicted for early this week is expected to occur east of us, we are prepared for the worst, and hoping for the best," Mike McCann, an assistant fire staff, said in a statement released by the national forest.
16 wildfires raged across Oregon and Washington states alone on Monday. Resources are currently being drafted from states including Arkansas, Alaska and Nevada, while officials with the Rogue River-Siskiyou National Forest in south-west Oregon are asking for outside crews in case of new fires in the region.
No-one is reported to have died in the Bootleg Fire, although local residents and wildlife have been suffering from thick smoke and drought for several months. Strong winds from the southwest are now causing the fire to spread quickly to the north, towards increasingly remote areas.
The wildfire follows a culmination of dry conditions, drought and record-breaking heat, which have created the ideal conditions for wildfires. They have so far affected around a dozen states, the majority of which are in western America.
Climate change has led to the west becoming increasingly hot and dry over the last 30 years. More frequent and extreme wildfires have been common in recent years, and this is expected to continue.